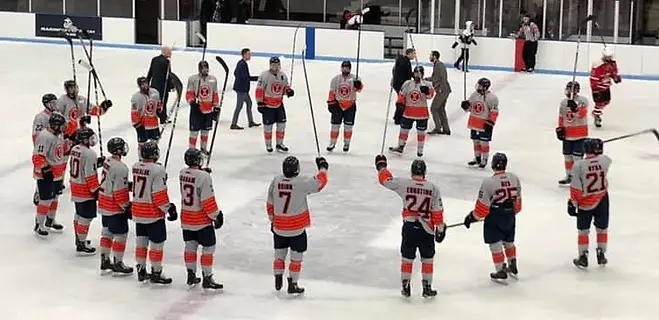 As executive director of College Hockey Inc., a Minnesota-based non-profit, Mike Snee's mission is focused on promoting and growing college hockey in the U.S.
Recent efforts suggest that Snee recognizes an opportunity when he sees one.
The state of Illinois ranks fourth in the country in producing Division I men's hockey players, behind Minnesota, Massachusetts and Michigan. Those first three states have a combined total of 22 Division I men's programs.
Illinois has none.
That last fact appears to be on the verge of changing.
Nearly two years after Snee and his organization first floated the idea of the University of Illinois adding men's hockey during a meeting with the school's athletic department, the Illini are in the final stages of securing the financial commitment needed from community business leaders that would lead to Illinois to becoming the eighth member of the Big Ten hockey conference.
Warren Hood, deputy director of athletics at Illinois, who is spearheading the project for the school, stopped short in recent days of saying that it's a done deal, but he didn't try to mask his optimism.
"We have been working with a number of stakeholders the last nine months and we have made great progress," Hood said. "February is going to be a big month for us. We have a lot of final meetings with some partners and depending on how those go, we are hoping we can make a decision in April or May."
Asked for his take on the likelihood of Illinois adding men's hockey, Snee said, "I feel they have every intension of being successful in their pursuit."
College Hockey Inc. is primarily funded through a grant from USA Hockey, which, of course, shares the goal of growing the game. The Illini became the first athletic department to take advantage of a program created by College Hockey Inc., the NHL and the NHL Players' Association that funds feasibility studies foe schools considering adding the sport. The study concluded that the Champaign-Urbana area could and would support a Division I men's hockey program, and the school has been working to turn it into a reality ever since.
Illinois' plan calls for building a 5,000-seat arena on the edge of campus that will be used for volleyball, wrestling and gymnastics as well as men's hockey. In addition, two auxiliary sheets of ice would be added as a community asset, with the aim at growing youth hockey programs. There is only one rink in Champaign-Urbana, an on-campus facility that was built in 1931. It is the home of the Illinois club team but is not an option for housing a Division I program.
According to Hood, Illinois is involved with a number of corporations in regard to naming rights for a new arena. He called it one of the four major pieces of the funding project.
Hood estimated the cost of the project would be $100 million. It had been reported that Illinois hoped to raise $50 million in donations, but Hood refers to that number as a "moving target."
"Some of the people who would be involved with the project would be paying an annual amount as opposed to a certain number up front," Hood said. "I would say that we are down to about half of that [$50 million) amount. Initially we had hoped we would find a [major] donor similar to what took place at Penn State and Arizona State, but there aren't many individuals who are willing to write those big checks.
"Right now our focus is more on community partners and people who would be involved with the facility itself, where it would have an impact on them.''
Hood said that the last three months have been particularly encouraging, with conversations with potential community partners advancing from the talking stage to finalizing what the various commitments would be.
Should they add men's hockey, the Illini would either have to add a women's sport or eliminate a men's sport to satisfy Title IX requirements. Hockey, field hockey and lacrosse are the three women's sports under consideration to be added. Hood said that the elimination of a men's sport remains a possibility.
Penn State and Arizona State, two recent additions to men's Division I hockey, have enjoyed success both on and off the ice. Snee believes the ingredients are there for Illinois to have that same success, with the amount of in-state talent being one of the reasons why.
"They could win a national championship with a roster primarily made up of Illinois kids," he said. "Right now, the kids that are coming out of there are primarily going to Wisconsin, Miami (Ohio), Ohio State, Michigan. If [the Illini] start getting those players, they would be very competitive.
"And if they could get half the kids coming out of the Chicago area that would help them tremendously in getting an identity in Chicago."
Hood said that the Illini appreciate the support they have received throughout the hockey community. The Chicago Blackhawks, in particular, have been both helpful and encouraging, he said. Blackhawks ownership's ability to make hockey relevant again in Chicago has provided an assist of a different kind.
"Without the success of the Blackhawks the last 10-12 years we wouldn't even be having this conversation," Hood said. "There wouldn't be the interest in the sport locally if not for what they have been able to do."
That local interest seems destined to soon be intensified.