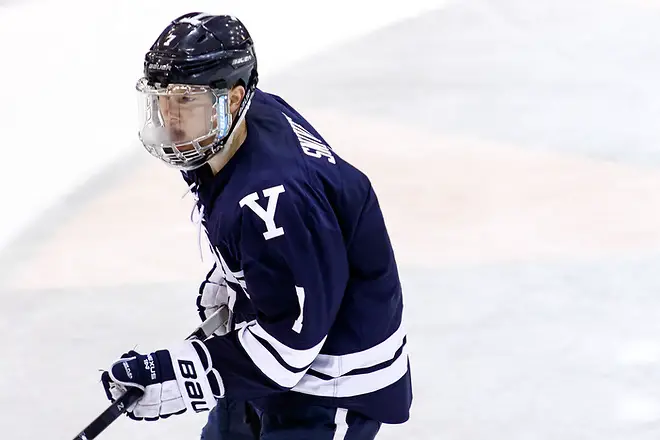 Many of us have watched from afar and often wondered — Arizona State really this good?
The answer, at this point, is yes — at least by NCAA tournament standards.
A two-game sweep this weekend of American International has elevated the Sun Devils to eighth in the PairWise and likely has punched their ticket to the NCAA tournament.
1. It's time for college hockey's newest team to go dancing
Four years is all it took for coach Greg Powers to put together a national power in Tempe, Ariz. That's pretty impressive.
And now we can say with pretty much certainty that Arizona State will be in the NCAA tournament field as the first independent at-large team since then-independent Alaska Anchorage reached the big dance in three consecutive years from 1991 through 1993.
The win that likely put the Sun Devils over the top was a dramatic one, with ASU jumping to a 4-1 lead on Saturday night. But a resilient AIC team, which has proven itself as one of the strongest teams in Atlantic Hockey, rallied to tie the game and force overtime.
That's when PJ Marrocco finished over a 2-on-1 to give Arizona State its 21st win over the season and send the senior class, playing its last home game of their careers, out of Oceanside Ice Arena as a winner.
2. Minnesota State didn't play, but clinched at least a share of WCHA title
A tie and 3-on-3 overtime loss by Bowling Green on Saturday ended up being a gift to idle Minnesota State on Saturday night. The Mavericks can finish no worse than tied for first in the WCHA clinching at least a share of the regular-season title.
Granted, Minnesota State should be able to clinch that trophy outright with four games remaining and needing just a single point. The Mavericks travel to Alaska this weekend before closing the regular season with two games at home against Bemidji State.
3. Providence puts out flame of the red-hot River Hawks
UMass Lowell's impressive run in the second half – a 9-0-1 clip entering the weekend – abruptly came to a halt on Friday when Providence went into Tsongas Center and routed the River Hawks 6-1.
If that wasn't enough, the Friars completed the weekend sweep on Saturday, this in a much tighter game, a 1-0 nailbiter.
Saturday's shutout was the seventh of the season for Friars goaltender Hayden Hawkey. It was also his 15th career whitewash.
The sweep allowed Providence to jump into a tie with Lowell for second place. Both teams are six points, though, behind first place Massachusetts, which swept Boston College on the weekend.
4. Splits the order in Atlantic Hockey
If you were hoping for a bunch of movement in the tight Atlantic Hockey standings this weekend, think again.
With first-place AIC playing out of conference, it seemed every other team had the opportunity to gain some ground. But aside from Army, which took three of four points from Mercyhurst, every other team in the conference split its weekend series.
The team that might have the most regret is Bentley. The Falcons not only entered the weekend on a torrid 9-0-2 clip in its last 11, they also controlled their own destiny for the regular season title. They were seven points behind AIC before play began this week with four games in hand on the Yellow Jackets.
But after winning Thursday's series opener against Niagara, Canisius dropped the back end and now must hope for some help if they are to unseat AIC for first and win their first ever Atlantic Hockey regular season title.
5. Did Minnesota rise from the ashes?
If there was a team that seemed to be left for dead entering the weekend, it was Minnesota. The Golden Gophers, once ranked as high as fifth in the USCHO.com poll in the first half, was 2-6-0 in its previous eight games and last weekend were manhandled by Penn State by the scores of 7-2 and 6-2.
Traveling to Ohio State to face the first-place Buckeyes wasn't exactly a feel-good weekend in the making. But that's why they play the games.
Minnesota posted back-to-back 4-3 victories over the Buckeyes and now sit in second place in the Big Ten standings, eight points behind the Buckeyes. That said, the Gophers are playing for second as they have just two games left and will play nonconference games against Arizona State the final weekend of the regular season.
6. Two victories for Yale place it square in middle of ECAC title race
Yale earned two wins over the weekend, including an upset of No. 8 Cornell on Saturday and, along with other results, have made the ECAC standings tighter than a wet suit on a chubby guy like myself.
Cornell took just a single point on the weekend by tying a red-hot Brown team on Friday. Clarkson and Harvard split their weekend series, while Quinnipiac took three of four points with a win over Rensselaer and a tie of Union.
Thus, with two weekends remaining in the regular season Cornell remains atop with 25 points; Quinnipiac is in second with 24; Yale has 23 in third; Harvard and Clarkson are tied for fourth with 22, three points out of first.
Other conferences have exciting races, but ECAC commissioner Steve Hagwell might need to pull out the criteria for "how to break a four-way tie."
7. It's getting late for North Dakota, Notre Dame, Penn State
All three of these teams split this weekend, but for the fighting teams (Hawks, Irish) and the Nittany Lions, splits aren't going to get it done right now.
As the weekend concludes, Notre Dame is 17th in the PairWise, Penn State is 18th and North Dakota is 21st.
All of the teams are still mathematically alive for an at-large NCAA bid and would even be in excellent shape should each run the table in the regular season and reach their conference title game.
Those odds, though, get slimmer with every weekend split.
8. The NCHC's NCAA position gets even more solid this weekend
The NCHC's members have put a stake in the ground when you look at the current PairWise. If the season ended today, St. Cloud State, Minnesota Duluth and Denver would all be number one seeds. Western Michigan, which moved from 10th to tied for 8th this weekend with a split against North Dakota, would likely be the top number three seed.
Yes, as we mentioned, perennial power North Dakota is still on the outside looking in, but this looks to be yet another field that has a distinct NCHC presence.
That's still in the distance for this league which has plenty to settle, namely the regular and postseason titles.
9. Lake Superior continues to be pleasant surprise in WCHA
Two wins by identical 3-1 scores for Lake Superior over Michigan Tech keep the Lakers read hot, 13-2-1 in their last 16 games. The defense and goaltending has stood out in that stretch.
In the 13 wins, the Lakers have allowed two goals or less in 11 of those games (and three goals against in the other two games).
It's still a bit of a climb, but the Lakers continue to put themselves into position for an at-large NCAA bid, sitting 19th in the current PairWise.
Lake Superior, which won three national titles between 1988 and 1994, has not qualified for an NCAA tournament since 1996.
10. Merrimack becomes first team eliminated from playoff contention
On the other end of the news chain is the bad news. Merrimack, after dropping three of four points to Maine at home this weekend, became the first team in the country that will not make their conference playoffs.
Both Hockey East and the WCHA will eliminate teams prior to their playoffs starting this season. Hockey East is cutting its bottom three teams, WCHA, as it has done in recent years, will eliminate its bottom two. In the other four conferences, all teams qualify for the conference playoffs.
While Merrimack was the first to learn its fate, other teams are close to a similar result. In Hockey East, Vermont and Connecticut would have to take seven of eight points in their final four games and hope that New Hampshire goes winless in that span, something that while still mathematically possible doesn't seem highly likely.
Alaska Anchorage is 11 points in back of eighth-place Alabama Huntsville in the WCHA and has just 12 conference points available to earn.