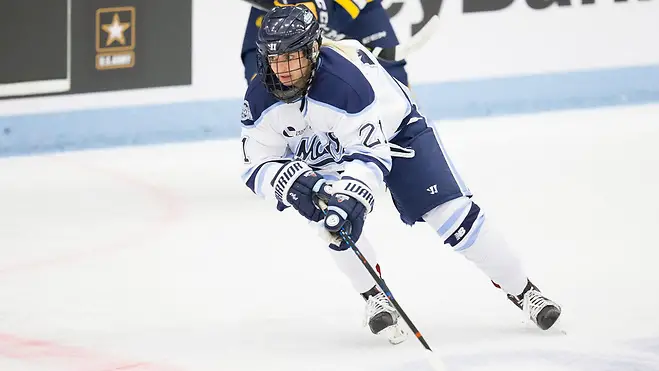 Nicole: I mean, you're dominating me in our weekly picks contest, so there's no doubt that I've been eminently bad at getting a grasp on what exactly is happening in women's college hockey this season, but I'm doubtful even Nostradamus would have picked the upsets we saw this week.
Hilariously, I had picked Harvard to upset Clarkson this weekend, riding the goalkeeping prowess of Lindsay Reed. The Golden Knights won with 4.9 seconds left in overtime, so I wasn't totally nuts with my prediction, and stellar goalkeeping did lead to an upset. I just chose poorly.
Knowing how good Lovisa Selander is makes Rensselaer's win over Princeton easier to wrap my head around. She's basically been a threat to steal a game for the Engineers her entire career, and her 57-save performance on Saturday was a master class in how a goalie can control the outcome. She made more saves each period as the game went on and just really did the sort of thing she's been doing for awhile on a bigger stage.
Dartmouth's OT stunner of Clarkson, however, is not something I think anyone saw coming. The Big Green had just four wins going into Saturday's game. Dartmouth last beat Clarkson on Feb. 27, 2011, and Clarkson held a 24-12-5 advantage over the Big Green heading into Saturday.
I'd love to have been a fly on the wall at Dartmouth's practices this week. Clearly something coach Laura Schuler said stuck with her players this week, as they came from behind to take down the Golden Knights and played to a scoreless tie with St. Lawrence on Sunday.
Though Clarkson's loss is probably more stunning, Princeton's may prove more costly. The Tigers were in prime position for the NCAA tournament heading into this weekend and sat fourth in the PairWise. Now they're 7th with BU right on their tail. Clarkson's percentages took a hit, but they stay in fourth thanks in part to Princeton losing and because there was such a gap between them and Cornell, who is now in fifth.
I'm not even sure what to ask after all of this. Let's start with — what are your thoughts about how this weekend went down and where we stand heading into the final regular-season weekend for everyone but the CHA?
Candace: It certainly set things up for an interesting final weekend in the ECAC, hasn't it? It might have cost Princeton the ECAC crown. If the Tigers had beaten Rensselaer, or even have tied them, they were almost guaranteed the ECAC title this weekend, because they would have had a four-point lead on Clarkson and two-point lead on Cornell, and they won the season series against the Big Red. Cornell ends with Rensselaer and Union this weekend, while Princeton faces Clarkson and St. Lawrence. The Tigers need three of four points this weekend to remain in first, assuming that Cornell wins both of its games.
Princeton's loss isn't quite as surprising as Clarkson's was, simply because, as I said last week to Arlan, Lovisa Selander gives Rensselaer a chance to win in every game, and sometimes the offense for a team can disappear. Cornell, for instance, wins just as often with defense as with offense. Princeton's offense has been mostly solid, but the Tigers also had a tie with Merrimack in which each team only scored once, and the Tigers also only got one goal against Clarkson a couple weeks ago in a loss.
It's not just the top three that are in flux either in the ECAC. Rensselaer and St. Lawrence each have 21 points, and Harvard and Quinnipiac each have 20. If Harvard had held on for 4.9 more seconds against Clarkson Saturday and gotten a tie, you'd have a three-way race for the fifth spot. Harvard has the "easiest" schedule of those teams, as St. Lawrence plays Quinnipiac and Princeton, Quinnipiac plays St. Lawrence and Clarkson, and Rensselaer gets Cornell and Colgate. Regardless though, I don't think ANY of the first-round series for the ECAC tournament are a sure thing for the higher-seeded teams. Rensselaer and Harvard have the two best goalies in the country and can steal games, Quinnipiac has stingy defense as well, and St. Lawrence, while inconsistent, has also beaten Clarkson this year.
A few weeks ago, I thought there was no way someone other than Clarkson, Cornell, or Princeton would win the ECAC tournament; now, you couldn't make me bet on that at all.
The last time you and I were doing this column, you asked me if Northeastern's tendency to win games at the last minute might come back to bite them. The Huskies did claim the Hockey East regular season title with a win over Providence Friday, but then lost to the Friars Saturday 5-2, just a half a week after losing to Boston College, 4-1. Do you think Northeastern is more vulnerable to a tournament loss than the ECAC squads?
Nicole: I don't know if I'd say they're more vulnerable. I mean, at this point I'm not sure there's any team out there that can feel safe. Everyone wants to be building to the postseason and ideally would be at their peak right now, and that's just really not the case for anyone. You want to feel invincible heading into "win or go home" situations, and I'm not sure how any of the top 10 teams could right now. There have been losses or near misses from everyone in the top 10 in recent weeks, and that gets in your head.
However, you asked me specifically about Northeastern. I think the thing that would concern me about the two losses in a week is that they weren't upsets or mental lapses — the Huskies were just beat by teams they'd beaten earlier in the season. BC and Providence have gotten better as the season has gone on, and maybe Northeastern hasn't kept pace? Of course, the Huskies were already playing at a very high level to begin with and didn't have the same room or need to improve, but again, there's that build to the postseason and the momentum gained, and right now I think BC has it and Northeastern doesn't.
You mentioned all the upset possibilities in the ECAC, but I think Hockey East is poised for a couple as well. Last year's tournament was full of them, and the setting isn't much different this year. Many of the teams in the bottom half have wins over those on top. I don't think anyone is safe, especially since so many of the Hockey East squads are fighting for NCAA positioning. Boston University likely needs the autobid if they're going to make it, though an early exit from the ECAC tournament by Princeton might change that, so the Terriers are fighting for their postseason lives. This weekend's wacky results mean if BC wins out, they could be looking at hosting an quarterfinal, something that seemed absurd just a week or two ago.
What do you think — will three Hockey East teams make the NCAA tournament this year?
Candace: Getting three teams from any conference into a seven-team field seems exceptionally difficult. One conference will pull it off, barring some random year where two CHA teams make the field, but look at how many years the WCHA has only sent two teams to the NCAA tournament, despite having four or five very strong teams. I'd have to double check, but I don't think Hockey East has ever sent three teams to the dance.
The difficulty this year is that it almost seems that Boston College and Boston University have to go through each other to make it. The two teams are very close in the PairWise, and BU and BC seem to be on a collision course to meet in the Hockey East tournament semifinals. If BC beats BU in that game, and assuming BC wins its last regular season game against New Hampshire and then sweeps its opening-round series, BC will be in a strong position and likely knock BU out. Assuming that BU beats Connecticut and Providence this weekend and then sweeps its opening-round series, then if they beat BC I think the Eagles will likely not make it.
The only way I see it happening is if Cornell or Princeton lose in the opening round of the ECAC tournament and fall too far in the PairWise to qualify as an at-large. Under those circumstances, then perhaps Hockey East gets three teams in. Right now though, it looks more likely that its the ECAC, unless Ohio State or Minnesota Duluth wins the WCHA tournament.
I mentioned the CHA briefly. Robert Morris has a three-point lead on Mercyhurst and hosts the Lakers for a two-game series this weekend. Any chance Mercyhurst sweeps and moves into first in the CHA, or do you think it's too little, too late for the Lakers? Honestly, watching both teams the last few weeks it almost seems like neither squad wants it. Mercyhurst got swept by Syracuse and then tied Penn State twice. Robert Morris, presented with a golden chance to win the conference, tied Penn State and then tied and lost to Lindenwood last weekend.
Nicole: I have definitely said the words, "Nobody wants to win the CHA" more than once in the past few weeks. We talk about them in this column every week, but I'm doubtful I've had anything useful or helpful to say about the CHA for awhile, as they leave me more baffled than anyone else. There's plenty of talent there and the conference has been there for the taking, but every week it's still totally unclear how this will shake out. Mercyhurst has just two sweeps all season, and Robert Morris has three. Both teams are at .500 overall.
The CHA completes their conference tournament in a single weekend, so they actually have one more regular season week left after this one. As I doubt either of the two teams will sweep the weekend, I expect we'll see this regular-season title decided by how they play next weekend. Mercyhurst has two games against RIT and Robert Morris has Syracuse, so it could come down to if either of the leaders can pull off a sweep.
In the WCHA, Wisconsin has a two-point lead on Minnesota. The Badgers host Ohio State this weekend. Minnesota plays at Bemidji State. The Gophers had a bit of a scare last weekend and needed to beat the Mavericks in overtime, while Wisconsin handled Minnesota Duluth more adeptly than I think we expected them to. So what do we expect to happen this weekend?
Wisconsin wins their fourth-regular season title in a row if they sweep at home on senior weekend. They've stumbled against the Buckeyes in Columbus, but have three wins and a tie with a shootout win over OSU at home in Madison. The weekend games are already sold out, and the Badgers are tough to beat at home. Meanwhile, a sweep probably can't be assumed for Minnesota over Bemidji State, either.
What are your projections for how the WCHA shakes out?
Candace: I lean toward the Badgers winning their fourth title in a row. Even if Ohio State can split with Wisconsin in La Bahn, no easy feat, I'm not completely convinced Minnesota will sweep Bemidji State. The Beavers have been hot in the second half, going 8-4-1 and moving into fourth place in the WCHA, one point ahead of Minnesota Duluth. It's interesting that it's Duluth that will likely be the team that gives Wisconsin the WCHA crown. The Bulldogs give the Gophers fits, probably because it's a rivalry, but for some reason that doesn't translate when the Bulldogs face the Badgers. Wisconsin looked dominant in both wins over the Bulldogs this weekend.
More interesting to me is who will claim the last home ice spot in the WCHA. If I were a betting woman, I'd pick Duluth. The Bulldogs face Minnesota State this weekend. Even if they split, they have better than even odds of ending up in fourth because Bemidji faces Minnesota. The Beavers need at least one win to remain ahead of the Bulldogs. Of course, the Beavers and Bulldogs have faced each other in the WCHA playoffs three out of the last four years, and the road team has won each of those series, so perhaps the Beavers should tank this weekend and hope they are in Duluth next weekend.
In terms of drama this weekend, most of it is for positioning, but Hockey East still has two teams battling for their playoff lives. Currently, Vermont is in that final spot, one point ahead of Maine. The two teams are playing Saturday in their final game of the season in Maine to decide who advances to the playoffs. The Black Bears have struggled this season, with only three wins in the second half. It's a disappointing follow-up to last year, when Maine advanced to the Hockey East semifinals. Who do you favor in Saturday's game, and why do you think Maine has struggled so?
Nicole: That's a tough one, as both these teams are ones that have shown a whole lot of possibility and promise in the past two years or so, but haven't been able to have that translate into taking the next step. I keep hoping we'll see it come to fruition, but as you mentioned it's been a disappointing year for both squads. I think I give the edge to the Black Bears at home as they perform better there, have a better overall record, and the Catamounts aren't great on the road.
The Black Bears also have players that have shown they can take over a game, and while there are clearly talented players on the Vermont roster, I'm not sure they carry the same ability to be the game-changer. I'd take Tereza Vanišová on most any team I'm picking, and rookie Celine Tedenby is one of the best newcomers in the league this season who we've probably not talked enough about.
The Maine roster is half underclassmen and a third women from outside North America. It's a strategy coach Richard Reichenbach went hard on and at least this year, did not pay off. It's possible this is just growing pains as the team figures out how to work together and figure out some of the language and style barriers that come from putting together such a diverse roster of women in terms of background, experience, and age. Time will tell, but it does seem like the elements are there. It's also just an exceptionally tough season in Hockey East. Last year it was an elite Boston College squad and then everyone else had their weaknesses that could be preyed upon. This year, we're talking about the possibility of three Hockey East teams in the NCAA tournament. That's going to wreak havoc on the record of anyone else in the league. I think things aren't necessarily as bad as they might look on first glance, and I have hopes that they'll be able to step it up in the coming years.
There's a pretty big gap between the top four and bottom four in the ECAC, so no draw in the tournament will be an easy one for the visiting squads, but their placement is all up in the air. One point separates RPI, St. Lawrence, Harvard, and Quinnipiac. How do you see those spots shaking out this final week and then based on that, who do you think has the best chance of pulling an upset in the opening round of that tournament?
Candace: As I said earlier, Harvard has the easiest weekend series, and the Crimson have Lindsay Reed in net, so I think the Crimson finish fifth. They should be able to beat Brown and Yale. After that, I think Quinnipiac likely finishes eighth, as the Bobcats face Clarkson and St. Lawrence this weekend. St. Lawrence gets Quinnipiac and Princeton; I think they finish sixth. Rensselaer plays Cornell and Colgate. The wildcard is RPI goaltender Lovisa Selander, who is capable of stealing games, but I have trouble seeing Rensselaer winning both games. They could also lose both, or get a tie.
As for who is likely to get an upset in the first round of the ECAC tournament, well, again I'd go with Harvard. The Crimson have been playing very well, and, assuming they finish fifth, they will play Colgate in the first round. The Raiders have been the most inconsistent team in the top half of the ECAC, and while they have played better of late, I still think Harvard could pull the upset. After that, I'd give even odds to St. Lawrence and Rensselaer, with Quinnipiac the least likely team to pull the upset. Regardless, it's still a tough thing to pull off, because the series are best two-of-three. On top of that, the top-half teams are playing for their NCAA tournament lives. As well as Harvard has played, and as good as St. Lawrence has been at times, I don't think either can run the entire gauntlet and win the ECAC tournament, which is what they'd have to do to make the NCAA tournament. Colgate is also in that position, so that will make it extra difficult on whatever team they do play.
I know we've talked at times about the Patty Kazmaier Award. The nominations come out on Thursday. Who are your favorites to make the initial list at this point? You also mentioned Tedenby earlier; are there other players you want to throw some love at who have perhaps not been in our weekly conversations much, but that you think have played well this season?
Nicole: My guesses for the Patty top-10 are Loren Gabel, Elizabeth Giguère, Megan Keller, Jesse Compher, Sarah Fillier, Grace Zumwinkle, Michaela Pejzlová, Alina Mueller, Jesse Eldridge, and Annie Pankowski. That being said, there are about 10 other names that could be on there that wouldn't surprise me at all. There's a bunch of players in the top-25 of scoring that could be argued for or against each other pretty convincingly. I don't think we'll see a goalie or another defender aside from Keller.
This has been a fabulously fun year to cover thus far. All the upsets and losses have been a bit crazy and sometimes make our job a bit more difficult, but it's also been crazy fun to see programs make headway. Chaos can be a bit exhausting from the work angle, but man does it make the game fun to watch.
The goalies have been of particular note this season, especially the rookies. In fact, I think I'd pick someone like Selander, mentioned above, or Minnesota State's Abi Levy or Harvard's Lindsay Reed, over most of the goalies on the top-10 teams. No offense to those goalies, it's just that these women have faced a tremendous number of shots, and they give their team a chance every single time. They're resilient and fun to watch, and they can win a game for their team all on their own. Levy and Reed are rookies, so are only going to get better and more fun to watch.
It's a particularly amazing and deep rookie class all around, and while Mueller, Chloé Aurard, and Sarah Fillier are rightly getting most of the attention, there are a few others that have made me excited to see what they will continue to do. Maggie Connors is a fabulous foil to Fillier at Princeton. Wisconsin's Sophie Shirley has gotten some focus, but teammate Britta Curl is just as dynamic and could be a breakout player next season. Minnesota Duluth's Gabbie Hughes leads her team in scoring and had a goal against Minnesota Duluth a few weeks ago that I could watch on repeat. It's been a rougher end of the season, but Andrea Braendli at Ohio State has also been a big rookie presence in net. Things could have been much more difficult for the Buckeyes, but she helped with a tough transition.
Who have you loved watching this year that we haven't given enough love and attention?
I'll be in Madison for the Wisconsin/Ohio State series and keeping an eye on Princeton versus Clarkson on Friday. What games do you have plans to watch this weekend?
Candace: I like your list for the Kaz, though I think Selander could make it. I also think Nicole Schammel is more likely than her teammate Zumwinkle. She's a senior and just set the NCAA career saves record. That has to look good to the committee. In terms of players we don't talk about much, I think Carly Bullock is a big part of Princeton being where it is, and her teammate, defender Claire Thompson, trails only Keller in scoring by a defender. Taylor Heise of Minnesota is a candidate for all-rookie team and has been a huge part of the Gophers' success.
As for this weekend, in addition to the aforementioned Princeton-Clarkson game, I have my eyes on Merrimack against Northeastern, because that is a potential Hockey East tournament semifinal, and the Minnesota-Bemidji State series has a lot of drama potential. I'm also curious to see how Robert Morris-Mercyhurst shakes out.
It's amazing to think the end of the regular season is here; a fiery playoff season awaits.