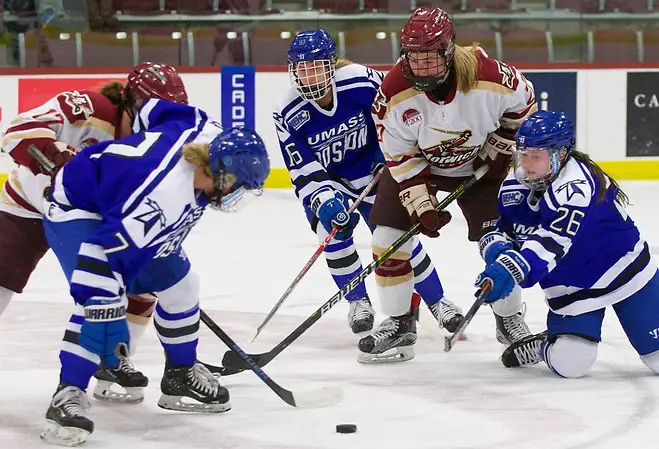 No. 10 Middlebury versus Connecticut College: Middlebury 3-2 (OT)
The Panthers trailed Connecticut College the entire game, but a surge of offense in the last minute of the third period propelled Middlebury to two goals in the last 37 seconds and tie it. Sophomore Madie Leidt then scored the overtime game-winning goal to advance her team to the NESCAC semifinal game. Middlebury is a dangerous team to play, and although they are not as strong as past years, teams who take their foot off the gas against them will get beat every time.
No. 8 Norwich versus UMass Boston: Norwich 3-2
This game was surprising because when these teams met in the regular season, Norwich won both, 4-1. The Cadets will now face Castleton in the NEHC championship, and I'm sure that seeing how close this game was only fuels Castleton's hope to beat Norwich. Castleton is the only team to tie Norwich during the conference regular season games. We very well could see the 2018 national champions fall in their conference tournament.
No. 6 Adrian versus St. Norbert: Adrian 9-1, 5-0
The Bulldogs have stepped up their game for the opening weekend of playoffs. The last time these two teams met, Adrian could only put up four goals in each game. Now in the first weekend of playoffs, the Bulldogs were able to score 14 goals in two games. If they continue playing with this firepower, I don't see anyone beating them.
No. 4 Hamline versus Augsburg: Hamline 6-1
Augsburg is not an easy opponent. With that being said, seeing Hamline put up six goals in the game is concerning if you are St. Thomas. Bre Simon had the opening goal, and her teammate Leah Schwartzman had a hat trick. These two players have been incredible all year for the Pipers, and they are performing just as well in the playoffs. The MIAC championship game will be extremely entertaining to watch as Hamline will compete against St. Thomas, the only team to beat the Tommies all year.