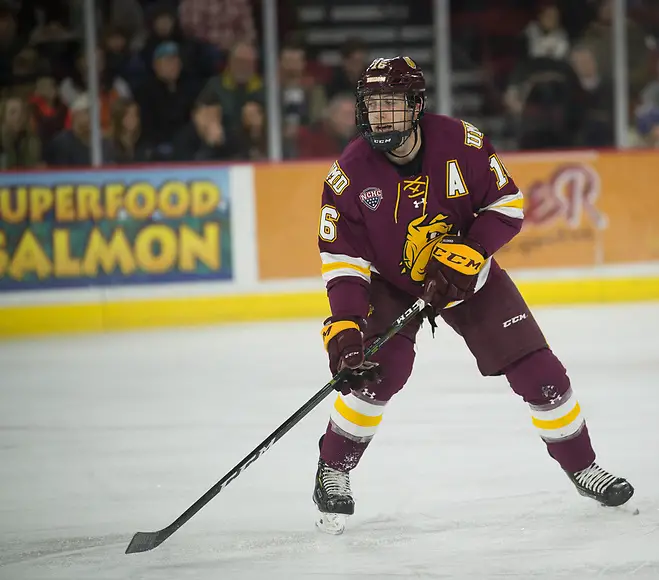 On the final weekend of the regular season in the NCHC, only two teams, St. Cloud State and Colorado College, know what position they will finish in.
The other six can end up anywhere from two to three different spots. Not even home ice is fully decided, as Western Michigan and North Dakota are both fighting to host a series.
According to Minnesota Duluth coach Scott Sandelin, the uncertainty is not a surprise.
"Well, I think that after St. Cloud there's been a lot of parity," Sandelin said. "Again, it's tough to win night in and night out in this league. To see what St. Cloud's done I think puts them at a different level. They've kind of walked through our league, and obviously they're a very, very good hockey team. But after that, there's been a lot of splits in the second half, which is pretty typical. There are no teams that aren't good in our league.
"I don't care what the standings say, it's tough. I felt good about getting six points last weekend against Miami because they're playing better and they have a good hockey team too. Sometimes it's a fine line between winning and losing. Again, our league's been strong from top to bottom, and I can tell you the first-round matchups in the playoffs are going to be hard for whoever anybody plays."
Last weekend marked the first time in a month that the Bulldogs swept a weekend series, but the RedHawks didn't make it easy. Saturday's game was a wild affair in which Miami rallied three times to tie the score by early in the second period before taking the lead at 7:39 of the second. The Bulldogs then rallied in kind, taking a 6-5 decision in a very un-NCHC like game.
"Compared to the four games against Denver and North Dakota, they were a little bit more wide open," said Sandelin. "We get a couple early goals, and we got some penalties and they capitalized and then it was back and forth the rest of the way. I guess it was an entertaining game for the fans. The special teams were good for both teams. Both teams capitalized; there were some really nice goals in the game, but I venture to say both teams probably need to tighten it up a little bit. You're going to be in games like that, just like a number of times you're going to be in games like Denver, where we lost 1-0 where there isn't a lot of wide open or offensive play."
Duluth has been propelled in part by special teams play.
The penalty kill is currently second in the country, killing at an 88.5 percent rate, while the power play is ninth, succeeding 23.89 percent of the time. The power play was important against the RedHawks Saturday, where the Bulldogs got two power-play goals, including the game-tying goal at 19:40 of the second by Parker Mackay. It also got the Bulldogs a crucial split in a series with North Dakota the previous weekend, where Duluth won Saturday's game, 3-2, thanks to two five-on-three power-play goals.
"I think the power play during the last month has been scoring some goals and gained some confidence, which is important," said Sandelin. "I think through the year they go through different stages. Sometimes you're going to have some lulls, especially on the power play. You just have to stick with it. Obviously our penalty kill's been going pretty good all year, and this past weekend we got exposed a little bit, but it wasn't anything so much structurally. Number one, (Grant) Hutton can shoot a puck, which we all know. There was a goal that beat our goalie clean, and the other one was a rebound and the other one was a five-on-three. We didn't block a shot and we got a little bit out of structure on the five-on-three, but again, it's a good reminder to keep working and trying to get better.
"It was one weekend that we need to make sure we don't compound into more than one. I think both the power play and penalty kill have had some success, so that's a good sign for us moving forward."
While the scoring from sophomore defenseman Scott Perunovich and senior Parker Mackay has fallen off a little, sophomore Justin Richards has upped his production. He is tied for the team lead in points with Perunovich with 27.
"Yeah, he's been good," Sandelin said of Richards. "He certainly gained a lot of confidence this summer. He got quicker and stronger and most importantly more confident, and I think once he got that first goal a bit earlier in the year it kind of helped get that monkey off his back from the goal-scoring side. He's been one of our best 200-foot players. It's great to see him having some offensive success this year, which last year I know probably frustrated him at times, but that's the progression some kids make. I think for him he's been a real leader for us on both sides of the puck, and it's great to see him having the year offensively.
"That line has been good for us with Parker (Mackay) and Cole (Koepke). Those guys create a lot through their hard work and forechecking opportunities. We need them to kind of get going; they've been a little slow here lately, so we need to get them picked up here and contributing a little bit more maybe than they have the last four or five games."
Duluth closes its season against St. Cloud, where Sandelin will face his former assistant coach, Brett Larson, who has had great success in his first year coaching the Huskies, which doesn't surprise Sandelin.
"First of all, he's a good coach, [and] secondly, they've got a pretty strong team," Sandelin said. "I mean, they returned 21 guys. They had some guys not sign. It reminds me of the '11 year here when we had some guys, two or three guys, come back and not sign, it gave a huge boost to our team. Obviously to go in there and manage that team and know that they had a successful year last year and they have a good team coming back, I think he's done a good job managing that team as far as what things he wants to change or not change, and that's not always an easy thing."
As for what his team needs to do, Sandelin said managing the puck is crucial.
"That's going to be a key for us, because they're a good transition team. You've got to make smart plays, and you've got to manage the puck well. I mean, they're a very good team in the offensive zone. They get five guys involved in the offense, they move, they support the puck in small areas very well. I think also defensively they're a better hockey team than they were last year. They don't give you a lot of room, so we're going to have to work hard to create some offense, even though it's big rink."