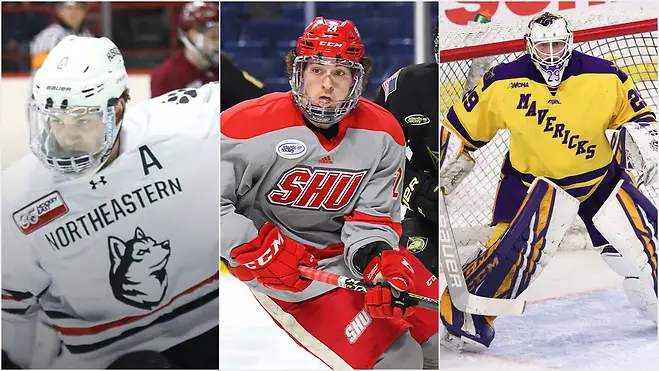 Northeastern junior defenseman Jeremy Davies has been named National Player of the Month by the Hockey Commissioners Association for the month of February.
Sacred Heart's Austin Magera has earned HCA Rookie of the Month honors and Minnesota State freshman Dryden McKay is the National Goaltender of the Month.
Among all skaters, Davies tied for second in the nation, tied for first in Hockey East, and led all defensemen nationally with 12 points on three goals and nine assists in February. He had at least one point in all but one of Northeastern's games in February, helping the Huskies to a 6-2-0 record.
Magera ranked second nationally in points per game by rookie skaters. He had seven goals and two assists in eight games while Sacred Heart went 7-1-1 and closed in on a first-round bye in the Atlantic Hockey playoffs.
McKay led all NCAA goaltenders with a 0.98 GAA for month of February, allowing just six goals on 133 shots faced for the WCHA regular-season champion Mavericks.
He also ranked third in the country for the month with a .954 save percentage.