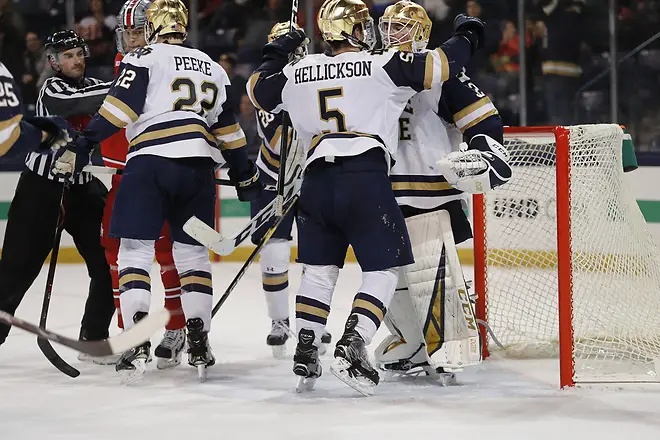 Notre Dame split its last three weekend series of the regular season, so not needing a third game in the first round of the Big Ten tournament was a welcome sight for coach Jeff Jackson.
The Irish swept Michigan State at home last weekend in the best-of-three first round and will host Minnesota in a single-game semifinal on Saturday.
"I know I was pleased, relieved in a way, because my experience is that if you ever get to a third game in three days, anything's possible," Jackson said. "Anything can be involved in the outcome of the game. It could be goaltending, it could be officiating, it could be a lot of different things, so never want to put yourself in that position where you're in a game that's potentially the end of your season."
Notre Dame finds itself squarely on the PairWise bubble, sitting 15th, but Jackson said he doesn't use the rankings to motivate the team to pick up two more victories and nab the Big Ten's automatic bid into the NCAA tournament.
"I try not to talk too much about it with our team," said Jackson. "Right now, we're just focusing on the Big Ten semifinal. We can't start looking beyond Saturday night. At this point in the season, every game is potentially your last game."
Jackson added that he likes the playoff format that is in its second go-round for the conference, even though he was wary of only having a one-game semifinal going into last season.
"It just allows you to put everything you have into one game," he said. "The other aspect is hopefully you get a good crowd for a single game. There's nothing more important than playing in front of a good crowd this time of year in the playoffs."
If the Irish replicate their performances from last weekend, they have a good shot at advancing.
Notre Dame defeated MSU 1-0 on Friday and 2-0 on Saturday.
"They were two hard-fought games," Jackson said. "Michigan State played well and I think both goaltenders played well. There wasn't a lot of ice to make plays, I can tell you that. It was a typical playoff game. Both teams didn't give up much."
Goaltender Cale Morris pitched back-to-back shutouts with 27 saves on Friday and 28 on Saturday. After a stellar sophomore campaign, where he posted a 27-8-1 record and 1.94 GAA, he currently has a 16-12-3 record and a 2.23 GAA.
"He's played pretty much the same all year long," Jackson said of his goaltender. "He's had a couple tough games that have kind of skewed his statistics. The first game of the year at the Ice Breaker and the last game of the first half against Penn State, those two games probably skewed his numbers.
"He's played pretty consistently for us all year, but he was outstanding this weekend. He didn't give up much and did a good job of controlling his rebounds. He was square to the puck and he was really engaged, he was focused and he looked like he was on his game. That's all that I can expect or ask from him at this time of the year."
This weekend the Irish will host Minnesota, a team that they went 1-3 against during the regular season. The Gophers have won seven of their last eight contests, with the loss being against Notre Dame in Minneapolis.
"We saw them earlier in the year and they were right on the cusp of turning the corner and when we played them in Minnesota, we were fortunate to jump on them the first night," Jackson said of the Gophers. "They're playing St. Cloud hockey, they're very stingy through the neutral zone and they don't give up a whole lot defensively. They're a really well-balanced team, they've got some really talented offensive players and their defense is sound and their goaltending is sound.
"Right now, they're one of the hotter teams in college hockey, so we have to be prepared to play our very best and I'm sure it'll be a heck of a game."
If the Irish do win on Saturday, it'll be the first time they've won more than two consecutive games during the second half of the season. It'll also mean that one of Jackson's points of emphasis came to fruition.
"Consistency has been one thing that I've been emphasizing with our team because we've lacked it a little bit, probably more from an offensive perspective than any other area," Jackson said. "So winning back-to-back was really important, not just for our confidence, but to make sure that we put ourselves in a position to play in the semifinals this coming week."