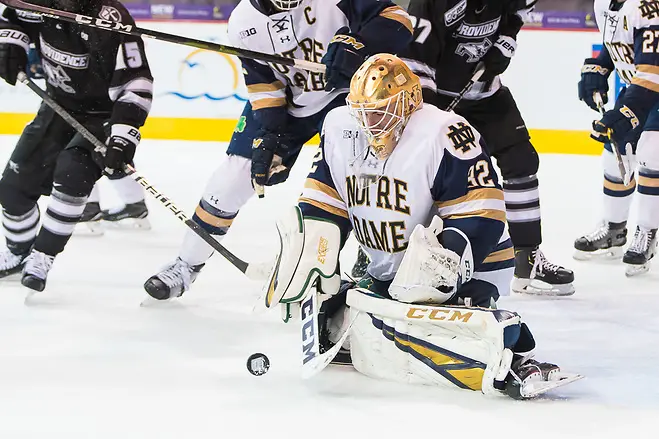 The 10 semifinalists for the 2019 Mike Richter Award, which honors the most outstanding goaltender in NCAA men's hockey, were announced Thursday.
The five finalists for the sixth annual award will be announced on Thursday, March 28, with the winner announced on Friday, April 12, at the Frozen Four in Buffalo, N.Y.
​​
Candidates for the Mike Richter Award were determined by nominations from all 60 NCAA Division I head coaches. The semifinalists, finalists and winner are selected by a committee of coaches, scouts and members of the media.
Joey Daccord, Jr., Arizona State
Hayden Hawkey, Sr., Providence
Jake Kielly, Jr., Clarkson
Stefanos Lekkas, Jr., Vermont
Dryden McKay, Fr., Minnesota State
Cale Morris, Jr., Notre Dame
Tommy Nappier, So., Ohio State
Cayden Primeau, So., Northeastern
Hunter Shepard, Jr., Minnesota Duluth
Andrew Shortridge, Jr., Quinnipiac
Past winners include Morris (2018), Tanner Jaillet (Denver, 2017), Thatcher Demko (Boston College, 2016), Zane McIntyre (North Dakota, 2015) and Connor Hellebuyck (UMass Lowell, 2014).