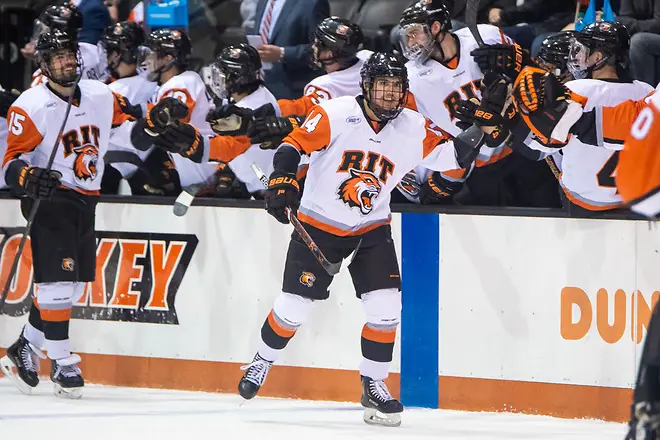 Hockey playoff overtime encapsulates the best and worst pieces of the sport.
It's an annual passage and tradition, but it also develops organically and without any advance warning. A game begins without any inkling that overtime is a possibility, but it always casts a looming shadow, especially in close games. I don't think anybody shows up to a rink or arena thinking about overtime, but it's always a hot topic of conversation in the postseason.
No sport does things quite like postseason hockey. It's sudden victory, so every player, coach and official steps on the ice with a heightened sense of awareness. There's no margin for error because one false step can end the game in a split-second, but it concurrently becomes taxing on the body, soul and spirit of hockey people. Going to overtime forces everyone to be at their best at a time when they simply can't be.
Overtime feels like going all-in on a poker hand on every single shift. The victorious payout is an explosion of pure joy, but the losses are painful and can linger forever. Nobody quite gets over the game, which is why it is simply the best thing about sports – even as it's the worst.
You'll be hard-pressed to find someone in disagreement with that statement, but it's unlikely anyone who does will be rooting for either Niagara or Robert Morris this weekend in Buffalo. That's because both teams used the extra session to propel themselves into the Atlantic Hockey semifinals, continuing a trend that Chris Lerch mentioned last week when sizing up the second round.
On Friday night, a Niagara team that endured travel issues getting to Colorado surrendered an early first-period goal to Air Force but rallied to create a see-saw affair against the Falcons. 60 minutes proved ineffective, and extra time became necessary after the game remained knotted through three periods. It would take over seven minutes before Ludwig Stenlund scored his second goal of the game to lift the visitors to a Game 1 victory en route to a two-game sweep.
It was Niagara's third overtime win of the playoffs after it won a double-overtime first game against Canisius and lost the second game in a single OT the week prior.
Robert Morris, meanwhile, won a more dramatic outcome at Bentley. The Colonials lost the first game when the Falcons scored with 97 seconds in the third period but returned the favor to force the third game by scoring with almost the exact amount of time left on Saturday. The elimination game went to overtime on Sunday, and with less than four minutes left before a second extra session became necessary, Justin Addamo scored to send the Colonials to their sixth straight semifinals appearance.
It was the fifth overtime game of the Atlantic Hockey postseason and is part of a 19-game lineup that's gone to extra time across college hockey. At least one game will probably go extra time in Buffalo, but to the team that wins, it's always going to be worth it.
Four teams remain in the race for the conference championship. AIC will play RMU in the first game at HARBORCenter on Friday at 4:35 p.m. before RIT and NIagara tangle at 7:35 p.m. (pending the outcome of the first game). By the time we wake up on Sunday, we will have a league champion.
Here's a look at the four teams:
No. 1 American International (20-16-1)
Everyone in college hockey knows about the Yellow Jacket run, and last weekend's 4-1 decisive victory over Army West Point proved that the team has a killer instinct in its locker room. AIC will check off another box in its season of firsts this weekend when it appears in its first-ever conference semifinal game.
AIC is also ranked No. 19 in the nation this week. I'm going to self high five myself as the first person who ever gave the Yellow Jackets a national vote. That Dan Rubin, what a trend setter.
AIC Fun Fact: Chris mentioned last week that AIC is looking to become the first top seed to win the tournament since Air Force won it all in 2012, but the Yellow Jackets are also trying to become the first "eastern AHA" team to win a title since Army won it all in 2008.
Why They Win: The Yellow Jackets' offense enters the weekend as the league's top-scoring unit with an absurd 3.64 goals per game against AHA opponents, and the league's top-scoring offense hasn't missed a semifinal round since 2012. Plus the AIC defense has a scoring defense equal to RIT, which is the best remaining unit, with both sitting around 2.75 goals per game in AHA play this year.
And if the game is tight late? AIC went plus-17 in the third period this year.
Why They Don't Win: The goaltenders don't see a ton of shots behind a defense that allowed just over 26 shots per game this year, but AIC is the only team remaining without a player sporting a .900 save percentage.
No. 5 Rochester Institute of Technology (17-16-4)
It's not really a secret statement that attendance suffered at Blue Cross Arena in each of the last two seasons because RIT missed the semifinals. So there's a subtle irony, to me, that the Tigers are going during the first year the tournament moved to Buffalo.
RIT Fun Fact: The Tigers lost their first two semifinal game appearances in 2007 and 2008 but have won their last five in a row. Their last championship weekend loss came in 2012 in the conference title game against Air Force.
Why They Win: The other three teams all have a certified superstar leading the offensive lineup, but RIT is a team built by depth. Yes, there are two 30-point scorers, but there are six other players with 20 or more points this year. They have 20 goals sitting amongst the players who are seeded ninth through 11th in scoring.
Why They Don't Win: RIT has a couple of statistical holes in the late stages of games. The Tigers were -3 in third period scoring this year with a -52 shot differential against AHA teams, a number that widens if non-league games are factored in. Of course that means the Tigers scored half of their goals in the third period last weekend against Sacred Heart.
No. 6 Niagara (16-18-5)
Niagara beats its archrival in the first round before going to Air Force to sweep the two-time defending champions in the altitude. That's exactly what we all expected in the preseason when the Purple Eagles were picked to finish in ::checks notes:: last place.
Niagara Fun Fact: Niagara is the only team in Atlantic Hockey history to qualify for the national tournament with an at-large bid. The Purple Eagles earned a No. 3 seed in 2013 when Canisius won the league tournament. It's funny to look back and ask for forgiveness that a majority of Atlantic Hockey folks were probably rooting against them in the conference tournament last year specifically so two teams could get into the dance.
Why They Win: This team has at least one superstar at least every position. Forward Ludwig Stenlund is virtually assured of Rookie of the Year honors with 41 points entering this weekend, and defenseman Noah Delmas is a second 40-point scorer with 15 goals of his own. Goalie Brian Wilson made 77 saves last weekend in the sweep against Air Force and has only one lost start since Valentine's Day. This team also can claim a little bit of home-ice advantage since Buffalo is a short ride over the bridge from Niagara Falls (sorry, RIT fans, it's closer).
Why They Don't Win: Wilson is the only goalie that sees over 30 shots per game, and he gave up four goals in three of his last five games despite posting impressive save numbers. The Purple Eagles also have the toughest path to the title; they might never have an opportunity to play Robert Morris, the one team they split the regular season series with.
No. 8 Robert Morris University (16-21-2)
The Colonials advanced to the Atlantic Hockey semifinals for the sixth straight season this year, tying a league record. They did it despite the fact that I didn't even have a chance to pick against them last week.
RMU Fun Fact: RMU has never lost a deciding third game since joining Atlantic Hockey, and the only teams to ever eliminate the Colonials before the semifinals are Niagara, which jumped to the AHA from the CHA with RMU, and Connecticut, which is now playing in Hockey East.
Why They Win: RMU is probably the strongest No. 8 seed in recent league history. The Colonials knocked out Holy Cross, which entered the playoffs as arguably the league's hottest team, and Bentley, which had the most All-Conference selections. And we didn't even touch the roster, which despite getting younger than recent years still boasts players who have been to the conference final four ever year they've been in the program.
Why They Don't Win: I pick them to win it all. All joking aside, I do think the roster itself is a little top-heavy, particularly on defense. Two defensemen are well into the plus side, and it's no coincidence that it's older skaters Eric Israel and Alex Robert. The rest were below zero, but that didn't seem to matter last week.
The Lerchies, 2019 Edition
Chris will probably roll his eyes at me when he reads this. I used "The Lerchies" for our all-league awards a couple of years ago, and I'm sticking with it. He had his choices last week, so here are mine:
First Team:
F Blake Christensen, Jr., American International
F Dylan Mclaughlin, Sr., Canisius
F Ludwig Stenlund, Fr., Niagara
D Joe Duszak, Jr., Mercyhurst
D Noah Delmas, Jr., Niagara
G Billy Christopoulos, Sr., Air Force
Second Team:
F Derek Barach, Sr., Mercyhurst
F Alex Tonge, Sr., Robert Morris
F Kyle Haak, Sr., Air Force
D Dalton MacAfee, Sr., Army West Point
D Tanner Jago, Sr., Bentley
G Aidan Pelino, Jr., Bentley
Third Team:
F Erik Brown, Sr., RIT
F Jonathan Desbiens, Jr., Bentley
F Luke Santerno, So., Bentley
D Brennan Kapcheck, So., American International
D Alex Wilkinson, Jr., Army West Point
G Francis Marotte, Jr., Robert Morris
Rookies:
F Austin Magera, Sacred Heart
F Ludwig Stenlund, Niagara
F Dalton Hunter, Mercyhurst
D Josh McDougall, Mercyhurst
D Luke Orysiuk, Bentley
G Josh Benson, Sacred Heart
Most Valuable Player – Blake Christensen, American International
Best Defensive Forward – Kyle Horsman, Robert Morris
Rookie of the Year – Ludwig Stenlund, Niagara
Coach of the Year – Eric Lang, AIC
The Last Word
I signed out of work on Monday, and I realized that for all intents and purposes, my season was over. I'll be back in April (more on that in a second), but I was really funked out that it always feels like it ends so abruptly. So if you'll lend me the next couple of moments, a few thank yous.
A huge thanks to Chris Lerch for sharing Atlantic Hockey with me for what feels like forever. I lost track of the years that I've been doing this with him because I feel like I've been here my whole life. I absolutely love covering this league, and it will always be a personal favorite of mine that we had a chance to welcome Chris (and Ed Trefzger) to Bentley this year. We put Chris on the Happy Birthday video board, and he looked right at me across the arena, at which point I sent him two thumbs up. I regret nothing.
Beyond Chris, I've been really lucky this year to produce some podcasts for Ed Trefzger and Jimmy Connelly and write the occasional TMQ with Paula Weston. So you can imagine how excited I am to get out to Buffalo this year for what will be my second Frozen Four – first away from Massachusetts. So I'll be back in April, with full anticipation to help our site produce some really special memories, both personally and professionally.
Thank you to the coaches and players who welcome me into their phones for interviews throughout the week, and a huge thank you to the communications staffs who deal with my frantic phone calls after I foolishly lose track of time (it happens at least twice a month). Your work is often unnoticed and overlooked.
In particular, I always save a special thank you for Bentley's hockey program because without it, I wouldn't have gotten a start into the AHA. I celebrated 10 years this year, at which point I realized I was old. Even further back, there's a special place in my heart for Brown University, where I attended my first behind-the-scenes college hockey game with my brother Michael in 1996…23 years ago.
Atlantic Hockey is probably the closest-knit league in college hockey, and it always feels like a huge family gathering more than it does a competitive conference. A lot of that has to do with the people, and our broadcast crews are very much a part of it. The time spent before and after games is probably more meaningful for me than the actual games.
Thank you to everyone who reads, comments, tweets and otherwise interacts with us. You're what drives this site. We're just the vessels. I love you all, and I appreciate your knowledge and passion for this game.
And, of course, thank you to my wife, Michelle. She's always there at 9 p.m. when I need to proofread something with someone – or when she has to deal with my occasional writer's block and subsequent meltdown in our kitchen. The greatest gift I ever received was being Mrs. Rubin's Mr. Rubin.