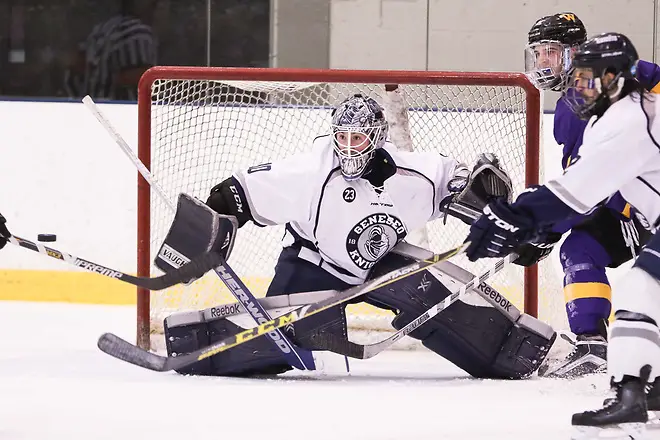 As freshmen, the senior class for Geneseo reached the Frozen Four in 2016, only to lose their semifinal matchup with Wisconsin–Stevens Point, 5-1. This time around, the circumstances feel different for a team driven to play for a national championship.
"That was an emotional and challenging year for the team," noted coach Chris Schultz. "They had gone through a lot with the loss of a teammate and really were driven by emotion when we got to Lake Placid. This year is different. They are driven by wanting to win on Friday and play in the final game on Saturday."
The Knights are a complete team, built for speed with great talent from the crease out and a high-powered offense that put on a show in their 8-2 quarterfinal win over Manhattanville last weekend. Despite the offensive explosion, it all starts in the back-end for Geneseo and quickly morphs into playing fast in all three zones.
"We are committed to the defensive end first," noted Schultz. "It all starts from there with 'Dough' [Devin McDonald] in goal and the D-corps to the forwards. This time of the year, you need to be wary of teams that have good goals-against averages. The teams that don't give up goals and don't take penalties are dangerous at this time of the season. I believe we are one of those teams, and you can't depend on scoring five goals a game in playoff hockey games."
McDonald was a freshman in that 2016 Frozen Four appearance and took the loss against the Pointers in the semifinal game. This season, he has played his best hockey while setting a new NCAA single-season record for shutouts with 12 to lead the nation.
"Devin plays with a chip on his shoulder, and I think that is part of why he is successful," stated Schultz. "He lost his starting job as a sophomore, and I think he learned from that experience to get better and play more consistently. He constantly and consistently comes up with the big save when we need it. I don't know why he doesn't get the respect other goalies do, but I think that fuels him a little bit and I am sure that will be a big part of his drive on Friday."
The Knights face a team on Friday in Norwich that may feel like looking in the mirror to coach Schultz and his staff. Unbeaten since December, Norwich has won 14 straight games and is just a couple of seasons removed from its last national title in 2017.
"Cam and I exchanged films and I haven't had time yet to review it in detail yet, but they are similar to us in many ways," said Schultz. "They have strong goaltending, a defense-first commitment, they don't take penalties, and take care of the puck and they like to play with speed and transition the puck quickly. This is going to be a very exciting game and played with a lot of pace on both sides."
The Knights will be the home team as the higher seed in their national semifinal against Norwich. The face-off begins at 3 p.m. local time on the campus of Wisconsin-Stevens Point.