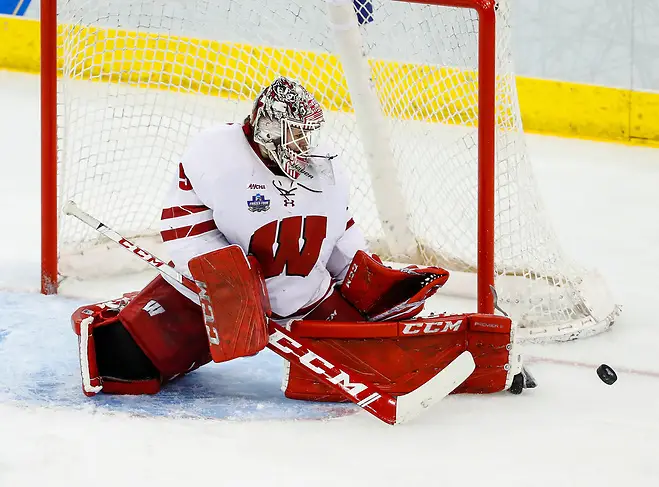 HAMDEN, Conn. — En route to being named the Most Outstanding Player of the Frozen Four, Wisconsin's Kristen Campbell did something that had never been done before.
Campbell, a redshirt junior, went 3-for-3 in shutouts in the NCAA tournament as the Badgers won their fifth national championship and first since 2011.
She made 27 saves in No. 1 Wisconsin's 2-0 victory over No. 2 Minnesota on Sunday at People's United Center.
But she was quick to credit her teammates, who blocked 20 shots and cleared out dangerous loose pucks in front of the net.
"I thank the team in front of me," Campbell said. "I think that we were willing to do whatever it takes, get the puck out whenever we needed to. It's a complete team effort.
"Sure, you can look at a goalie getting a shutout, but it's all about the team in front of you. They have to be making the plays in front of you for you to get that done. I just couldn't be more proud of how the team was able to execute in this postseason run."
Campbell made 15 saves in a 4-0 NCAA quarterfinal victory over Syracuse and stopped 14 shots in Wisconsin's 5-0 victory over Clarkson in Friday's semifinals.
She finished the season with a national-best 11 shutouts and with a Badgers' season record of 35 victories. She also led the country in goals-against average (1.03) and was fourth in save percentage (.940).
The Badgers lost in double overtime in the Frozen Four semifinals last season, with Campbell allowing a Wisconsin career-high four goals against Colgate. That experience helped Campbell this time, Wisconsin coach Mark Johnson said.
"She came back much more experienced this year than she was last year," he said.
Campbell spent two seasons at North Dakota before the school folded the women's hockey team in a cost-cutting move two years ago. She transferred to Wisconsin and became a top-10 finalist for the Patty Kazmaier Award last season.
She fulfilled a goal on Sunday, just in a different uniform than she originally expected.
"When I went to North Dakota, my goal was to win a national championship," Campbell said. "I couldn't thank the coaching staff here enough for taking a risk on me and taking a chance to bring me into this program. As soon as I got that opportunity, I knew that I was going to make the most of it."
The risk has paid major rewards for the Badgers.