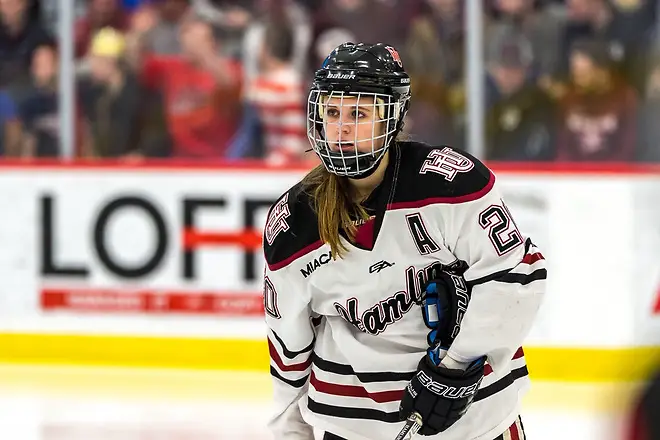 For leading the country in scoring, 10 points higher from the next player, and being the only player in the league to have points per game over two, junior forward Bre Simon has earned the USCHO Women's D-III Player of the Year.
In just three years, Simon has 75 goals and 72 assists for a total of 147 points. Simon is the best player to come through Hamline's program and still has one more year to go. She ranks first in program history for points, and the next person is 68 points away. Simon also ranks first in the program's history for goals and assists.
Hamline coach Natalie Darwitz has been quoted saying Simon is a more reserved and humbler person who understands her impact to the team. Whether Simon is a vocal leader or not, it's clear she is a leader through her actions and the way she carries her team on the ice. If you are an underclassman on Hamline playing with Simon, you would have no choice but to give your best effort every chance you get. Every coach dreams to have a player like that.
Along with earning her first-team All-American honor for the second year in a row, Simon is the first Piper to be named a Laura Hurd Award winner. She is the third player from the MIAC to win this award since it was established in 2000.
Such acknowledgment and awards can put a target on a player's back with opponents, but according to Darwitz, Simon does not let the attention get to her and continues to play her game. This can easily be seen by looking at Simon's stats and seeing that against every team the Pipers faced, she recorded a point.
Simon was the key factor in the Pipers 2019 national tournament run. In the quarterfinal game against Wisconsin-River Falls, she assisted on the opening goal, scored the second goal of the game (which would be recorded as the game-winning-goal), and assisted on the fifth goal to win the game by good measure. Then in the semifinal game against conference rival St. Thomas, Simon scored the second goal of the game to give her team momentum and secure their advancement to the national championship.
Although Simon and the Pipers didn't beat Plattsburgh in the national championship game, you can see the culture that is developing for this program. Simon and Darwitz are creating a winning mentality and a tradition of excellence. Simon has and will continue to pave the path for her teammates and future Pipers to be the best players possible and allow the program to potentially be a regular NCAA tournament participant.
Simon's senior year should be exciting, and without a doubt she is the top player to watch next year. Congratulations to Bre Simon on being selected the USCHO Women's D-III Player of the Year.