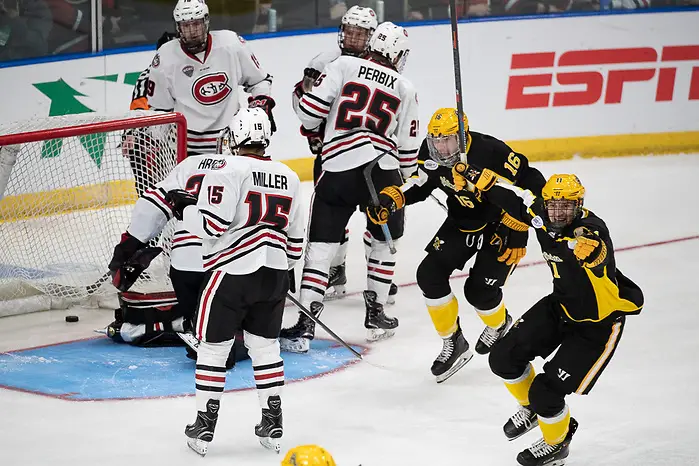 FARGO, N.D. — American International coach Eric Lang knew that even Cinderella stories need a script.
If his 16th-seeded Yellow Jackets were going to find a way to defeat top-ranked St. Cloud State on Friday night in the semifinals of the NCAA West Regional at Scheels Arena, he was going to have to come up with a believable storyline and the Yellow Jackets would have to follow it line by line.
Well, the reviews are in, and the overriding response is, "What a performance."
The Yellow Jackets became just the third No. 16 overall seed to beat the tournament's No. 1 seed, edging SCSU 2-1. In doing so, they became the first team to pull off the biggest of upsets in its NCAA tournament debut.
"We thought we had to block 20 shots," Lang said of his game plan. "We thought we had to have no more than 10 turnovers. We couldn't give up more than two odd-man rushes. That team transitions like nothing I had ever seen before. We had to have a script. We couldn't just go over the boards and up and down the ice.
"We did some different things in the neutral zone to try to give them a different look."
It was a shocking, sudden and familiar end to the season for the Huskies. They were the No. 1 seed in the tournament last season when they were upset by No. 16 Air Force. A new year brought a new dose of heartache.
"No excuses," said SCSU junior defenseman Jack Ahcan. "They played a good game, we played a good game. We were well prepared. It just wasn't our night."
First-year Huskies coach Brett Larson gave credit to AIC for playing a good game and felt that his team played well after a "nervous" first period that found the Huskies down 1-0.
The Yellow Jackets took a 2-0 lead into the third period, which had scores of others starting to believe what AIC players said they believed all along.
"We have a lot of trust in each other," said Joel Kocur, who scored the first AIC goal. "We had some overtime games in the [Atlantic Hockey] playoffs and I think that helped us a lot."
The Huskies made huge push in the third period, outshooting AIC 15-3, for a 34-13 edge by game's end. They finally got on the board midway through the period with a power-play goal when Easton Brodzinski got credit for a centering pass that caromed into the net off of an AIC defender.
The Huskies spent most of the remainder the third period in the Yellow Jackets' zone, and when they pulled goaltender David Hrenak with 1:30 to play they were all over the AIC goal but couldn't find the back of the net.
"That's as skilled of a team that I have seen," Lang said of the Huskies. "Sometimes, things just go your way. Sometimes, puck luck comes into play. But I have always believed that you earn your luck."
With that, the Yellow Jackets earned the right to play for a trip to the Frozen Four.