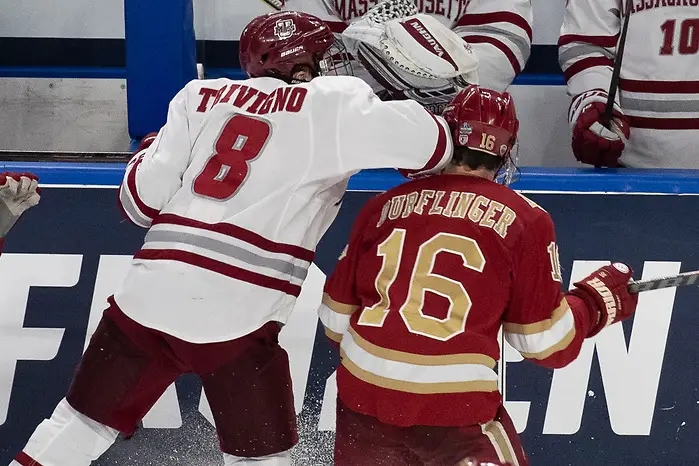 BUFFALO, N.Y. — Massachusetts forward Bobby Trivigno has been suspended for Saturday's national championship game after an unpenalized hit in Thursday's overtime victory over Denver.
The suspension, Trivigno's second this season, was announced by the NCAA on Friday, after UMass and Minnesota Duluth practiced ahead of Saturday's Frozen Four title contest.
Trivigno hit Denver's Jake Durflinger in the side of the head with his right arm in front of the UMass bench with 3:11 left in the third period on Thursday.
Referees have ejected three players in this game but somehow missed this pic.twitter.com/oqK0wKJI4v

— CJ Fogler (@cjzer0) April 12, 2019
Coaches behind the Pioneers bench nearby threw their arms up in the air, looking for a penalty. The next stoppage of play, with 1:50 remaining, was for a UMass icing, and the Minutemen called timeout.
During the stoppage, Pioneers coach David Carle spoke with referees Dan Kovarik and Josh Lupinek about the hit, which came with the game tied 3-3.
"I asked them to take a look at it," Carle said. "I was asked if I wanted to use my challenge. I chose not to."
Coaches are allowed to challenge a variety of game situations, including "infractions that may result in the ejection of a student-athlete" if it has not used its timeout, which Denver hadn't. If the challenge is unsuccessful, the team loses its timeout.
Earlier in the game, which UMass won 4-3 in overtime, the referees used video replay to eject three players — Niko Hildenbrand and Mitchell Chaffee from UMass and Ryan Barrow from Denver — for head-contact major penalties.
In NCAA tournament games, the Division I men's ice hockey committee rules on supplementary discipline. The group met Friday morning to consider the three major penalties from Thursday night's game as well as Trivigno's unpenalized hit.
NCAA committee chair Steve Metcalf said the committee let UMass coaches and administrators know of the punishment before the team practiced Friday. There was no opportunity for appeal, he said.
"We looked at that this morning as a committee and decided that it was a clear hit to the head," Metcalf said. "Unfortunately, it was missed in the game but deserving of supplemental discipline."
Under NCAA rules, the video replay official is allowed to request that referees review only undetected goals, not uncalled penalties.
Trivigno, the Minutemen's second-line right wing, had 13 goals and 28 points in 39 games in his freshman season, including a 5-on-3 goal Thursday. He was suspended by Hockey East for UMass' 5-1 victory over New Hampshire on Nov. 3 because of a head-contact ejection against Merrimack on Oct. 27.
Metcalf said the previous suspension didn't weigh into the committee's discussion.
"Didn't matter who it was. Doesn't matter the game, the time," Metcalf said. "Whether it was their best player or their worst player, whether it as the beginning of the game or the end of the game, it would have been the same outcome, as far as I'm concerned."
Before the suspension was announced Friday, UMass coach Greg Carvel on Friday called Trivigno "another blue-collar kid that you want on your team."
"[He] plays the game on edge," Carvel said. "He knocks down as many guys of the opponents of anybody on our team every night. We'll always start video on Monday showing good, physical hits. He'll knock down three guys a game. He's 5-foot-8, 148 pounds, scores goals, goes to the front of the net, does it all. We're very fortunate to have him. Unbelievable player."
Metcalf said it would have been preferable to make the right call on the ice Thursday.
"But it's a very fast game and there's a lot of things happening," he said. "The refs and the players on the ice, they don't have the ability to watch video. The fans have more opportunity. We have the luxury of that, and those guys don't. And so sometimes when things are happening so quick as they do in hockey, you don't get everything. There's nothing we could do about that this morning."