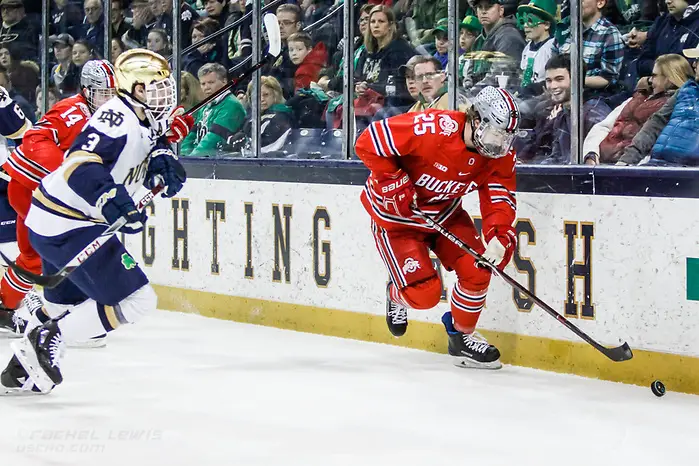 Ohio State senior forward Brendon Kearney was named the recipient of the 2019 Derek Hines Unsung Hero Award on Friday.
The award was established by the Hockey Commissioners Association in honor of former Army player Derek Hines, a former Army player who was killed in the line of duty on Sept. 1, 2005, in Afghanistan.
Kearney had 19 goals and 29 assists in 137 games for the Buckeyes. He was a four-time Ohio State Scholar Athlete and a three-time Academic All-Big Ten honoree. He has been accepted into Ohio State's graduate program.
"Brendon is an outstanding choice for the Derek Hines Unsung Hero Award," Ohio State coach Steve Rohlik said in a release. "He is the ultimate team player. As a coach, you know exactly what you will get from him every time he steps on the ice. His passion, work ethic and team attitude are what you need for a team to be successful.
"He played a major role in the recent success of our program as part of a senior class that went to three NCAA tournaments and won our first Big Ten title. He is just as committed to his academics as a finance major graduating this spring. We appreciate the many hours he spent volunteering and representing our program with so many different groups."
The other finalists for the award were UMass Lowell senior defenseman Avni Berisha, Canisius senior defenseman Ian Edmondson, St. Cloud State senior defenseman Jon Lizzotte and Lake Superior State sophomore defenseman Collin Saccoman.
The Hockey Commissioners Association coordinates the award, with nominations from each of the six Division I men's hockey conferences. Conference media directors vote on a winner "who displays exemplary sportsmanship, is supremely competitive, intelligent and extraordinarily conditioned with an unmatched work ethic."