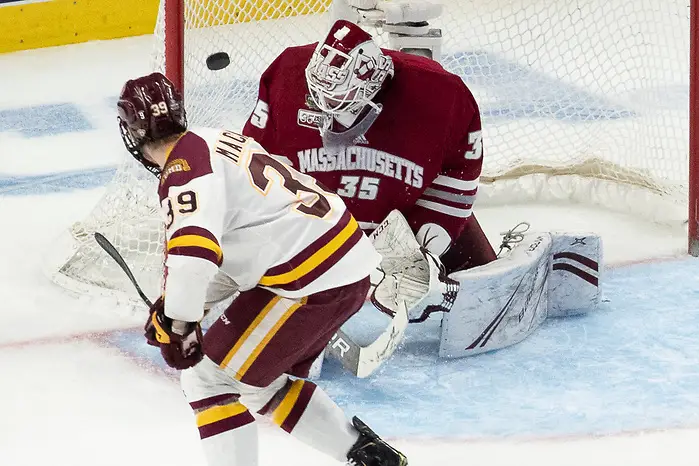 BUFFALO, N.Y. — Parker Mackay was named the Most Outstanding Player of the 2019 NCAA tournament after scoring the game-winning goal in Minnesota Duluth's 3-0 win over Massachusetts on Saturday.
Mackay, a senior, also assisted on the Bulldogs' second goal, scored by Mikey Anderson.
"Obviously, you can't write it any better than that," said Mackay. "I'm so fortunate to be able to make the regionals all four years, let alone three Frozen Fours, and winning two national championships."
In this year's NCAA playoffs, Mackay scored four goals and added two assists.
"Without him, I don't think we would be here, where we are this year," goaltender Hunter Shepard said about Mackay.
Mackay scored both goals in a 2-1 overtime comeback win over Bowling Green in the Midwest Regional. He added an empty-net goal the next night to cement a 3-1 win for the Bulldogs against Quinnipiac.
In the national semifinal on Thursday, Mackay helped get the Bulldogs on the board first with the primary assist on Justin Richards' goal, which made it 1-0 over Providence early in the first.
Mackay followed in the footsteps of previous Minnesota Duluth captain Karson Kuhlman, who was last year's Most Outstanding Player.
Bulldogs coach Scott Sandelin said that Mackay's leadership — echoing last year's remarks about Kuhlman — has been key to this year's success.
"He has been an unbelievable leader for us," said Sandelin. "We knew that when we recruited him. He had leadership qualities when he came out of junior hockey. When you're around him, we knew before he left, he was probably going to be a captain."
"When you have a leader like that in the locker room, to bring the younger guys along, he scores such big goals for us, he's never afraid to step up and be accountable for himself first before he points a finger at others," said Shepard. "That's the reason we've been here the last three years. We've had leaders in that locker room that know how to manage players and just exude what the program means."
Mackay played in his 14th career NCAA game on Saturday, the most since four players for Boston College did in 2008.
All-tournament team
• Forward: Parker Mackay, Minnesota Duluth
• Forward: Justin Richards, Minnesota Duluth
• Forward: Billy Exell, Minnesota Duluth
• Defenseman: Mikey Anderson, Minnesota Duluth
• Defenseman: Marc Del Gaizo, Massachusetts
• Goaltender: Hunter Shepard, Minnesota Duluth
Rarefied air
Sandelin became the 10th head coach to win three or more national titles (2011, 2018, 2019) and the first since Jerry York won his third in 2008. He and York are the only active coaches in that exclusive club.
Sandelin also is the ninth coach to appear in four or more national championship games.
"I'm blessed to be around a lot of great people," he said. "Coaches do get the credit, but there's a lot of people that do a lot of work besides myself, assistant coaches, trainers, strength people. We've got some team managers.
"At the end of the day, the players go out and play. I'm just fortunate that they listen. It's been pretty special."
NCAA coaches with three or more D-I hockey championships
• 6: Vic Heyliger, Michigan, 1948-56
• 5: Murray Armstrong, Denver, 1958-69
• 5: Jerry York, Bowling Green and Boston College, 1984-2012
• 4: Jack Parker, Boston University, 1978-2009
• 3: Ned Harkness, Rensselaer and Cornell: 1954-70
• 3: John MacInness, Michigan Tech, 1962-75
• 3: Bob Johnson, Wisconsin, 1973-81
• 3: Herb Brooks, Minnesota, 1974-79
• 3: Gino Gasparini, North Dakota, 1980-87
• 3: Scott Sandelin, Minnesota Duluth, 2011-2019
Back to back
Minnesota Duluth is the first team to win consecutive national championships since Denver did it in 2004-05, and the ninth overall.
Those Pioneers were preceded by Minnesota, which was a repeat champion in 2002-03. The two wins by the Golden Gophers came in St. Paul, Minn., and Buffalo — just as the Bulldogs have done in 2018-19.
Saturday was the 24th time that a team has appeared in consecutive championship games. With Minnesota Duluth's win, teams doing so are a combined 16-8.
Light turnout
Saturday's announced attendance was 13,624, the lowest in a Frozen Four final since Albany, N.Y., in 2001.