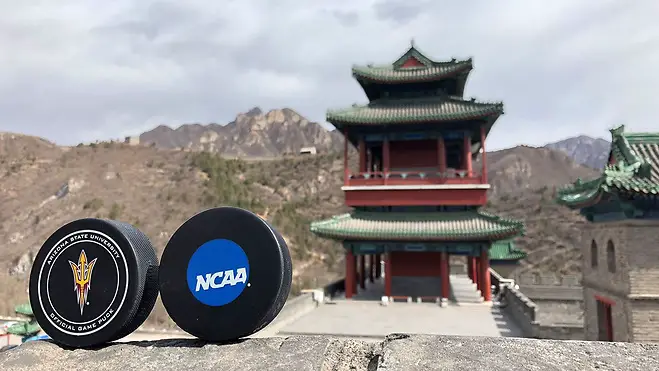 Arizona State will travel to China in July, becoming the first-ever NCAA hockey program to visit the country.
The Sun Devils will play several games, experience Chinese culture and landmarks, visit the American Embassy and ASU alumni in Beijing, and trek to Shanghai over the course of two weeks.
"Our goal as a university and as an athletic department is to be innovators on and off the field of play, and this opportunity for Sun Devil hockey to be the first NCAA hockey team to make a footprint in China fits that mantra," said ASU vice president for university athletics Ray Anderson in a statement. "There are nearly 4,000 Chinese students currently enrolled at ASU, and we continue to expand partnerships with top Chinese universities and the Federation University Sports China, so it is evident the ASU connection with China is strong and is fitting for our hockey program to champion the sport in another non-traditional market."
"We are extremely excited that ASU will make this historic trip to China this summer," added Longmou Li, vice president of communications for the Kunlun Red Star. "Most importantly, it will be the first time an NCAA hockey team will come to China, bringing friendship and partnership between two sides of the Pacific. It will also help us to continue our 'best hockey, best education' philosophy to promote hockey in China."
ASU will play the Kontinental Hockey League's Kunlun Red Star on Friday, Aug. 2 at 7:30 p.m. GMT+8/4:30 a.m. MST, followed by the Chinese Olympic Team on Saturday, Aug. 3 at 7 p.m. GMT+8/4:30 a.m. MST. The next week, the Sun Devils plan to play a third game on Friday, Aug. 9.
"Our program is very fortunate to have this opportunity to represent Arizona State University and NCAA hockey in China," said Sun Devils coach Greg Powers. "Our student-athletes will not only have the chance to play elite teams but will also encounter once-in-a-lifetime cultural experiences, so we're extremely excited and grateful."
Arizona State features one of just three Chinese-born players at the NCAA Division I level in redshirt freshman forward Peter Zhong, who grew up learning the game of hockey in Beijing. He played for China U18 in the World Junior Championships (D2B) in 2013-14 and 2014-15, followed by Team China at the World Championships (D2A) in 2017-18.
Zhong will play for the Chinese National Team on Aug. 3 against his college teammates.
The coaching staff will also participate in a youth clinic during the second week, which China will dub Chinese Hockey Education Week.
For the last three years, Arizona State University and the Pac-12 has partnered with the Federation University Sports China (FUSC) and the Chinese Scholarship Council for the coaching education alliance.