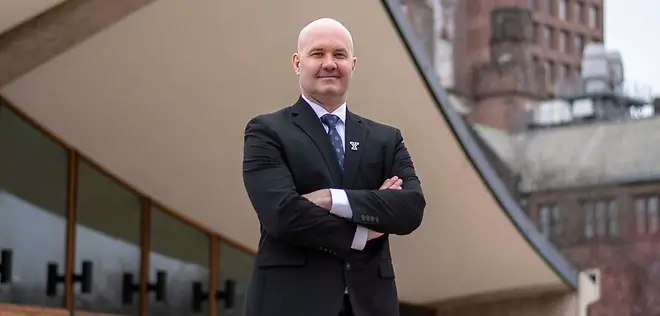 Yale has named Mark Bolding as the new women's hockey coach.
Bolding takes over as the 11th head coach in Yale women's hockey history, taking over for Joakim Flygh, who resigned in February.
The 12-year veteran built a Division III national powerhouse at his alma mater, Norwich, capturing national championships in 2011 and 2018.
"We are absolutely thrilled to welcome Mark and his family to New Haven," said Yale director of athletics Victoria M. Chun in a statement. "His remarkable record of success, two national championships, and his vision for the future of Yale women's ice hockey make him a perfect fit to lead our program to new heights.
"We are so excited about Mark's leadership, experience, and deep commitment to student-athlete success that he will bring to our program."
Bolding compiled a 266-68-22 overall record at Norwich. He guided the Cadets to the NCAA Division III national semifinals seven times and won nine NEHC titles.
"I would like to thank Vicky Chun, Ann-Marie Guglieri, and the entire search committee for this wonderful opportunity to take the helm of the tradition-rich women's hockey team at Yale," Bolding added. "To be able to join the Bulldog athletics family while having the chance to work at one of the finest academic institutions in the world is truly a blessing. I am really looking forward to working together along-side these amazing student-athletes to build a proud and committed hockey program.
"There are very strong student-athletes returning to the program, along with exciting new recruits coming this fall, so the foundation is certainly there for this group to improve rapidly in the tough ECAC Hockey conference. My wife Kari, our five kids and I are extremely excited to get to know the Yale community and make it our home."
Prior to his current position, Bolding served two stints as an assistant coach for the Norwich men's hockey team under Mike McShane. During the 1999-2000 season, Bolding helped the Norwich men win their first national championship with a dramatic 2-1 win over Wisconsin-Superior.
A native of Red Deer, Alberta, Bolding was a standout defenseman during his collegiate playing days at Norwich, serving as the team captain for three of his four seasons. Bolding finished his Cadets career with 94 points. His 73 assists put him alongside the all-time career assist leaders at the school.
In 2005, Bolding was inducted into the Norwich University Athletic Hall of Fame.