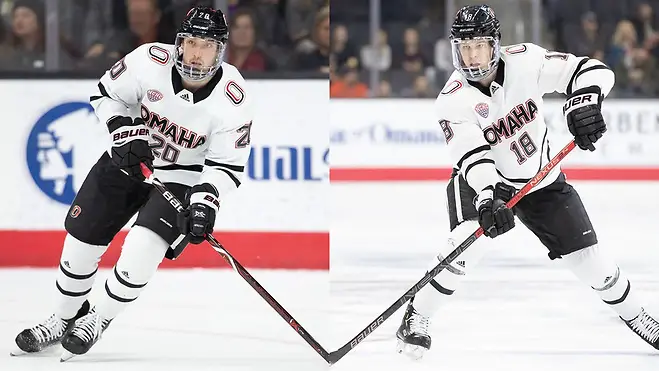 Omaha announced Monday that defensemen Dean Stewart and Ryan Jones will return to campus in the fall for their senior seasons with the Mavericks.
"It means a lot to our program when two guys who have been drafted by NHL teams make the decision to continue to develop here in Omaha," said Omaha coach Mike Gabinet in a statement. "Both Dean and Ryan are outstanding players who will be major contributors to building an elite program here in Omaha."
Stewart is coming off a career year, appearing in all 36 games and scoring five goals and adding 16 assists for 21 points.
The native of Portage la Prairie, Manitoba, was drafted by Arizona in the seventh round (188th overall) in 2016.
"After talking with my parents, the coaching staff and Arizona, I think it would be best for my development if I stayed for my senior year," said Stewart. "Coach Paul Jerrard, Coach Dave Noel-Bernier and Coach Gabinet have been unbelievable for my development as a player and person, and with one more year of college hockey at UNO, it will make my transition to pro hockey much easier."
Jones finished second to Stewart in defenseman scoring for UNO with 12 points while also playing in 36 games. He led the team with 55 blocked shots.
"We have one of the best coaching staffs in all of college hockey," said Jones. "They work day in and day out to ensure that I have the proper knowledge and the right habits to help me develop into a well-rounded player.
"Education is really important to me, and I have been given an incredible opportunity here at UNO to earn my degree while doing something that I love."
Jones, a native of Crown Point, Ind., was selected by Pittsburgh in the fourth round (121st overall) of the 2016 draft.
Gabinet also announced that senior defenseman Jordan Klehr will return to action in 2019-20 after redshirting last season. The native of Lino Lakes, Minn., has not played since the 2017-18 season when he appeared in 13 games before suffering a season-ending injury.
"I'm excited for Jordan, who was a big part of our team two seasons ago," said Gabinet. "It will be great to have someone with his experience back in the lineup, and I'm looking forward to working with him in the upcoming season."
Klehr has appeared in 70 career games for the Mavericks, scoring three goals and 14 assists for 17 points to go along with 12 penalty minutes