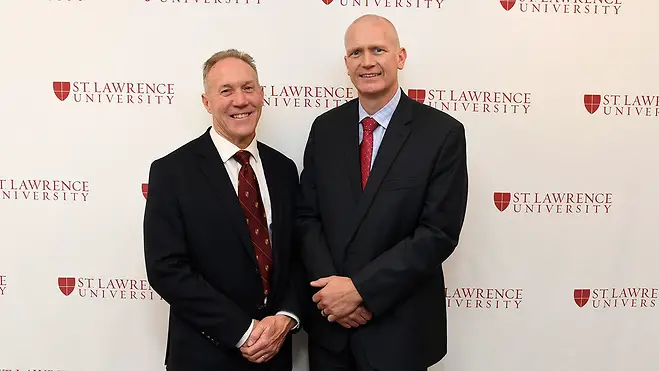 St. Lawrence announced Saturday that Brent Brekke has been named the team's new head coach, the 15th in team history.
Brekke, who replaces Mark Morris, has served as an associate head coach and assistant coach at the Division I level for the past 20 years.
"Brent Brekke demonstrated in all the extensive conversations with the search team the clear ability to develop and share a vision as a head coach," said SLU president William Fox in a statement. "I was impressed with his grasp of what today's students seek and how that translates into a competitive men's hockey program at St. Lawrence. Our ability to recruit a coach of the highest caliber was greatly enhanced by the wise counsel and Laurentian loyalty of professional hockey executives Ray Shero and Randy Sexton."
Brekke spent the past year as an assistant coach at Clarkson. Before that, he spent a decade as assistant and then associate head coach at Miami.
"I am excited to join the Laurentian hockey family and was interested in the position because of the incredible history and legacy of the program," added Brekke. "The university's commitment of resources combined with the renovation of Appleton Arena give us a great chance to be successful."
St. Lawrence director of athletics Bob Durocher led the search and Brekke was selected from a national pool of candidates.
"Brent will fit in well within our culture and we look forward to him leading our program," said Durocher.
Former Saints head hockey coach Joe Marsh and Hockey Alumni Association executive committee members and current NHL executives Shero, now the general manager of the New Jersey Devils, and Sexton, assistant general manager of the Buffalo Sabres, provided their expertise and assistance with the search process.
"Randy and I were honored when asked to participate as part of the process," said Shero. "As former Saints hockey players, we are thrilled to have hired someone who has superb coaching knowledge, a proven track record, and understands the history and tradition of our Division I program. This is a great day for St. Lawrence University."
Prior to his time at Miami, Brekke spent nine years as an assistant coach at Cornell University.