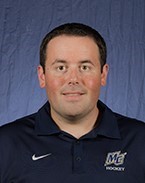 Mercyhurst announced Monday the hiring of Matt Lamalfa as the first-ever director of hockey operations for the men's hockey program.
"I would like to welcome Matt to the Mercyhurst family," said Mercyhurst coach Rick Gotkin in a statement. "He brings nearly 11 years of experience and knowledge in the areas of hockey equipment management and hockey operations to our program. We are all very excited to have him a part of our team, and we are all looking forward to working with him as we begin to get ready for the start of our season."
Lamalfa will fill the role of longtime equipment manager, Mike Folga, who continues his fight with cancer.
Lamalfa comes to Mercyhurst after spending 11 seasons at Merrimack, where he served as the director of ice hockey services. While at Merrimack, he was responsible for overseeing equipment and inventory as well as team travel, purchasing and internal operations. He also spent time assisting the equipment manager.
The native of Portland, Conn., earned his BS in communications from Merrimack in 2012. He also completed his Masters in 2013.