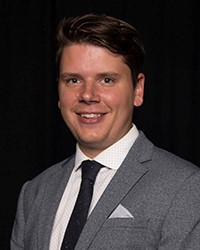 Travis Culhane has been named the director of hockey operations for Colorado College.
Culhane comes to Colorado Springs from Western Michigan, where he served in the same capacity for the men's hockey team during the 2018-19 campaign. He worked with the Broncos in a hockey operations capacity during his time as a student, beginning in 2015.
"We are excited that Travis has agreed to join our program," CC coach Mike Haviland said in a statement. "He has vast experience in the video aspects we were looking for and is very familiar with the NCHC with his time at Western Michigan."
Culhane will coordinate video operations, travel and practice scheduling for the program.
He received a bachelor's degree in human resource management from Western Michigan in 2017 and was a member of WMU's Lee Honors College, where he was a Medallion Scholar.
"I am honored to become part of the Colorado College family," Culhane added. "I look forward to building upon the tradition of Tiger hockey."
He is the son of WMU Hockey Ring of Honor member and former Broncos defenseman and WMU head coach Jim Culhane.