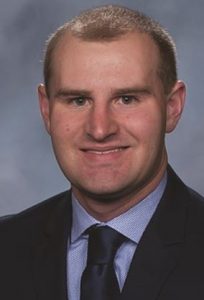 Minnesota State announced Tuesday that Luke Regner has been named men's hockey director of operations.
The St. Peter, Minn., native joins the Mavericks after serving as the hockey operations coordinator at Robert Morris the past two years. Regner's duties with the Colonials included organizing the day-to-day program operations of the men's hockey program, as well as serving as the team's video coordinator.
Regner's responsibilities with Minnesota State will include video coordination, including breaking down game tapes, preparation and pre-scouting for upcoming opponents, team travel coordination and community relations.
"We're extremely pleased to have someone with Luke's background and experience join our staff," said Minnesota State coach Mike Hastings in a statement. "He's had the opportunity to work with two different men's hockey programs with coaching staffs we know and respect. This position plays an important and integral role in the success of Maverick Hockey and we're looking forward to Luke making our program better."
Prior to his time at Robert Morris, Regner served as a student assistant for four seasons with the men's hockey program at Wisconsin. A 2017 Wisconsin graduate with a degree in business administration, Regner also worked in the athletics department as a video assistant with both football and hockey programs in his time with the Badgers.