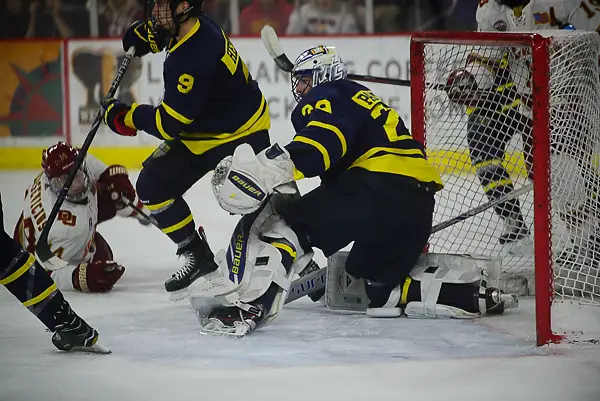 Northeastern announced Monday that goaltender Craig Pantano and forward Brendan van Riemsdyk will join the Huskies for the 2019-20 season as graduate transfers.
The duo arrives on campus after playing three seasons at Merrimack and New Hampshire, respectively.
Pantano was a two-year starter for Merrimack, recording a 17-29-5 record, a 2.87 GAA and a .902 save percentage in 57 games for the Warriors.
"We're fortunate to have Craig join us as a grad transfer this year and we look for him to stabilize our goaltending position with the loss of Cayden Primeau," said Northeastern coach Jim Madigan in a statement. "He has tremendous experience, is very quick and agile in net, and he comes to Northeastern with the ability to help lead our team this year to another championship. We look and expect him to come in and play a lot of games for Northeastern and he's excited to be a Husky."
van Riemsdyk appeared in 106 games for UNH, tallying 20 goals and 24 assists for 44 points.
"We're excited that Brendan's going to join us with one more year left of eligibility," Madiagn said. "He's a 6-foot-3 left winger with really good stick skills, hockey instincts and is very good around the net. We expect him to be in our top six and play in special teams situations for our team and contribute offensively to our team. With losing seven forwards this year and gaining someone with Brendan's experience and seasoned understanding of Division I and Hockey East play, we're excited that he's going to be part of our program."