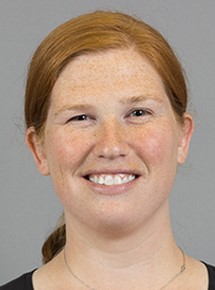 Ashley Kilstein, who spent the previous three seasons as an assistant coach at Princeton, has been named associate athletic director at Wentworth Institute of Technology.
"We are delighted to welcome Ashley to Wentworth and Leopard Nation," said Wentworth director of athletics Cheryl Aaron in a statement. "Her experience as a collegiate student-athlete and coach will help us in continuing to build the successes of our athletic programs and the health and wellness of our student-athletes. Ashley brings with her an infectious enthusiasm and is firmly committed to academic and athletic excellence."
"I'm incredibly honored and excited to start my journey as associate athletic director at Wentworth Institute of Technology," added Kilstein. "I would like to thank Cheryl Aaron and the rest of the search committee for entrusting me with the honor of working with the best coaches and student-athletes in a truly unparalleled educational community."
While also at Princeton, Kilstein also served as the associate camp director and performed numerous administrative functions within the women's hockey program.
Prior to joining the Princeton staff, Kilstein spent five seasons as head coach at Plymouth State. She was named the ECAC East Coach of the Year in 2013 and that same season, was a finalist for the AHCA Division III Coach of the Year.
She also spent a season at Williams as an assistant coach.
As a student-athlete, she played at Union, where she led her team in scoring as a freshman and was nominated for the league's rookie of the year award. Kilstein made such an impact at Union with her fundraising efforts that an annual award is given each year in her name for dedication to the community, being an outstanding citizen and volunteering in the community.
She earned her bachelor's degree in English from Union in 2008 and received a master's degree in Legal Studies from Albany Law School in 2009.