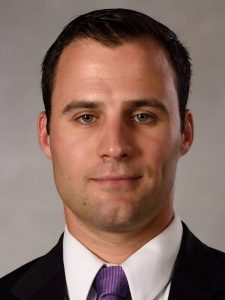 Holy Cross has announced that Peter Roundy has been promoted to associate head coach and Jon Lounsbury has joined the staff as a volunteer assistant coach.
"I am happy to announce the promotion of Peter Roundy to the position of associate head coach," said Holy Cross head coach David Berard in a statement. "Over the last four years, he has made a tremendous impact on our program and has developed into an outstanding coach and recruiter. Peter is an elite person, a trusted confidant, and an invaluable member of our coaching staff. He is universally respected for his knowledge of the game, his ability to connect with people, and his professionalism. We are fortunate to have him at Holy Cross."
"I am honored and grateful Coach Berard has entrusted me to be his associate head coach," added Roundy. "Over the past four years, David has been a great friend, mentor and person who has greatly helped my development as a coach. The vision and passion that David arrives to the rink with every day is infectious to the players and staff, and I am excited to continue to be a part of it. We have built this program on accountability, commitment and passion, and we have a group of student-athletes who believe in the process and want to achieve at the highest levels."
Lounsbury comes to the Crusaders with a strong background, having focused his coaching career on player development. Lounsbury sent over 200 players into the collegiate playing ranks while he held positions at Bridgton Academy and the Walpole Express. In 2016, he worked with the Florida Panthers as a development coach.
"I am excited to welcome Jon Lounsbury to our coaching staff for the upcoming season," said Berard. "Jon brings a wealth of coaching experience to our program, not only as a head coach at the junior and prep school levels, but also as a skill development coach at the NHL and AHL levels. As we continue to look for new and innovative ways to make our players better, Jon will be at the forefront of that development process. He is an outstanding communicator and teacher of the game. He is a great addition to our staff."
"I am beyond excited to join the coaching staff at Holy Cross," added Lounsbury. "I want to thank Coach Berard for this great opportunity. I'm eager to work with such a knowledgeable staff, highly motivated student-athletes, and make a positive impact on the team."
Lounsbury was a four-year letter-winner at Southern Maine, where he was a four-time selection to the ECAC All-Conference Team, an All-American, and the all-time defensive scoring leader at the school. He followed his collegiate career with six years of professional hockey in the SPHL and EPHL.