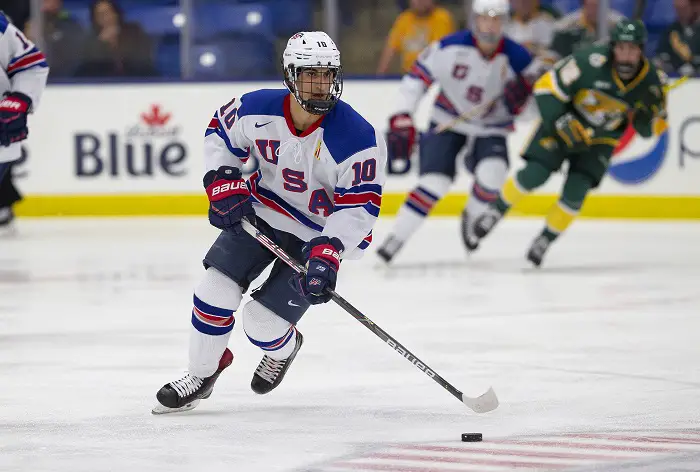 While Union and Colgate were going a combined 0-3, Harvard posted the biggest win of the opening week of the ECAC season.
What's that? The Crimson don't play their first game until Nov. 1, though.
True enough, but while coach Ted Donato and his staff were waiting for the games to begin, they reeled in a big-time recruit in Matthew Beniers. Boston College was the other finalist in a recruiting tug-of-war that went on for well over a year.
Beniers, a center, is one of the top prospects on USA Hockey's National Team Development Program Under-18 Team. He's being talked about as a first-round pick in the 2021 NHL Draft, after his freshman season at Harvard.
"He's got a chance to be a world-class player, not just a good player,'' says Seth Appert, who is the head coach of the NTDP Under-18 Team.
Beniers, who is from Hingham, Mass., doesn't turn 17 until next month. He is fast-tracking in high school so he can enroll at Harvard for the 2020-21 season.
He started last season on the NTDP Under-17 team, but moved up to the star-studded Under-18 team that produced eight first-round picks in last June's draft.
"He had a pretty solid start to his U17 year last year and then coming back after our November international event, we really challenged him to take another step,'' said Appert, who was RPI's head coach for 11 seasons. "We told him where we believed he should be and the kind of player he could become, but there's a price that comes with that. It's an everyday price of approach and workouts and expectations and how you go about your daily business and opening his mind to being that great player, not just accepting being a really good player.
"He really took hold of that. His daily habits, his work ethic, which is strong anyway, really spiked. We saw tremendous growth from him as a player over the months that followed."
Beniers is skilled and has a nonstop motor.
"He's a puck-battle machine," Appert says.
When he gets to Harvard, Beniers will be one of the youngest players in the NCAA. There will be an adjustment period, but in time he will be good. Very good.
"College hockey is hard. It'll be hard for him like it is for any true freshman. But Matty will adjust because his competitiveness and his mind and his work ethic will allow him to," said Appert.
Union stumbles
It was a bumpy weekend for Union, which lost to Boston University 7-3 at home and to Army 3-2 on the road.
Things went south for the Dutchmen right off the bat in both games. Against the Terriers, junior defenseman Brandon Estes was called for tripping just 31 seconds into the game. Against Army, Estes was whistled for hitting from behind only 38 seconds after puck drop.
Union was called for a total of eight penalties against BU and seven against Army. Both the Terriers and the Black Knights cashed in twice while on the power play.
BU outshot Union 44-13, including 21-2 in the second period as the Terriers scored five times. BU dominated puck possession with 73 shot attempts to 21 against.
"It was one of those nights," Union coach Rick Bennett told the Albany Times-Union. "We made it easy for them, but you also have to credit them. They played excellent."
It won't get easier for Union. They host Northeastern for two this weekend, then travel to UMass for a pair.
Raiders shoot blanks
In Colgate's 3-1 home loss to RIT, a familiar storyline played out.
The Raiders ran up an edge in shots, 34-14, but could not take advantage. Much the same thing happened when RIT beat Colgate last October.
"There were some similarities in our game to last year, but scoring first is huge in any league and they scored on their first shot. RIT got the momentum, then our guys started to press a little just based on where we've been," said Colgate coach Don Vaughan.
"Special teams are rusty, but both our penalty kill and power play need to be better. The difference in the game tonight was two power play goals (by RIT). We had a lot of offensive zone possession time and I was pleased with that. We threw a lot of pucks towards the net. But when you're down like that the guys start to press, trying to force plays, and are chasing the game."
Bobcat bombardment
Speaking of piling up a lot of shots, Quinnipiac peppered the Brock net with 57 shots, including 28 in the third period, but needed a goal by William Fallstrom with 12.2 seconds left to earn a 4-4 tie in Sunday's exhibition game.
The Bobcats had a 100-37 advantage in shot attempts and hit six posts.
"It was one of those crazy games you play where you look up at the clock and shots are 37-9 and we're losing 3-1. It doesn't happen often but it happens once in a while," said Quinnipiac coach Rand Pecknold.
Ivies join in
Starting on Friday, Ivy League teams can finally practice without restrictions, but they are still three weeks away from playing games.
The late start can put the Ivies at a disadvantage in the early going.
"Teams that have multiple weekends and games under their belt, they've been able to experience highs and lows within games," said Brown coach Brendan Whittet.
"Game to game, they've been able to make adjustments, tinker with their lines. They've been able to work out some of the kinks. I do think you are at a severe disadvantage (facing those teams) just because you're still trying to get up to pace."
It won't be an issue for Whittet's Bears this season. They will play their first five games against Ivies.
Princeton, on the other hand, will open its season with two games at St. Cloud, which will have already played four games.