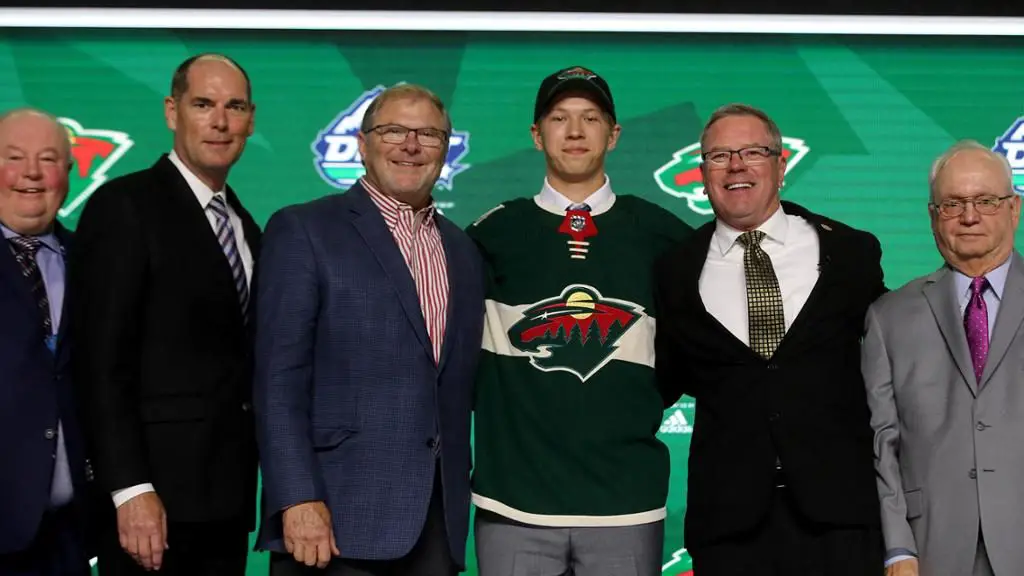 The 2019 NHL Draft was a good one for college hockey.
Judging by the first round alone, where nine players about to enter college this season were selected, proving that the future of college hockey was especially bright.
Of those nine players, two were incoming freshman at Wisconsin, including the top selection (fifth overall) Alex Turcotte. Another trio was headed for Boston College.
Needless to say, when those two schools' freshmen classes are measured toe to toe, they are arguably the top two rookie classes (maybe call them No. 1 and No. 1a?) in the country.
Those classes along with a host of talented upperclassmen on each team will square off in each team's opener Friday at Boston College's Kelley Rink in the USCHO Game of the Week.
Call it kismet, call it the scheduling gods smiling down on college hockey. Those who make their way to The Heights on opening night, though, should see some of the country's best talent on display.
Turcotte leads the list of first-round phenoms. After he was selected fifth overall by Los Angeles, Matt Boldy (12th by Minnesota) and Spencer Knight (13th by Florida), both BC freshmen, were picked back-to-back.
Wisconsin's Cole Caufield was grabbed 15th by Montreal before BC's Alex Newhook was tabbed a pick later by Colorado.
That's the rookie class that will be on display on Friday evening.
For the respective coaches, Jerry York for Boston College and Tony Granato for Wisconsin, each understands what they have in terms of high-end talent. Both are in similar situation where each school, not too long ago national powers, are coming off a down year. Both know that their returning players are all formidable, but their respective rookie classes take what might be a middle-of-the-road club into the expected upper echelon of college hockey this season.
That said, there are no guarantees.
"You certainly have to have talent. But teams are the factor that leads to NCAA tournaments and trophies," said York. "I like how [the freshmen] have meshed in. Certainly our team is overall improved from last year. Part of it is the influx of these outstanding freshmen."
"There's a lot of high-end guys here that are elite players. we want to make them better players," Granato said. "So there's things that we can do that we weren't capable of doing, maybe, the last couple of years."
It is difficult to understand what makes teams with the best players succeed. Take for instance two-time defending national champion Minnesota Duluth. You can look up and down their roster for the past two seasons and find just a single first-round NHL pick – Riley Tufte – yet every player on those teams have the hardware and championship rings to prove their metal.
Boston University, on the other hand, had eight first-round picks between 2016 and 2018, yet didn't reach a single Frozen Four, let alone win a national title over that period. They did, however watch all eight players leave their program early to sign professional contract.
Not surprising that with high-end talent comes its own challenges.
Lest we feel pity for any school that can roster a handful of first-round NHLers. Most coaches dream of giving its fans a peak at hockey players who might someday hoist a Stanley Cup. But as is always a struggle for a coach, you have to have each and every player form a team, not just a group of talented individuals.
"Everybody has an ego. The fourth-line player wants to be your third line. And so on, all throughout you lineup," said York. "Coaching, sometimes you overdo the X's and O's and game planning. Coaching is done every day in just handling the people.
"People all have obstacles in the way to achieve anything. The idea is to take these egos and blend them in to one common pursuit. It's part of coaching."
York notes that one of the most important parts of recruiting is understanding how each player has been brought up throughout their hockey career. And once those players enter the program, having their older teammates work to emphasize the "team first, player second" mentality.
"What helps is when the really high-end skill players have had that drilled into them in different stages," said York. "The culture we talk about, you can't just use a microwave. It just doesn't work that way. It takes time. You have to work on it every day.
"But I've seen some buy in from those talented freshmen. Part of it is the leadership of [upperclassmen] Logan Hutsko and David Cotton, who've gone through the same type of thing."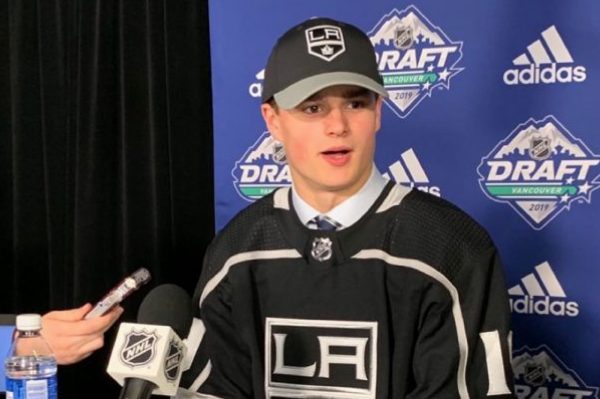 Another advantage can be bringing in players with NHL roots, such as Wisconsin's Alex Turcotte. His father, Alfie, had a successful 19-year professional career with parts of seven seasons spent in the NHL. Granato says that certainly helps any player be more prepared to have success at every level, particularly as the stage itself grows bigger.
"They're brought up in it," said Granato of Turcotte's NHL surroundings growing up. "You're around it. you're in the locker room. You're not intimidated when you walk into an NHL rink or building. You're not overwhelmed at it. I think the comfort of understanding helps.
"When you walk in an NHL locker room when you're 4 years old and you're standing around NHL superstars and looking around and seeing idols, that gives you an inspiration."
There is an entire season ahead for the Eagles and Badgers. Time will tell exactly how strong each of these programs will be, but fans in Chestnut Hill and Madison should look forward to seeing some great young talent night-in-and-night out.
"[Fans] should be excited," said Granato. "We've been bragging up this year for a while, just based on the players that are coming in and based on the players we have in place."
— With files from Todd D. Milewski