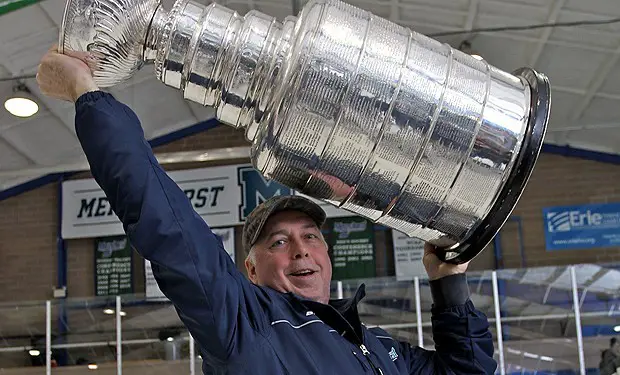 In honor of late equipment manager and athletic trainer Mike Folga, the Mercyhurst senior class of 2020 has chosen to endow the Mike Folga Legacy Scholarship as its senior class gift.
Folga died Aug. 31 after battling cancer.
The fundraising continues this Friday, Oct. 25, when the Senior Class Gift Committee hosts a 50-50 drawing at the Ice Center when the Mercyhurst men play Ohio State at 7:05 p.m.
"The senior class recognizes Mike Folga's commitment to Mercyhurst, his service to the institution, and to the hockey community, and it is a legacy we want to preserve through this scholarship," said Senior Gift Committee chair Mitchell Marsh in a statement.
The scholarship is intended to benefit a student who actively supports Mercyhurst but encounters a major setback – an illness, accident, family or financial problem – that could jeopardize his or her education plans.
Besides Marsh, students who worked on the scholarship plan include Lauren Wychowski, Summer Dutton and Claire Werynski.
"I have often said that it is the people who go to the heart of what makes Mercyhurst the outstanding institution that it is," said university president Michael Victor. "That we were fortunate enough to have had the company of Mike Folga for more than 20 years, and that our students recognize the gifts of character that he so generously shared with us, is a tribute to them, to him, and to all of us at Mercyhurst University."