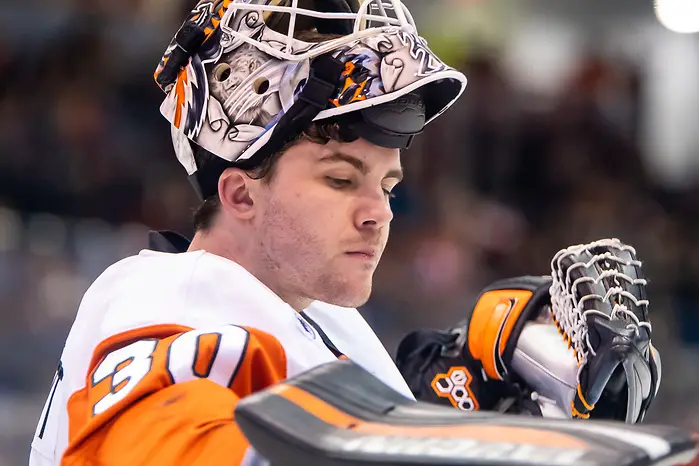 Each week, USCHO.com will pick the top 10 moments from the past weekend in our Monday 10 feature.
1. Minnesota State keeps rolling
The No. 2 Mavericks had little trouble with Alabama Huntsville this past weekend, outscoring the Chargers by a combined score of 9-2 in a two-game sweep.
On Saturday, the Mavericks scored three third-period goals to give freshman goalie Jaxson Stauber the win in his first collegiate start.
Senior Charlie Gerard scored the first goal of the game on Saturday after scoring twice for Minnesota State Friday.
"We need that out of our seniors. We need those guys to contribute because our underclassmen are doing a real good job of contributing," Minnesota State coach Mike Hastings said. "We just need those seniors to pull their weight."
Minnesota State led Division 1 in victories last season, and it five wins (5-0-1) are second only to Denver so far this season.
2. Notre Dame remains perfect
It was a big weekend for linemates Cal Burke and Mike O'Leary. The Notre Dame seniors combined for 13 points (two goals, five assists for Burke and four goals, two assists for O'Leary) in a weekend sweep of Lake Superior State.
The Fighting Irish are now 4-0 and are 10-2 against the Lakers dating back to the 2010-11 season.
3. Drackett comes up big for Tigers
It's not often a team comes away with four points after getting outshot by a combined total of 80-22, but that's what happened for RIT last week, thanks to goalie Logan Drackett.
The sophomore made 43 saves Thursday in a 2-1 win at Air Force, and then had a shutout with 36 saves on Friday. It was the first time the Tigers' Division I history that the team had swept a series at Air Force.
"Great goaltending, but it was a gutty effort all around," RIT coach Wayne Wilson said following Friday's game. "To come away with four huge road points will help pay dividends down the road."
4. Rivals split
It always seems unusual for two league rivals to meet this early in the season, but that's the way it's been for Union and Rensselaer, who have played in October every year dating back to 2014.
The travel partners split their weekend series, with the Engineers winning 3-2 Friday and the Dutchmen winning 2-1 Saturday.
It was the first win of the season for Union, as the Dutchmen improve to 1-7. It was the first time that the Dutchmen have officially beaten the Engineers since Jan. 27, 2018. Union won a shootout in last year's Mayor's Cup, but the game counted as a tie for NCAA purposes.
5. Cup bid on hold
Alaska's bid for an eleventh straight Governor's Cup will have to wait until later in the season, as the Nanooks split the weekend series at Alaska Anchorage.
The Governor's Cup, which is awarded to the winner of the series between Alaska and Alaska Anchorage, will be decided on Feb. 28-29 when the teams play a two-game series in Fairbanks.
6. Huskies vs. Huskies
Both Northeastern and St. Cloud State lost plenty of talent last offseason, leaving both Husky teams trying to work in a number of newcomers early in the year.
On Friday, Tyler Madden scored twice for NU in a 4-1 win over St. Cloud. Madden had another goal to open the scoring Saturday, but it wasn't enough as St. Cloud scored twice in the second period en route to a 2-1 win.
The split is appropriate for two teams that made the NCAA tournament last season and should be in good position to do so again this year.
7. Wisconsin salvages split
Clarkson kept a potent Wisconsin offense in check for much of the weekend, but the Badgers got a crucial goal right when they needed it.
Owen Lindmark scored in the final seconds in regulation Saturday to give Wisconsin a 4-3 win over the Golden Knights. The Badgers led 3-0, but Clarkson scored three consecutive goals to tie the game.
Those last-second heroics came after Wisconsin was shutout Friday, thanks to 38 saves by Golden Knights goalie Frank Marotte, who has a .945 save percentage in six games this season.
"I thought we started to play our style this weekend. It was a good stepping stone for us," Clarkson coach Casey Jones said.
Wisconsin played the weekend without Alex Turcotte, the fifth overall pick in the 2019 NHL draft, who was out with an illness.
8. Lots of penalties, but not a lot of action
It wasn't long ago that Massachusetts and American International were two of the bottom feeders in Division I hockey.
That's changed, as both Western Massachusetts teams made the NCAA Tournament last season, with the Yellow Jackets beating top-seeded St. Cloud and the Minutemen advancing to the national championship.
Massachusetts scored three straight goals Friday to beat AIC 4-1. The Minutemen held AIC to a combined five shots in the second and third period, despite finishing the game with 27 penalty minutes.
The two teams finished with a combined 12 penalties, but finished 0 for 11 on the power play. The Minutemen have killed off all 26 of their opponent's power plays this season.
9. Parrottino carries Huskies
Tommy Parrottino helped Michigan Tech avoid a weekend sweep, scoring a natural hat trick to help the Huskies to 4-2 win over Bowling Green.
The win snapped a three-game losing streak for Michigan Tech, and also gave the Huskies their first WCHA win of the season.
"It was a special night for me," Parrottino said. "My grandparents were in the building. I haven't had a hat trick since probably my senior year in high school."
10. Overtime finally pays off for UMass Lowell
Carl Berglund's goal with 39.7 seconds left not only gave UMass Lowell an important Hockey East road win over Providence, but also snapped a streak off three consecutive overtime games without a win.
The River Hawks scored three times to salvage a 3-3 tie with Boston University Friday, and Saturday's win was only the team's second overtime win in its last 22 chances.