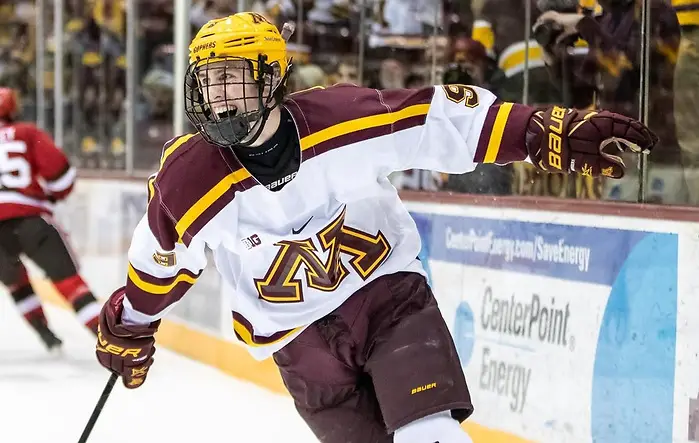 The offseason narrative surrounding Minnesota was quite clear — it was going to be a young and inexperienced team.
Six games in, with a split and sweeps of the good and bad variety, what should we think about the Gophers' start?
"We've been everything we thought we'd be," Gophers coach Bob Motzko said. "We've been really good at times, we've showed our youth at times and we've had one really bad game. We've got to eliminate the bad and keep gaining experience. We feel like we're going to be pretty good, and that's what we've got to build towards."
Minnesota started the season by splitting on the road at Colorado College and followed that up by sweeping Niagara at home. The Gophers were swept by Minnesota Duluth last weekend, losing 5-2 at home on Friday and 2-0 in Duluth on Saturday. Minnesota opens its Big Ten slate this weekend by hosting Notre Dame.
Friday's game against Duluth was the "really bad game" Motzko was referring to.
"Friday night was not a good night for us — there was the one game in our six that our mindset was off kilter," he said. "We didn't come with the fight that Duluth came with. Duluth was coming off of a sweep and their players responded how a team responds when you get knocked down."
The youth narrative is with merit, the Gophers are a very young team. The roster is made up of 11 freshmen, eight sophomores, five juniors and only three seniors. Motzko said he has liked the way the team's defense and transition game so far but would like to see more on the offensive-side of the game.
"The big thing is our tenacity and grit that we bring every night," he said. "From an offensive-standpoint — fighting for the puck, intensity off faceoffs and just becoming a much harder team to play against in tough areas of the ice. That's been a little bit yo-yo, but that's what we're building towards and that's the main focus right now."
The youth is especially noticeable when looking at the defensive-corps. Saturday's blue liners against the Bulldogs featured freshmen Jackson LaCombe, Ryan Johnson and Matt Staudacher.
"They've been very good, [and] they show a lot of promise," Motzko said of the young defensemen. "You've got to keep a blind eye to small mistakes right now because young guys are going to make them. They're highly-competitive, highly-talented and all are pointing in the right direction. They're going to be excellent defensemen."
On the offensive side of things, Ben Meyers showed more signs of promise last weekend. The freshman scored his first career goal on Friday after being elevated to the top line during the middle of the contest. His four points this season are second on the team.
"He's a heck of a player," Motzko said of Meyers. "That line has a great potential to really do great things. Our fear was we really wanted to try and balance out a couple lines scoring-wise. That's what we're still trying to develop, is our offensive depth."
One player that is part of the youth, but only based on his age, is Sammy Walker. The Edina, Minn., native had 10 goals and 16 assists as a freshman and looks to be ready to take the next step after being named a team captain this season. He has three goals and two assists this season.
"The great thing with Sammy [is] it's not just the talent but the work ethic and his personality," Motzko said. "He comes to play every day. He raises the temperature of every practice and he raises the temperature of every game. He's off to a terrific start, but it's not a surprise, he's off to a fantastic start."
The three seniors that the Gophers do have on the roster also play a significant role on the team. That includes senior defensemen Tyler Nanne and Ryan Zuhlsdorf.
"They're playing heavy minutes for us, and those guys are carrying their end of the bargain," Motzko said of the seniors. "Those guys are doing exactly what we want seniors to do, is to get out in front, play hard and play smart and be leaders for your team."
To round out youth narrative, Minnesota also started the season with fresh faces between the pipes in goal.
Freshmen Jared Moe and Justin Close are joined by transfer Jack LaFontaine. All three have played this year with Moe and LaFontaine splitting starts.
"That was the plan to start, I could just tell you after six games we like all three goalies," Motzko said. "We think we're in real good hands with our goaltending, [but] we just need more time to continue to evaluate it and they need more time to get comfortable."
With the sweep at the hands of the Bulldogs in the rearview, things don't get any easier for the Gophers. After the Irish, November features series against Michigan, Penn State, Wisconsin and a Thanksgiving rumble with North Dakota.
"We have to be better this week than we were last week, and that's all we're really concentrating on," Motzko said, adding that the he was happy to get league play started. "All of us can dial up the intensity and you're playing for points now, you're playing for marbles, and somewhere along the line they built a trophy for the winner at the end and you're playing for something.
"We're ready to get that challenge started."