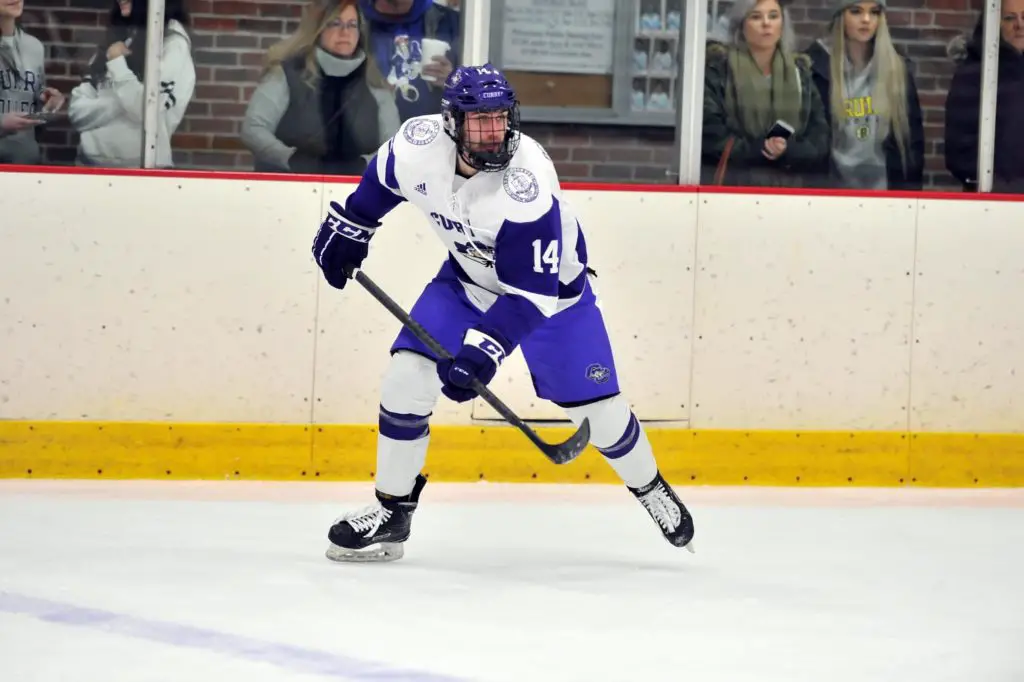 The Curry Colonels made a splash on the opening weekend of the season when they knocked off not one, but two ranked opponents on the road in come-from-behind fashion. The wins moved Curry into the national rankings, but as conference play begins this weekend, head coach TJ Manastersky is hoping the momentum and experience building continues with his team aware they are 0-0 in the CCC.
"Last week was a great start to the season," noted Manastersky. "You never like to get behind good teams, but we did in both games and worked through it. There was never any panic in our game and we started feeding off our good play and found ways to win against two very strong opponents in UMass-Boston and Babson. That was last weekend so this week we are back to 0-0 entering league play in what continues to be a very competitive and deep league. We need to continue to get better and build on the positives from last week."
Last season, the Colonels also raced out to a great start going 5-0 before losing their next four games straight which became big learning events for a young roster of primarily freshmen and sophomores.
"This group really learns from their experiences and people forget how young we were last year and how much better we got in the second-half," said Manastersky. "We had five freshman defensemen last year who clearly have much more experience now and we see the results on the ice from their maturing as individuals and as a group. Collectively, this group has grown up and now we are seeing those players perform at a higher level."
Case in point, sophomore forward Alex Ochterbeck picked up three points in his first two games this season after a freshman campaign that saw him score 17 total points in his first season at Curry. Ochterbeck was named CCC Player of the Week for his efforts against UMass-Boston and Babson and his coach knows there is more in store for many of his younger players.
"You can see the drive and now the results with guys like Alex and Michael [Curran] who also had three points last weekend," said Manastersky. "I don't expect them to score three points in every two games but that would be great if they did. We do see the momentum building from experiences last year and that turning into positive performances on the ice across the roster."
Another key performer for Curry has been senior goaltender Justin Ketola who picked up both wins while stopping 61 of 64 shots (.953 save percentage) on the weekend.
"I can't say enough about Justin's work ethic and leadership," noted Manastersky. "The fact that his teammates voted him and assistant captain as a goalie says a lot about his presence on and off the ice. Coaches say it all the time, but we do have a guy in net that gives us a chance to win every night and the team knows that too. It is a great situation to have that level of commitment across the team and great leadership to keep the focus and intensity."
Curry plays two games against contender Endicott this weekend including their home opener at their new home rink, The Ice House in Canton, MA. The move to the new facility will also enable women's hockey to come aboard as a program in the future but for now there are other benefits that the program expects in their new home.
"We will always be part of the Milton community and support the local hockey activities there where the school is," said Manastersky. "The Canton rink gives us access to two sheets, a great physical facility with better amenities and sight lines for fans as well as the ability to reach a broader fan base through other youth hockey, elite and high school programs playing at the The Ice House. We are excited to be moving into our new locker room this week which I expect will be among the best at any D-III program in the country. Hopefully, those amenities and facilities available to us will keep our team motivated and even help in the recruiting process. We are excited to play there on Saturday but are focused right now on Friday at Endicott."
The Colonels kick-off a stretch of six in a row in conference play with Becker and Nichols following this weekend's Endicott series.