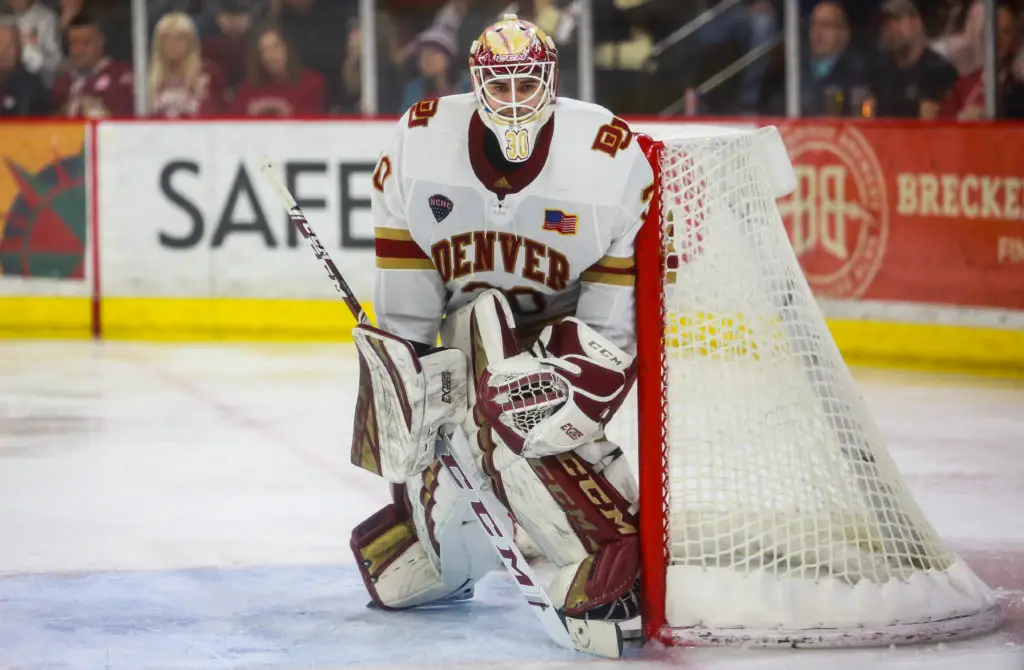 Entering this weekend against the defending national champions from Minnesota Duluth, the 8-0 and top-ranked ranked Denver Pioneers see only an opportunity to continue their journey and growth as a hockey team.
Coming off last weekend's sweep of Niagara at home, the Pioneers continue their coaching staff's direction to focus on getting better every day and to continually grow as a team during the season.
"We respect everyone we play against but only focus on the next team in front of us," said DU coach David Carle just prior to the weekend series with Niagara. "We have a really great group that really works hard and wants to improve every time we step on the ice. So far, we have been able to learn about winning different types of games and especially tight contests. There is definitely a grow mindset in the room and focus on being the best we can be."
The Pioneers opened the season with four road wins over Alaska and Lake Superior State before adding four more at home against Boston College and Niagara. This weekend is the first time they will face a conference opponent and Carle's focused approach means its also the first time his team has heard about the NCHC or Minnesota Duluth.
"As a coaching staff, we have not mentioned the NCHC or UMD with the team," noted Carle. "It has been a deliberate focus on the team and front of next and the league play hasn't started yet. We will be addressing that this week with Duluth on Friday and maintain the focus that we have been building in our early schedule."
One player who is clearly focused for the Pioneers has been freshman goaltender Magnus Chrona.
The 6-foot-6, 216-pound netminder is from Sweden and his adjustment to NCAA Division I play has been exceptional. In his first seven games for the Pioneers, Chrona is 7-0-0 with a 1.86 GAA and a .925 save percentage. He was named the conference goalie of the month for his six wins in October and has impressed the coaching staff with his adjustment to everything in the U.S.
"We didn't spend a lot of time in the recruiting process with Magnus," said Carle. "It was a pretty quick process so you are never really sure how the player will adjust to so many different things. So far, I would say he has adjusted better than any of out previous three Europeans in his first year in North America. He has done well acclimating to the culture, the academics here at Denver and on the ice with his being part of the team. He has a great sense of humor and fits in really well with the group."
For his part, Chrona doesn't see such a big deal in coming to the States. He has known other goaltenders who have made the same path from Sweden and attended his first U.S. development camp, which he believes helped him with the North American game.
"I think it has been a good adjustment," noted Chrona. "The schedule is something I am very familiar with from my school days back in Sweden. On the ice, the biggest adjustment has been the smaller rink and the higher pace of the games here. I think the defensive play is better here and I have been focused on the speed of the game and my angles – being a big goaltender helps me with that part of the game."
Chrona really likes what he has seen from his team so far this season and has embraced the camaraderie and atmosphere, on and off the ice.
"It is a really good group here at Denver," said Chrona. "We want to play to our potential and play fast, Denver-style hockey. I see the growth and confidence in our team get better everyday and that is exciting because we all feel that we can accomplish a lot as a team this season together."
Coming into this weekend, the Pioneers will have a very big test in the NCHC opening weekend when they travel to Duluth to face the two-time defending national champions. UMD comes into league play at 3-3-0 having split their season opening series with UMass Lowell, dropping a pair of games to Wisconsin and then sweeping in-state rival Minnesota before a bye week last week.
Led by senior goaltender Hunter Shepard, the Bulldogs have a championship pedigree and will look to topple the Pioneers from their No. 1 ranking.
Chrona said he knows of Sheppard, but doesn't see the battle coming between the two netminders.
"I really don't think about the goalie in the other net," said Chrona. "I haven't played against any of these goalies really so there isn't any history or familiarity. I just want to play and focus on my game and giving our team the best chance to win. I would say that I get in my own world to prepare for games and focus on my game to stop the puck. If I am focused and we play Denver hockey, then we will have a good result."
So, with everything going so well for the team, their freshman netminder and an impressive 8-0-0 start, what has the coaching staff looking at to improve entering their first week of league play?
"We have been really happy with the focus of the team," noted Carle. "We have had great special teams to start the year, very balanced scoring up and down the roster and great goal differential from the second period on. If there was one area we could improve, it's getting out to better starts. We have only scored the first goal in three of our eight games played this season and overall, we are a minus-3 in the first period overall. We are a plus-15 in the second period and plus-8 in the third, so I would like to see us have better starts to games."
Chrona agrees with his coach and believes he and his teammates will be "more on their toes before the game to start playing winning Denver hockey from the first puck drop."
The Pioneers will need that approach playing before a packed house in Duluth in what should be a great weekend series to kick off play in the extremely competitive NCHC.