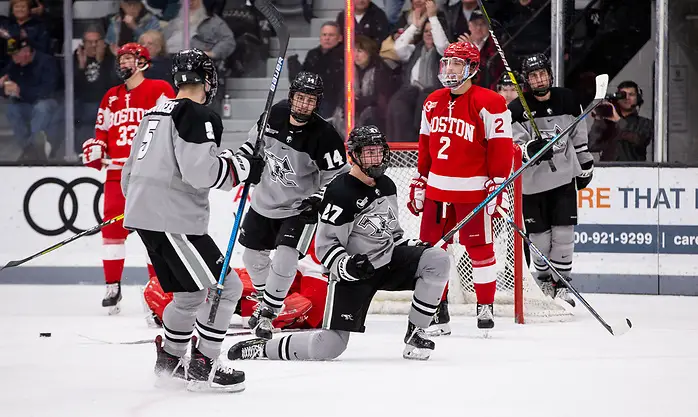 Scoring four goals is often a winning benchmark for a team. Five is usually gravy.
On Saturday, five certainly wasn't enough as No. 11 Providence, led by freshman Max Crozier's first two collegiate goals, potted six past Boston University in a wild, 6-5 victory to earn three-of-four points on the weekend.
Crozier's second of the night sneaks through Purpura to give us a two-goal cushion! Dugan earned his fourth assist of the night of the play while Parker Ford notched his second point of the night.#GoFriars pic.twitter.com/Hmwuh2ddpz

— PC Men's Hockey (@FriarsHockey) November 10, 2019
A night earlier, BU rallied from two goals down late to earn a tie. On Saturday, BU accomplished the same feat, turning a 4-2 deficit into a tie game. But unlike Friday, Providence had an answer, as Tyce Thompson's goal with 6:15 remaining in the second gave the Friars a lead they never relinquished.
Max Crozier's goal at 2:57 of the third help Providence regain the two-goal cushion. BU's Case McCarthy tried to help repeat Friday's late-game heroics scoring with 7:08 left, but that was as close as the Terriers got.
The loss on Saturday for BU spoiled a hat trick and four-point game for David Farrance. One night after Farrance scored twice in the third period, it took just 32:27 for him to complete the hat trick.
While Crozier's goals were powerful for Providence, it was Jack Dugan who finished the game with four assists, giving him 24 points on the season in just 10 games, further cementing him as the nation's scoring leader.
Scoreboard  |  Standings  | Scoring/Goaltending Leaders
No. 7 Minnesota Duluth 5, No. 1 Denver
The nation's top team suffered its first loss and did so in convincing fashion as two-time defending national champion Minnesota Duluth rallied past Denver, 5-2.
The Bulldogs scored the games final four goals, including Noah Cates' marker with 3:34 left that gave the hosts breathing room putting them ahead, 4-2. Cates was the finishing touch on Friday's two-goal third-period rally that earned Minnesota Duluth an official 3-3 tie.
Each team scored once on the power play, with Denver's coming during a five-minute major in the opening period.
Final https://t.co/ajHw5gNmKk

— UMD Men's Hockey (@UMDMensHockey) November 10, 2019
Hunter Shepard led the way on the back end for the Bulldogs, stopping 29 of 31 shots to earn the victory.
No. 5 Notre Dame 2, No. 9 Ohio State 1
On a weekend where the Irish led less than 10 minutes, No. 5 Notre Dame pulled off a two-game sweep of No. 9 Ohio State, 2-1, with yet another come-from-behind victory on Saturday.
A night earlier, the comeback required overtime. On Saturday, with the game tied at one, Cam Burke scored the game-winner at 12:05 of the third, one-timing a pass from Matt Steeves past Tommy Nappier.
Cam Burke with a 🚀 of a game winner!#GoIrish☘️ pic.twitter.com/iLBDKdnI6n

— Notre Dame Hockey (@NDHockey) November 10, 2019
Similar to Friday, Ohio State scored first at 10:02 of the second when Gustaf Westlund fired home his fifth game of the season.
In the third Jake Pivonka's third goal of the season netted the equalizer, setting up Burke's heroics.
No. 18 Harvard 7, No. 15 Quinnipiac 2
It hasn't taken long into the abbreviated Ivy League-dictated schedule for No. 18 Harvard to make its first statement.
The Crimson dominated No. 15 Quinnipiac as seven different players registered goals and seven skaters notched multiple point games.
Harvard dominated the game from the get go, taking a 3-0 lead in the opening frame on goals by Henry Bowlby Jack Drury and R.J. Murphy.
That chased Quinnipiac starter Keith Petruzzelli from the game, but hardly improved the situation for the Bobcats.
Jack Rathbone adds to the scoreboard for the Crimson. Harvard leads 6-2 with 15 minutes to go in the 3rd period! #GoCrimson
📺: https://t.co/YuR4zjT1IS pic.twitter.com/nOP1ZvB3jH

— Harvard Men's Hockey (@HarvardMHockey) November 10, 2019
Quinnipiac held a 32-23 advantage in shots in the game, but Harvard went 2-for-6 on the man advantage while killing 5-of-6 Bobcat power plays.
No. 20 Omaha 5, No. 12 Wisconsin 2
Omaha enacted some revenge from Friday's loss to Wisconsin on home ice, striking back with four of the game's final five goals in a 5-2 victory on Saturday.
Five different Mavericks scored, including Kevin Conley's goal at 1:57 of the second to give Omaha a lead it never lost.
BIG WIN OVER THE BADGERS‼️

No. 20 Omaha takes down No. 12 Wisconsin!#EveryoneForOmaha | #OmahaHKY pic.twitter.com/ZJVPyPlyDy

— Omaha Hockey (@OmahaHKY) November 10, 2019
Alex Turcotte scored twice for Wisconsin but it was for naught. Isiash Saville earned the win for Omaha making 29 saves.