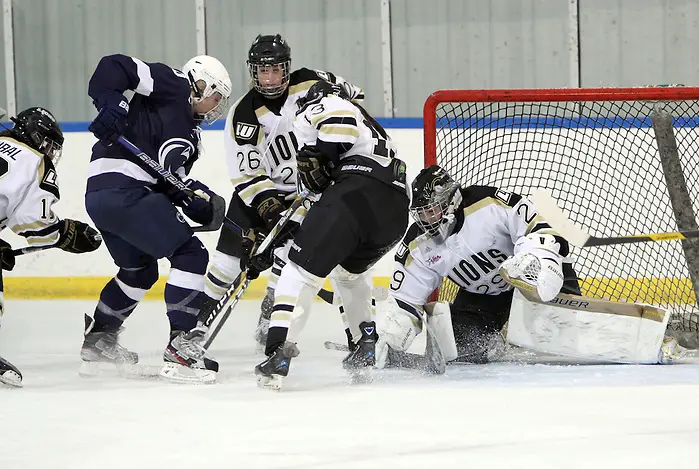 Shelley Looney has a more impressive resume than most first-time Division I coaches. She's spent time leading prep school and professional teams. She was head coach of the 2017 and 2019 World University Women's National Teams. With USA Hockey, she has been an assistant coach for both boys and girls squads and spent a significant amount of time working in development. As a player, she scored the game-winner in the 1998 Olympic gold-medal game, won silver at the 2002 Olympics and has a gold and seven silver medals from IIHF World Championships.
She wasn't necessarily looking for a new position or to move into collegiate coaching, but when a friend asked her if she'd be interested in Lindenwood, she took the chance to visit campus. A few days later, she said, she had a job offer. The campus was a big draw, she said, as was the new ice center that gives Lindenwood access to facilities that compete with some of the top programs in the country.
The new Centene Community Ice Center is a state-of-the-art facility with four ice sheets inside and one outdoor covered rink. There are more than 200,000 square feet of ice, strength and conditioning facilities, skill-development areas and event spaces.
The new facilities are a recruiting boon, but more importantly, they provide the space for the Lions to continue to grow and improve. Looney doesn't believe development every really stops. Though there's a focus on it in pre-teen and teenage players, she believes it's just as important to focus on those skills and details with players of all ages. Centene gives them the space to do that.
Much of the appeal of helming this program Looney said, was the ability to spend a full year working with players, as opposed to the short periods she was able to spend with teams heading into the World University Games or with USA Hockey. She's committed to helping this program improve and become a team others are afraid to play, and getting to spend multiple months over the course of four separate seasons to help players mature and improve is incredibly appealing.
The Lions are in their eighth season as a Division I program. The University was an NAIA program, which does not support women's hockey, so the team competed as part of the American Collegiate Hockey Association, where they were incredibly successful. They won four national championships and were national runners up from 2005-2010. In 2011 they placed third and in 2012, they played as an independent team before moving fully to Division I as a part of the CHA in 2013.
Since joining Division I, Lindenwood has not won more than eight games in a season, but Looney said she already sees that her new team is capable of more. The Lions are 2-8-2 so far this season. One of their ties came against then no. 4 Clarkson. One of their wins is over Bemidji State, who has wins over then- no. 8 Minnesota Duluth and then-no. 8 Ohio State.
But, the team has little-to-no experience with protecting a lead – especially late in the game. The Lion were up 3-0 on Robert Morris with 25 minutes left to play on Saturday before the Colonials scored four unanswered goals to win the game 4-3 in overtime.
It's those sorts of lessons that Looney is excited to impart. She's hoping to create a culture of unity at Lindenwood, she said, and take the program to a place of prominence. The university is committed to providing her with the resources and support she needs to do that, she said, which is one of the major reasons she took this position.
Lindenwood is a unique university in that it's the only Division I program south of the Mason Dixon Line. Their relatively remote location doesn't make travel or schedule-making easy. The closest school is Wisconsin, which is still 375 miles away. Ohio State is 425 miles away and Minnesota is a 515 mile trip. In general, WCHA teams have filled out a good portion of the Lions' non-conference schedule – which is extra-large since there are only six teams in the CHA. That makes for somewhat closer travel, but a tough test from often-ranked teams.
The Lions average one-way travel to play anyone in their conference is 750 miles. The closest school is Robert Morris, 620 miles away. Syracuse requires a 900-mile one-way trip.
The location gives the team plenty of logistical difficulties, but it can also be present an advantage. They are the closest program for students in emerging hockey development areas like Texas and Tennessee, which can be a recruiting boon. Add that to the teams' new facilities and Looney's goal of raising the profile of this team doesn't seem too far out of reach.
Lindenwood has already proven that they can be dangerous, no matter who the opponent. Those close games serve as proof to the players that the work they're putting in can and will pay off.