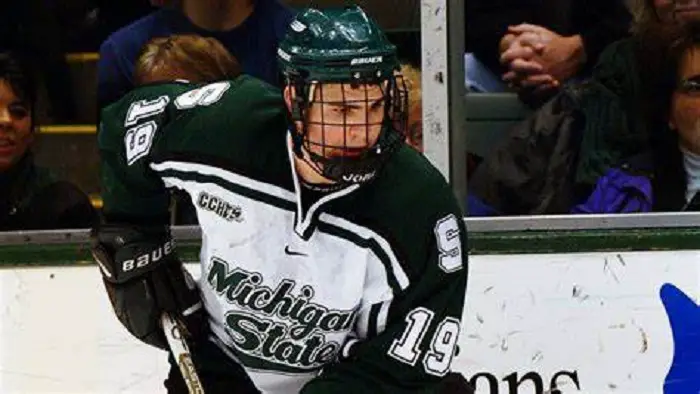 Jim Slater stopped playing hockey at the pinnacle of his personal game. Now he wants to make sure that developing players get a chance – eventually – to do the same thing.
Following a decade in the NHL and four years in the Switzerland National League A, Slater left playing for player development. In September, Slater was named to the player development program of the Washington Capitals, working with prospects throughout the organization but mostly with the team's AHL affiliate, the Hershey Bears.
Also in September, Slater became a volunteer assistant coach at his alma mater, Michigan State.
"I like working with the college-aged kids, the prospects, that 18 to 23 range, the guys that really have a drive to make it to the next level," Slater said.
Slater, a native of Lapeer, Mich., played 157 games for Michigan State (2001-05), where in 2004 he was named to the All-American Second Team, was a Hobey Baker finalist, and served as captain for the second year in a row.
A first-round pick (30th overall) in the 2002 NHL Draft by the Atlanta Thrashers, Slater played 584 NHL games with the Thrashers/Winnipeg Jets franchise. He was also an assistant captain for the 2018 U.S. Olympic team.
"He's been fantastic," said Danton Cole, another Michigan State alum with a lot of NHL experience. "He's got tons of energy and he's a really good teacher. Jimmy's got a great grasp of drills and he's still as fit as all the guys – I think he could still be playing pro hockey if he wanted to. He's just been a great fit and he's brought a good set of eyes and tons of experience. Every morning, he's in our meetings and practice. He's just been outstanding for the players and also for the staff to have around."
For Slater, the decision to trade playing for mentoring had more to do with geography and family than a desire to retire.
"I played four years over in Europe and my family didn't go with me," said Slater. "Our daughter was getting older and then we were having our second child. I still love it and still want to play. I was still playing at a top level and had offers to go back, but it was a family decision. I kind of made that decision as the year was going along last year."
Slater's decision to return permanently to the U.S. coincided with an opening at Michigan State, as Jason Muzzatti, the Spartans' goalie coach, had just left the program to work for the Carolina Hurricanes.
"It was probably late spring and he [Slater] said that he might come back and go to graduate school and was thinking of getting out of playing," said Cole. "And then Jason Muzzatti gets the goalie coaching job with Carolina and that opened up a spot for a coach. We talked to Jimmy right after that and he was really interested in it."
"I live here in East Lansing, I love the program, and I thought I could learn a lot from Danton and the coaching staff about how the college game works," added Slater. "Summers, I would skate here with the college guys and be around them, so I had a good working relationship with them, and I like working with them. It just felt good to give back to the program that's given me a lot. That's what made my decision."
Working with players in both collegiate and professional programs gives Slater a chance to provide the kind of guidance that was not available to him when he was starting out in hockey.
"I've lived the experience that these kids are living and that they are going to live if they want to make it to the next level," said Slater. "I wish I had that when I was kind of going through it. You're almost embarrassed to ask questions of the older guys – just about anything, even little things – and not only that, in a way you're trying to take their job as well. Obviously, I had role models that I looked up to, but as a young guy, you feel different asking questions of your teammates.
"Player development gives a player an opportunity to ask those questions or call and talk about things that they may not normally talk to a teammate about. Same with college. I consider myself a coach, but I've been recently player. I still feel like I'm a player. I have that dialogue with them that maybe isn't totally like a coach. They can maybe see me as someone that they can talk to on a different level."
Cole said that Slater's coaching role focuses on several things.
"He's a center and forward so he does a lot with the centers with faceoffs," Cole said. "He does skill work before practices. The guys call them 'Slate Skates.' He'll take the 'D' and shoot one day. He does a bunch of passing stuff. He kind of picks something every day. Not everyone can get on the ice early with him. Some days there's 15 guys and some days there's five. It's nice to have that little time with a guy who has all that knowledge. It's a different voice."
It doesn't hurt that Slater has played recently, said Cole.
"Not that [assistant coach] Chris Luongo and I are super old, but when we were playing these guys weren't born yet," he said. "It's been fun. They've been real responsive to him."
Slater was scheduled to begin a graduate program in sports coaching and leadership at Michigan State this semester, but when the player development work fell into place late in the summer, he put grad school temporarily on hold to be able to devote enough time to both the Capitals and the Spartans. He's also knows that he's taking advantage of a different kind of classroom for an education of his own.
"Danton's worked with some of the best young talent through the U.S. national program," said Slater. "This guy is such a fantastic coach, teacher and mentor to this age group. He's gotten some of the best players in the world ready for the next level.
"Learning under Danton and Chris Luongo and Joe Exter here at Michigan State and working with the Washington prospects – it's really been great."
A time to think
Ohio State returns to play this weekend against Penn State after a bye week. Two weeks ago, the Buckeyes lost a pair of one-goal road games to Notre Dame and that gave the team some time to think about those too losses – perhaps too much time.
"I think it was a timely week off," said senior and assistant captain Carson Meyer. "Obviously, it sucks having to think about the Notre Dame weekend for an additional week and not getting to play and redeem ourselves, but just getting the chance to get everybody back to full health I think will help us a lot."
Coach Steve Rohlik said that the team used the time for "recovery" and to get "back to the basics of who we are."
This weekend, the Buckeyes are on the road against Penn State, a team that coach Guy Gadowsky admitted was experiencing a bit of an identity crisis earlier this season after having been uncharacteristically shut out by Alaska. Since that game, the Nittany Lions are 6-1-0, their second loss of the season a shutout at the hands of Michigan State – but with an average of 5.33 goals per game in those six wins.
Given that the Buckeyes are averaging just 2.70 goals per game themselves, Rohlik knows what Ohio State has to do to be successful against Penn State. Interestingly enough, that success also has to do with identity, but it doesn't sound as though there's a crisis brewing.
"Penn State's not going to change who they are," said Rohlik. "They've been the same team as long as they've been in the Big Ten. They go at you. They put everything on the net, and we understand that. What we've got to do is be disciplined in what we do. We've got to surround 'Napes' [goaltender Tommy Nappier] and be good defensively and be connected, and that's going to give ourselves a change offensively actually out of that.
"Just who we are – our identity, and being five-man connected offensively, defensively, just the basics. If we stay structured at what we do, we're going to give ourselves a chance every night."
A much-anticipated border battle
"It's Minnesota. It's a rivalry game. It's a game that when the schedules come out, everybody looks forward to because it has such a great history and tradition of both teams having elite players and teams."
That was how Wisconsin coach Tony Granato described this weekend's series in Minneapolis between the Badgers and the Golden Gophers, who will meet for the 290th time Friday.
While Wisconsin has received more buzz this season because of an explosive start and a lauded freshman class, the teams are similar in many ways. Minnesota is 1-3-2-2 in B1G play and Wisconsin is 1-3-0-0. The Badgers have one of the top offenses in the country (3.67 goals per game) while Minnesota is struggling in that department (2.42), but the teams are, um, in equal need of improvement defensively. Wisconsin allows 3.50 goals per game to Minnesota's 3.33, and the teams are tied for 34th nationally in combined special teams.
The similarities don't end there. The Badgers have six freshman who have played at least nine games this season; the Gophers have eight skaters who have 10 or more games to their credit and a rookie goaltender who has played seven.
"Both youthful, and I see that both teams have made youthful mistakes," said Minnesota coach Bob Motzko. "Both teams would like some games back that they lost. Their offense is ahead of ours. Their young guys are scoring. Confidence comes with that. Our young guys aren't there yet, but they're going to be there. We're working toward that right now. There are similarities. They're just a tad ahead of us."
Said Granato: "They're very talented. They're very young. They're like us, from the standpoint that they're relying on a lot of young players in big roles for them. They've been in some close games and some not-so-close games. They're a really good-skating team with lots of talent."
Granato said that he anticipates a lot of excitement in this series.
"Our guys are ecstatic about heading up there. From their standpoint, I know that they've struggled a bit and they're looking forward to this weekend being their breakout weekend to get their year going."
A comment about facial hair
If you've seen Motzko lately, you've seen him sporting a natty goatee for a good cause.
"This is Movember," said Motzko. "The guys started their thing and they asked me if I would do it with them. I said, 'yeah.'"
Movember is a worldwide awareness campaign to change the face of men's health issues – pun intended, as participants are encouraged to grow facial hair for the cause. Motzko, as he said, was game – as was his young team, but not perhaps with the same results.
"Last week I was in that locker room and I go, 'I thought we were doing this.' And they go, 'We are, Coach,'" said Motzko. "[Robbie] Stucker, he was the one standing next to me and said, 'Coach, I am doing it.' He has like four whiskers coming through."
But that's four whiskers for a very good cause.