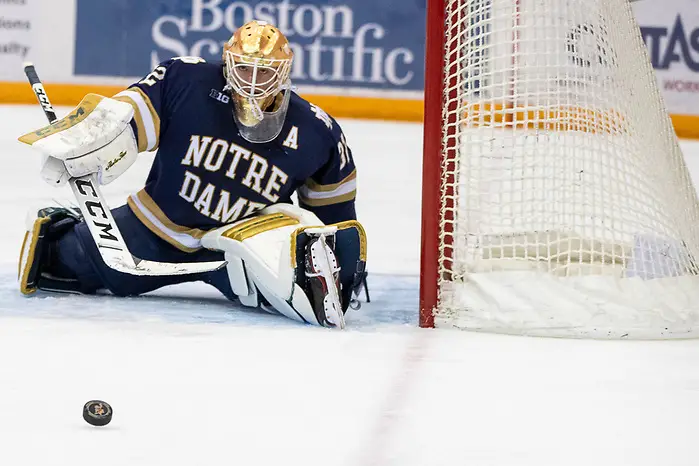 I'm back and not a moment too soon, as Drew Claussen keeps inching further and further ahead of me. Will my presence actually make a difference? Probably not. Drew looks like a genius for picking Michigan State to sweep last week. I don't look like an idiot, though, for that correct prediction of the Minnesota-Wisconsin split.
Last week
Drew: 4-2-0 (.667)
Paula: 4-2-0 (.667)
This season
Drew: 39-17-3 (.686)
Paula: 34-22-3 (.602)
This week
This week, there are three B1G series — including that great border rivalry between Wisconsin and Minnesota — and a nonconference tilt between Michigan and New Hampshire. All times are local.
Michigan at New Hampshire
Friday and Saturday, 7:00 p.m.
The Wolverines head to the Whittemore Center looking to break seven-game (0-6-1) winless streak. Last weekend, Michigan dropped a home-and-home series to archrival Michigan State, a one-goal loss at home and a three-goal shutout road loss. The Wildcats dropped two road games to Maine, the second one a heartbreaking OT loss in which they led until the final 51 seconds of regulation. Six of New Hampshire's 10 games this season have gone to overtime, resulting in three wins and three losses. The teams last met in Ann Arbor in 2014, a split.
Drew: Michigan 2-1, New Hampshire 2-0
Paula: New Hampshire sweeps with at least one OT game, 2-1 and 2-1
No. 11 Ohio State at No. 6 Penn State
Friday at 7:00 p.m., Saturday at 6:00 p.m.
After a bye week, Ohio State looks for its first win in three games after having been swept on the road by Notre Dame Nov. 8-9, two one-goal losses including one in overtime. On the road in Minnesota last week, Penn State swept the Golden Gophers, outscoring Minnesota 14-5 in the process. The Buckeyes are 15-10-2 all-time against the Nittany Lions, including a road record of 7-4-1. The teams met five times last season, including a split in Columbus and two road wins for the Buckeyes in the regular season with the Nittany Lions taking the most important game of that season — a 5-1 semifinal Big Ten tourney match. This weekend will be contentious as well as competitive.
Drew: Ohio State 4-3, Penn State 4-2
Paula: Ohio State 3-1, Penn State 5-2
No. 3 Notre Dame at Michigan State
Friday and Saturday at 7:00 p.m.
The Fighting Irish travel to East Lansing after experiencing their first loss of the season, a 3-0 road shutout against Wisconsin last Friday night. Notre Dame needed overtime to beat the Badgers on Saturday, having to come from behind to tie the game in the third period. The Spartans swept the Wolverines in their home-and-home series and are 3-3-0 in their last six games. Michigan State is 62-51-12 all-time against Notre Dame but haven't beaten the Fighting Irish in Munn Ice Arena since Jan. 2013.
Drew: Notre Dame 3-2, 3-1
Paula: Michigan State 3-2, Notre Dame 4-2
No. 16 Wisconsin at Minnesota
Friday and Saturday at 7:00 p.m.
These will be the 290th and 291st meetings between the Badgers and Golden Gophers, and the teams have a lot in common this season — as I mentioned in this week's column — in spite of the perception that Wisconsin has a significant edge coming into this series. The teams split the 2018-19 series, each winning a game in the other team's barn. Wisconsin split with visiting Notre Dame last weekend while Minnesota was swept at home by Penn State. This will be an emotionally charged series between two young and eager teams.
Drew: Wisconsin 5-2, 4-3
Paula: Wisconsin 4-1, Minnesota 3-2
Tweet us!
Follow Drew (@drewclaussen) and me (@paulacweston) on Twitter. I'll be live-tweeting from Munn Ice Arena Friday night. Give me a shout!