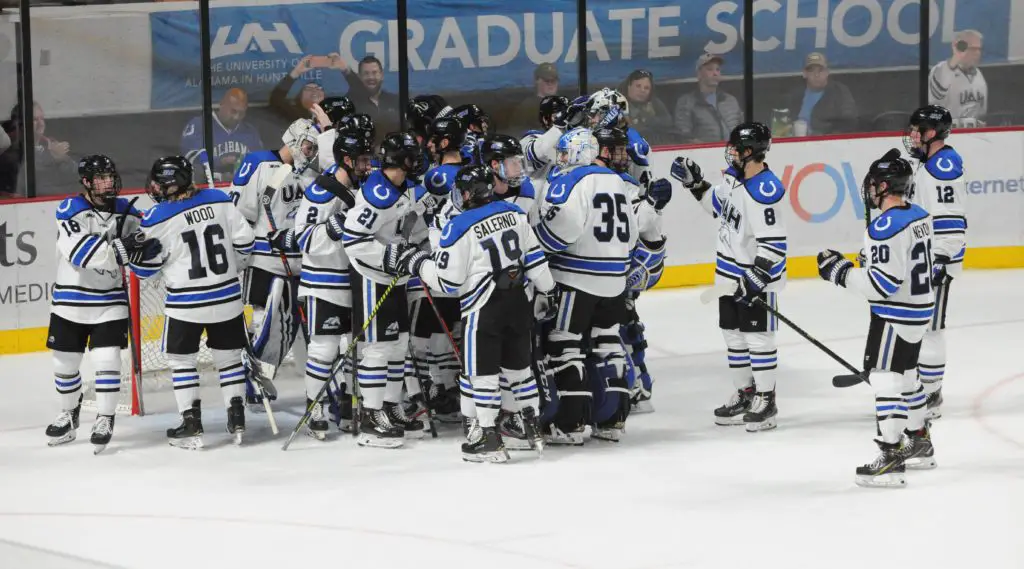 To say this season has been trying for Alabama Huntsville would be an understatement.
The Chargers have struggled on both ends of the ice and haven't been able to find much consistency.
But much of that was to be expected from such a young team. With a freshman class of 10 newcomers, coach Mike Corbett hasn't hesitated to let them play a big role. Four of them have played in each of UAH's games this season while two more have played in 13.
It's something Corbett was expecting to happen with such a young group — for a team like Alabama Huntsville, getting players experience is going to pay off big time in the long run.
"That's what you want, and that's maybe why there were certain games where maybe the score got away from us a little bit," Corbett said. "But that experience is huge. You don't bring freshmen in to not play them. For the most part, you bring your freshmen in and you want them to compete for ice time. We had a lot of spots available in our lineup, and guys who wanted to come in and be staples in our lineup.
"Part of our recruiting is being able to sit down with guys and tell them they have an opportunity. I'm not guaranteeing anything, but they're going to have an opportunity to come in here and be the player they want to be."
According to College Hockey Inc., the Chargers have one of the youngest groups of underclassmen in the country with 18 freshmen and sophomores — by far the biggest number in the WCHA.
Even though playing all those youngsters hasn't helped the Chargers on the scoreboard most weekends, it paid dividends this past weekend, as Alabama Huntsville beat Northern Michigan 4-2 on Friday night. It was a big win for the Chargers against one of the WCHA's top teams — especially since UAH was coming off a weekend at Bemidji State in which they were swept by scores of 5-3 and 7-0.
"We had that stinker in Bemidji on Saturday, but for the most part for the past month or so we've felt like we've deserved better fates," Corbett said of the Chargers getting their first win of the year. "So beating Northern on Friday was good for us."
Charger freshmen scored twice in Friday's game against NMU, with co-leading scorer Josh Latta (who has eight points on the season) netting the game-winner. Freshman Daneel Lategan added a goal, while another underclassmen, sophomore Tyr Thompson, also scored.
Corbett noted that the Chargers have had six underclassmen defensemen playing regularly to go along with five freshman or sophomore forwards who have played in every game — including Latta, freshman Liam Izyk and sophomores Thompson, Bauer Neudecker and Jack Jeffers.
Corbett and his coaching staff have also been adding some new systems this season. So it's understandable that, with so much youth on top of everybody doing something new, the learning curve would take a while to get used to. And although the Chargers are 1-11-1 and haven't been consistent so far, Corbett hopes the learning will manifest itself in results soon.
"We're at the point with some of the systems that we're doing is that our guys are getting it. We just have to keep them fresh," Corbett said. "I think our kids understand our structure now, it's just having consistency within that structure. Hopefully, through some tough lessons and some tough losses, through some embarrassing losses that we've had, that these guys have learned and we can come back in the second half of the season and put it all together."
Mavs cement No. 1 credentials
Minnesota State visited defending national champions Minnesota Duluth this past weekend with a raging snowstorm shutting down most of the Duluth area.
The teams still played on, and it turned out that not even a blizzard could stop the Mavericks. MSU swept UMD 4-1 and 3-1 to complete the sweep of their instate rivals. The Mavericks were the first nonconference team to sweep a series at AMSOIL Arena in more than 10 years (Bemidji State was the last team to do that, all the way back in 2005).
MSU was dominant in the first game and got goals from Marc Michaelis, Parker Tuomie, Nathan Smith and Josh French to get the victory. The second game was a little trickier for the Mavericks, as they were on the penalty kill for almost 10 minutes of the second period. But MSU's penalty kill held UMD off the scoreboard until the third period and held on for a 30-1 win.
Mavericks goaltender Dryden McKay stopped 64 of 66 shots on the weekend for MSU. In turn he improved his goals-against average to 1.15 — first in the nation — and has a save percentage of .955 — second in the country.
"[McKay] gave us a chance," Mavericks coach Mike Hastings said after Saturday's game. "When those guys are slinging the puck around the way that they were, they're really good at finding back doors, finding seams, so he had to make a few that he shouldn't have had to make."
Falcons frustrate Fighting Irish
Minnesota State wasn't the only WCHA team to get a big nonconference sweep this weekend. Bowling Green bulldozed Notre Dame by identical 5-2 scores in their home-and-home series.
The Falcons, who already had three wins over ranked teams (two over Western Michigan and another over Minnesota State), added to their already-impressive resume by beating their former CCHA rivals for the first time since 2013.
Senior defenseman Alec Rauhauser had a goal and an assist in the series, bringing his career total to 101. He notched a goal in Friday's nationally-televised tilt in South Bend to reach the century mark. Rauhauser was held without a point the previous weekend in BGSU's split with Lake Superior State.
"Everybody thought it would happen last weekend but it didn't, so it was a great individual effort to get it tonight on a big-time goal by Alec," BGSU coach Ty Eigner said after Friday's game. "You can see how his peers think of him and how proud they are of him, how happy for him they are."
Rauhauser, who was named the WCHA's defender of the week, now has 14 points on the season and continues to lead the WCHA in defenseman scoring.