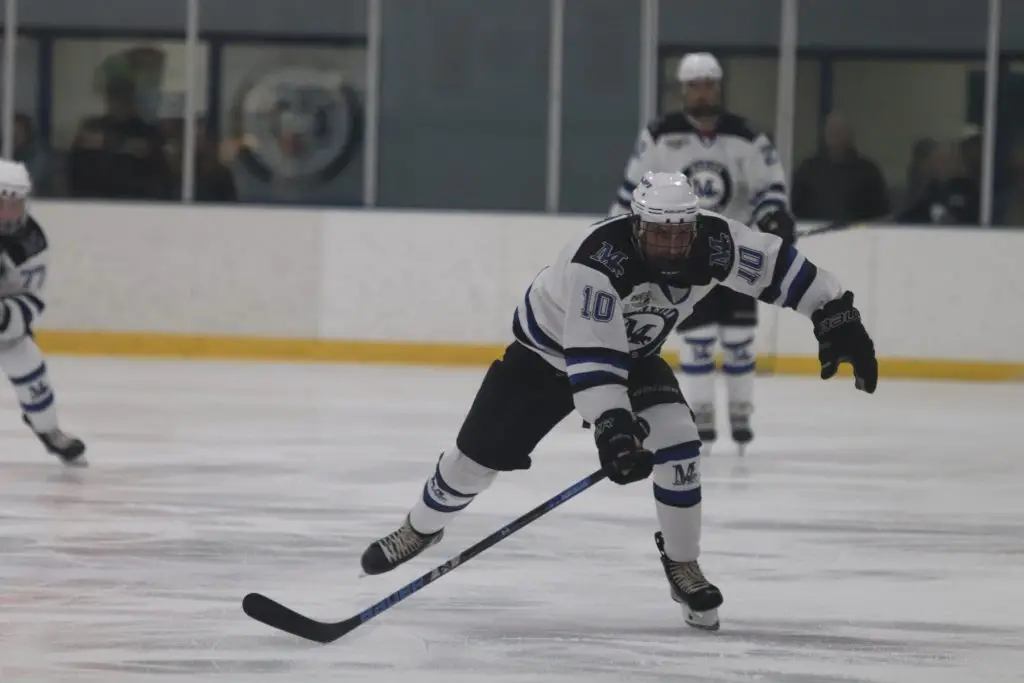 Hello December. It's that time of the year when conference play heats up. A lot of great matchups on the horizon this weekend. St. Thomas and Augsburg are both looking to stay at the top of the MIAC standings.
In the WIAC, Wisconsin-Stevens Point is in need of a couple of wins while Wisconsin-Superior looks to keep its momentum going.
The big matchup in the NCHA this week is one that involves Aurora and Marian.
Friday and Saturday
St. Thomas (5-2-1) at Concordia (3-5-1, 1-2-1)
The Tommies lead the MIAC in goals scored, tallying 40. They also have one of the better netminders in the league in Cam Buggrabe, who sports a 1.81 GAA. Jacob Stephan has been solid for the Cobbers, fashioning a 2.37 GAA.  The Tommies play well on the road, going 4-1-1. St. Thomas, 4-3 and 3-1
St. Olaf (1-8, 1-3) vs. Augsburg (6-2, 3-1)
The series starts off in Augsburg. Augsburg has been a tough team to slow down, scoring 25 goals, and it gets it done on the offensive end as well, allowing just 11. St. Olaf will have its hands full and needs to find a way to play its best defense of the year to have a shot. Augsburg, 5-2 and 4-1
Bethel (2-6-1, 1-2-1)  vs, Hamline (2-6-1, 1-3)
The Royals open this series on the road. Both teams are off to tough starts but this is a weekend that swing the momentum for one of them.The Pipers feature one of the top offensie threats in the league in Jackson Bond, who has a MIAC-best 12 points, including five off goals. Hamline, 4-3; Bethel, 3-2
NCHA
Friday and Saturday
Saint Scholastica (3-5-1, 2-3-1) at  Adrian (6-1-1, 5-1)
The Bulldogs welcome the Saints to town. Adrian has won its last five and has outscored opponents 40-19. St. Scholastica will need to get its offense going to have a shot here. Dino Balsamo has scored seven goals for Adrian. Goalie Zane Steeves has come up with 213 saves for the Saints. Adrian, 5-2 and 4-2
Concordia (5-2-1, 2-1-1) vs. St. Norbert (3-7, 1-5)
The high-flying Falcons hit the road in search of making another statement. The series begins at St. Norbert. Concordia has won its last two games. The Falcons are led by one of the top goalies in Bo Didur, who has tallied 281 saves. Kurt Black leads the Greeen Knights. He is tied for NCHA lead in goals scored with seven. Concordia, 4-3; St. Norbert, 5-3
Friday and Saturday
Aurora (7-3-1, 4-3-1) vs. Marian (6-3, 3-3)
The Spartans and Sabres battle in a key home-and-home. Both teams are legit contenders for the conference title. Aurora is looking to bounce back from a two-game losing streak. Marian has won its last four games. The Spartans have put up 42 goals, the most in the NCHA. Marian has scored 34. Aurora, 5-4; Marian 5-3
Concordia-Wisconsin (5-2-1, 2-1-1)  vs. St. Norbert (3-7, 1-5)
The Falcons are soaring high and have won their last two games. The Green Knights are off to a rare tough start but look to get back on track this week in this home-and-home series. Aurora's Braydon Barker is tied for the lead league in points and Kurt Black of St. Norbert is tied for the NCHA lead in goals, scoring seven so far. Concordia-Wisconsin, 3-2; St. Norbert, 4-2