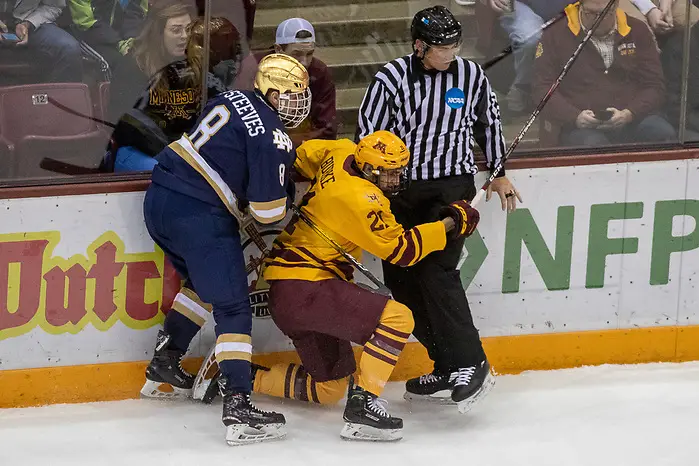 Each week during the season, we look at the big events and big games around Division I men's college hockey in Tuesday Morning Quarterback.
Jim: There are some decent story lines that I can begin with, Paula, including Dartmouth handing Cornell its first loss this weekend, but I need to turn towards the conference you see the most, the Big Ten.
Despite playing one of the longest home-and-home series I can remember, Boston College absolutely dominated Notre Dame, winning 4-0 at home and 6-1 in South Bend.
I understand that the Eagles are playing their best hockey, currently on a nine-game winning streak. But Notre Dame has to feel a little bit out of place at this point. This is a Fighting Irish team that not too long ago was 7-0-1. Since that time, though, Notre Dame has a single win, a 5-4 OT victory over Wisconsin on Nov. 16. Notre Dame has lost five straight and is 1-6-1 in its last eight.
I know not everything can be explained, but is this something that you can even tackle?
Paula: I had been scratching my head about Notre Dame's slump prior to BC's definitive sweep, thinking that maybe there were some injuries that factored in or even waves of a virus taking a toll on the team, but after this home-and-home series, it's clear that there's something else going on.
After Saturday's loss, Jeff Jackson said that he hopes that the Irish have "bottomed out" and that they're not "playing with that level of confidence" that they had earlier. He said, "It's really hard to describe." I guess that sums it up. It's hard to describe. It doesn't make a lot of sense from the outside.
And to answer your question, who knows? Jackson said that the players have a good attitude, but how do you turn this around in a program that has had such success in recent years? We've talked about how confidence breeds confidence, but a lack of success can feed on itself, too.
One thing that has puzzled me this season is the play of Cale Morris. The senior and 2018 Mike Richter recipient is beyond struggling, with a 3.07 GAA and .890 save percentage. Again, without direct knowledge we can only speculate, but Jackson talked about a lack of confidence and I can't imagine that isn't part of what's going on with Morris.
Let me make it clear that I'm not laying Notre Dame's slump at Morris's skates; he's a symptom, I think, rather than a cause.
If the Irish are going to turn things around in the second half, they'll be doing so against an improved B1G conference, a conference that currently boasts two top-10 goalies and two more in the top 20. For a team that is struggling offensively as well, this will be problematic. And Notre Dame has dropped to 14th in the PairWise.
It's a long road ahead for the Fighting Irish.
Jim: I think what concerns me the most about Notre Dame isn't their lack of offensive production. Even some of the best Notre Dame teams won games 2-1 and 3-2. But as you mentioned, it is very concerning that the Irish are allowing so many goals. Over the past two weekends, they've given up 20 goals in four game.
Do the math and that's five goals against per game.
The Irish still have two games this upcoming weekend against Penn State to push themselves to break on a high note. And possibly, the break might help this Irish team refocus.
A team that seems to be back playing their best hockey is Arizona State. The Sun Devils, themselves, already had an extensive break, a period of 19 days without a game in November, and that seems to certainly have suited them well. They are 2-0-2 since getting back on the ice and this past weekend earned a win and tie against No. 4 Denver. It was Arizona State's first win over a top-five team in the USCHO.com poll, and more importantly, catapulted the Sun Devils up to ninth in the current PairWise.
I think a lot of people began to write off the Sun Devils after their 1-3 start. But just a single loss since then puts them right back in the middle of the national picture.
Paula: I am beyond excited to see the Sun Devils play at Munn Ice Arena this coming weekend. I've had them in my top-20 mix for most of the season because of their ability to play everyone competitively with the exception of that early Minnesota State series – and very few teams have fared well against Minnesota State this season.
It's not just that Arizona State beat Denver. It's how they did and then how they hung on for a tie the following night. The Sun Devils jumped out to a 2-0 lead in the first period of the 4-1 win, and then after allowing a third-period goal that pulled the Pioneers to within one, Arizona State scored a late power-play goal and capped the game with an empty-netter. In the tie, they were outshot 46-22 including 6-0 in overtime. Hats off to sophomore goaltender Evan DeBrouwer for his 77 saves on the weekend and to Johnny Walker, whose third-period power-play goal in the win gave him his second career hat trick.
Their ability to maintain such a high level of play without the benefit of the familiarity of a conference is impressive. Aside from just the chance to see the Sun Devils play in person, I'm looking forward to this test for Michigan State, a team that is playing really good conference hockey right now.
Jim: Arizona State is a very exciting team to watch in person. They skate well and move the puck very well and with DeBrouwer playing well in net, this could be yet another Arizona State team that opens up a lot of eyes.
I want to totally change the subject here and tackle a subject longtime college hockey analyst and our good friend, Dave Starman, floated over the weekend while calling a game on Big Ten Network.
Starman suggested it is time to form a College Hockey Hall of Fame. With the Hockey Hall of Fame in Toronto and the U.S. Hockey Hall of Fame in Minnesota, sure this may seem like overkill, but I think this is something very much overdue.
The first few inductions would literally be a who's who of the greats of college hockey: Mason, Berenson, York, Parker, Shawn Walsh just to name people I know or knew personally. There would also be the likes of Murray Armstrong, Cooney Weiland, Amo Bessone, John MacInnes and so many other who you and I never knew.
I think a hall of fame for college hockey is hardly gratuitous. There are so many individuals that need recognition if, for no other reason, to help many in the current game remember and understand what got us to this point.
What are your thoughts?
Paula: I think this as excellent idea that is long overdue. Yes, there are other hockey halls of fame, but something specifically dedicated to college hockey would be another step to help promote the sport while it honors those on whom the sport is built.
College football, basketball and baseball each has its own hall of fame. The National College Baseball Hall of Fame is run by the nonprofit College Baseball Foundation, which says that the purpose is to "preserve and recognize the history of college baseball." That is exactly what the aim of a College Hockey Hall of Fame should do.
Jimmy, we both know that college hockey has had its fans for a century but that its fan base has grown steadily since the advent of the internet – something we can and should be proud of USCHO's small part in that – and the base is growing because of NCAA hockey's increasing importance as a developmental entity for professional players. Additionally, the growth of and interest in women's hockey is a direct result of the flourishing of NCAA women's hockey and the excellent game the women play. Youth hockey continues to flourish and the game grows – slower than we'd like, but it grows, and there's a rich history there that should be preserved.
I saw Dave Starman's tweet and responded immediately. Yes, there should be a College Hockey Hall of Fame. It should recount the history of the sport, honor and recognize those who have helped build it, and present the ongoing narrative of a sport that continues to grow and strives to adapt.
Now we need to figure out who will curate it and where it should be built.