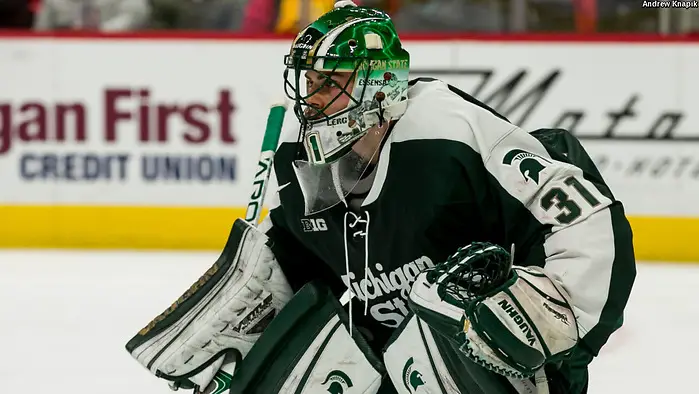 As the holiday break looms, a quick look at the Big Ten standings reveals something out of the ordinary for the conference's short history.
Michigan State is tied for second with 19 points and is only three points off the lead. The Spartans will put their conference run on pause this weekend and host Arizona State for a two-game series.
With a 6-3-1 record, it's not like the Spartans are getting by on puck luck. They opened conference play by shutting out Penn State 2-0 and followed up the series split with the Nittany Lions by sweeping Michigan and taking four of six points from Notre Dame.
"The one thing we've done fairly well, [and] there's always bumps and glitches along the way, but I've thought we've defended fairly well and that's kept us in a lot of games," Spartans coach Danton Cole said. "The other thing is that we've been pretty resilient. We've been able to come back in, I think, three of our wins."
Recently, the Spartans swept Wisconsin at home, that came one week after they were swept themselves at Ohio State. The Buckeyes picked up 3-1 and 2-0 victories in that series, played the Saturday and Sunday after Thanksgiving.
Cole quipped during his press conference after one of the victories over Wisconsin last weekend that the Spartans must have tired out the Buckeyes, since Minnesota took them to overtime twice the following weekend.
"I didn't think we played poorly down there, Ohio State's a good hockey team and if you take the open-net goals out basically it's a 2-1 and a 1-0 game," he said. "We might have learned a few things there and just reinforce that if you don't go through the right steps in your process and get more pucks to the net, it's hard to score in the Big Ten."
The Spartans shut out the Badgers 3-0 last Friday and came back to win 5-4 overtime on Saturday. Two different style of games, but Cole liked to see that his team could play both ways.
"You're going to play all different types of games, with Wisconsin and their skill and offensive ability," he said. "It's just going to be hard to keep them off the board very long. They showed that on Saturday night, so you've got to figure out ways to win in different fashions."
That said, he hopes that allowing four goals per contest doesn't become a trend.
"If we hang our hat on (needing) to score five goals every night, that won't be the way to long-term success," Cole said. "Occasionally, you're going to have to do that and it was nice to see our guys be able to play two different, at least scores of games, and get similar outcomes."
If the Spartans can keep the goals allowed number down, and their run of good form going, it'll be because of the continued good play of their senior goaltender. John Lethemon has posted an 8-4-1 record so far this season with a 2.01 GAA and three shutouts.
"One thing that he did that put himself in a position to have this type of senior year was the work he's done the past couple years," Cole said of his goaltender. "His sophomore year, he was better than his freshman year and he got better his junior year.
"He had a great offseason last year, he did a great job in the weight room and he gained some weight, I think that's helped him out there," he added. "His confidence and his positioning, he's just seeing the puck really well right now, he's done a lot of the stuff you need to do to get better and he's a good example for the rest of our guys."
The defense being played in front of Lethemon has improved, too.
Cole credited the improvement that sophomore defensemen Dennis Cesana, Cole Krygier and Christian Krygier made over the offseason.
"They've done a nice job, not just defending, but moving the puck and a real good job breaking out through the neutral zone," he said. "It just makes us more of an efficient team, they've been a huge part of it.
"They got more mature in a lot of areas, off ice and on ice. The training that we can do in the spring on and off the ice is tremendous. We can really focus on development and strength."
On offense Michigan State was tasked with replacing 50-point scorer Taro Hirose this season. Patrick Khodorenko and Mitchell Lewandowski, who finished second and third behind Hirose in scoring last season, are currently placing the Spartans with 15 and 11 points.
"There's times (Khodorenk has) been hot putting up points, but consistently he's done a great job in terms of defending, playing physical and playing a great 200-foot-game," Cole said. "(Lewandowski) got off to a little slow start goal-scoring wise, but he popped a couple the other night and he's been getting a lot of chances, he attracts a lot of attention from the other team.
"It's nice having them back and I think the guys look to them and, like the other night, when the game's on the line they're going to be on the ice and they're able to make a difference at the end of those games."
Behind Khodorenko and Lewandowski, the Spartans seem to be developing some scoring depth with nine players having five or more points.
"It's decent, the depth of (scoring) has been a lot better than the last couple years," Cole said "Hey, I wish we had 11 guys with 10 or more points, but it's been spread out and it's been timely. That's an effective way to get some results, not just relying on a couple guys. Everyone's done a really nice job of chipping in at different times and that enables you to win some games in different ways."
Badgers bow out of rankings
After starting the season ranked No. 16, and jumping up to No. 6 after sweeping Minnesota Duluth, Wisconsin dropped out of the USCHO.com Division I Men's Poll this week.
The Badgers are 4-9-1 since that sweep of the Bulldogs and their highly-touted offense has been silenced in those losses, averaging 1.67 goals.
Polls obviously don't determine the NCAA tournament field, but Wisconsin has also taken a tumble in the PairWise Rankings to 32nd.
Mark your calendars
College hockey teams will take a break for the holidays, but there are a few games to be aware of that'll take place before our next published column.
Minnesota will revive the Mariucci Classic on Dec. 28-29, and the tournament now has the vibe of the former North Star College Cup (RIP). Minnesota State and St. Cloud State will get the party started on Saturday afternoon followed by the Gophers and Bemidji State. Winners and losers play each other on Sunday.
Michigan and Michigan State will, once again, participate in the Great Lakes Invitational at Detroit's Little Caesars Arena Dec 30-31. The Spartans will play Michigan Tech and the Wolverines play Ferris State. The consolation and championship games on New Years Eve are part of a tripleheader that features the Detroit Red Wings and San Jose Sharks as the headliner.
In non-tournament action, Ohio State hosts Colgate for a two-game series the last weekend of 2019 and Wisconsin will play the U.S National Under-18 team on New Years Day.
Notre Dame and Penn State, who play each other this weekend, will wait until the first weekend of 2020 to get back to business.