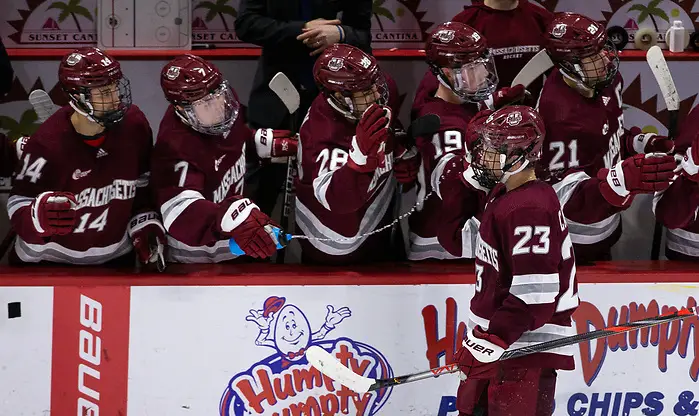 The doubters have been proven wrong.
Massachusetts was not a one-year wonder that last year rode Cale Makar's coattails to the national championship game only to predictably settle back this year into their accustomed position in the lower half of the Hockey East standings.
The clock hasn't struck midnight, turning them back into pumpkins.
UMass is for real.
While its position atop the Hockey East standings is tenuous at best–Boston College trails by only a point, holds two games in hand, and is red hot, winning 13 of its last 14–UMass still ranks sixth in the PairWise and has shown it is a force not just in the league but also nationally.
"When you come off the year that we had last year and you lose Cale Makar, Mario Ferraro and Jake Pritchard — three guys that signed NHL contracts — you don't really have expectations," UMass coach Greg Carvel says. "You have standards, the way you want your players to play and the team to perform, but I went into the season not really having an expectation.
"I thought we could be an upper-end team of Hockey East again, and I think that's what we are."
January got off to a rocky start with two losses at Denver before splitting a home-and-home with BC then sweeping at Vermont.
"Our schedule the first half of the year wasn't as difficult as the second half has been," Carvel says. "Those games [against Denver and BC] were going to let us know if we could be an elite team again this year.
"Although we only won one of those games, they were all highly-contested, good hockey games. We realize that with a little more growth we can be a top team in the country again. That's our expectation.
"I can see our identity, our consistency, starting to round out, which is what you hope for with 10 games left in your season. We've got a lot of tough games going down the stretch, but I do think we have a team that's capable of battling for the championship of our league, making the NCAA tournament and trying to make some noise there again as well."
Not that there aren't some concerns even with statistically the top team defense in the league and just a hair from being the No. 2 offense behind BC.
"The one thing our team is missing is more balanced scoring up front from our forwards," Carvel says. "Mitchell Chaffee and John Leonard both have 16 or 17 goals, and they score most every night. But if they aren't scoring, our team has a much different record.
"Our defense scores most every night. Our two most prominent freshmen are defensemen — Matt Kessel, who scored his seventh goal on Saturday night, and Zac Jones, who played on the World Junior team. Those two guys produce points more than [most of] our forwards.
"We need more balance up front. We need our veteran forwards scoring, and we need our freshmen forwards scoring. We played really well against Vermont, but we came out of that with only seven goals in two games. That isn't terrible, but we should have scored more goals for the chances we created.
"So now the focus for me is to find more forwards who can score consistently."
There may be help on the way from the power play, which stunningly ranks worst in Hockey East in league play, converting at only a 10.9 percent clip.
"We've got the right combination," Carvel says. "We've got Chaffee and Leonard , who are two of the leading goalscorers in the country. We've got Zac Jones running it, and he just ran the power play for the World Junior team. And we've got Mark Del Gaizo, who had 13 goals as a freshman defenseman last year.
"So with those four pieces, your power play should be good. The problem is Mark and Zac have only played in a couple of games together. Mark was out most of the first half of the season with an injury, and Zac was away at World Juniors. So they've only had six or eight games together."
That bodes really well for UMass's stretch run, especially considering it has the ninth best offense in the country with the 51st (out of 60) power play.
"As a team, we're realizing that, hey, five-on-five we're a pretty good team if we're [ninth] in the country offensively and our power play is not contributing to that," Carvel says. "It's a real focus. We've got it under the microscope and are working on it every day. I saw really good progress this weekend in Vermont."
At the other end, Matt Murray and Filip Lindberg give Carvel an ideal one-two punch between the pipes. They rank, respectively, first and third within Hockey East in Goals Against Average, and also excel in save percentage, Murray at .920 and Lindberg at .929.
"I've always felt if you can get a goaltender to give you a .920 percentage then you should be able to win," Carvel says. "They're both providing that.
"Both of them want to own the net, so I've told them, 'Well, you want to own the net, get your save percentage up to .940 and then you'll own the net. You want to own the net, you've got to be even better.'
"So it's a good situation. They both give us a great chance to win every night. Both of them are capable of stepping up and getting hot. Until one of them does, we'll just keep flip flopping them for the most part."
UMass isn't looking over its shoulder at BC and its two games in hand. The two league leaders will face each other in another week, but for now the focus is only on this weekend's home-and-home with New Hampshire.
"UNH just knocked off Providence and beat us earlier in the year, so we're only worried about UNH," Carvel says. "Hopefully, we can win those two games and then we'll worry about BC and understand that those would be two really big points in the league standings."
Hockey East's nonconference record
Hockey East holds a sub-.500 record against two conferences while topping .600 against the other three.
Not surprisingly, one of the two conferences holding the upper hand over Hockey East is the NCHC, which is 8-6-2 in its contests.
Care to guess the other?
Stunningly, the other conference topping Hockey East is Atlantic Hockey!
Yes, the Atlantic, against whom wins were considered near-automatic when it first was formed, holds a 7-6-2 advantage over Hockey East.
My how times have changed!
PairWise talk
With its big wins over UMass Lowell and Boston University, Boston College broke into the top four of the PairWise (tied with Denver and owning the RPI tiebreaker, though losing the head-to-head comparison).
As noted by Jim Connelly a couple weeks ago, finishing in the top four would greatly improve BC's chances of staying East in the NCAA tournament.
The Eagles have now won 13 of their last 14 contests.
In other PairWise news, UNH briefly made an entry into the top 16 with its Friday night road win over Providence but fell back out when the Friars salvaged a split.
So for now, Hockey East will have to be happy with five teams in the top 14.
Beanpot longshot
In other my-how-times-have-changed news, based on the numbers, which team is the longest shot to win the Beanpot this year?
Boston University.
For a time, the Terriers' dominance in the tournament allowed their fans to claim it should be renamed the BU Invitational. Not anymore. Their record (and PairWise standing) make them arguably the No. 4 seed.
In fact, the other three schools have all now won the tournament more recently than BU. (BU in 2015, BC in 2016, Harvard in 2017, and Northeastern the last two years.)