Oswego is one of the hottest teams in the country, so hot, they literally set off the fire alarm during the first intermission, causing an evacuation of the sold-out Campus Center Ice Arena. Eric Selleck's gloves ignited when he was drying them in the locker room.
Oswego stayed blazing hot, beating their archrival Plattsburgh, 3-2. It was the first time Oswego defeated Plattsburgh in their new rink since it opened. The Lakers extended the country's current longest winning streak to 19.
"It feels good," Oswego coach Ed Gosek said. "Anytime you can get to 20 wins at this time of the season, especially the 20th win against Plattsburgh at home to beat them twice during the season, is a pretty nice feeling."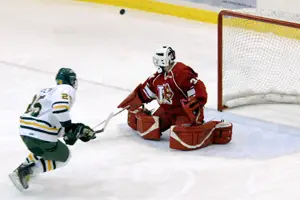 "I think once again Plattsburgh didn't finish," Plattsburgh coach Bob Emery said. "A lot of our blemishes this year were same type of game. We played well, but we didn't finish."
It took just 34 seconds for Oswego to send the "white out" crowd into a frenzy. On an odd man rush, Brad Dormiedy took the initial shot which Josh Leis stopped. The rebound came straight out and Tyler Leimbrock tried to put in. After he failed, the puck came out to Neil Musselwhite, who fired it through a crowd over the right shoulder of Leis who never saw it.
"I thought we came out with a lot of energy," Gosek said. "We were able to get the first goal to get the crowd into it. I thought the momentum turned, and I thought they had the better opportunities in the first period. Then we started the undisciplined march to the penalty box. We were fortunate to get away with it tonight, but we can't expect to play quality teams like Plattsburgh and expect our penalty kill and goaltending to stand up like it did tonight."
Plattsburgh withstood the early Oswego adrenalin rush after the initial goal, and started to get their game in gear. It finally paid off at 6:44 when Dylan Clarke shoved in a loose puck that Gunn-Tylor couldn't reach while on a delayed penalty.
That goal and a subsequent power play quickly took the home crowd out of the game, until 11:36, when Justin Fox picked up a loose puck in the slot and wristed it past Leis. The goal was a result of Plattsburgh having trouble clearing their zone.
Oswego made it 3-1 at 5:53 of the second, chasing Leis out of the net, replaced by Ryan Williams. Jon Whitelaw skated the puck to the left faceoff circle and ripped a shot at the five-hole. Though Leis got a piece of it, it still managed to squeeze through and trickle over the line.
"They had three goals on the scoreboard and at the time I didn't think Josh had any big saves," Emery said. "So, I took him out."
The turning point in the game came with just under four minutes to play in the second when Leimbrock received a five-minute major and game misconduct. It was the turning point because Plattsburgh never took advantage of it and then wasted the final minute and a half with a too-many-men-on-the-ice penalty.
The Cardinals had their chances, but Gunn-Taylor stood his ground with some solid saves.
"They had some very good shots but we didn't give them the easy ones," Gosek said.
"We hit a couple of posts, we hit the crossbar," Emery said "The puck was laying in the crease a lot. Maybe we have to get in there and jam away a little more. I thought we moved the puck well. We got a couple of looks. We don't have a lot of snipers. Our best sniper wasn't playing."
Plattsburgh did finally cut the lead to one at 7:18 of the final period. Phil Farrow skated the puck straight down the middle, into the zone, and when he got between the circles, wristed a shot that appeared to be possibly tipped, floating over the glove of Gunn-Taylor.
"I think it caught him off guard," Gosek said.
Plattsburgh had one last good chance to tie the game when Rodrigues was called for boarding with four minutes left. However, the Lakers played an aggressive penalty kill, highlighted by Owen Kelly's superb forechecking that kept the puck behind the Plattsburgh net for a long period of time.
After failing to score on the power play, Plattsburgh once again shot themselves in the foot with a too-many-men penalty, ending the game a man down.
"We showed a lack of leadership tonight," Emery said. "Two too-many-men calls, one at a very crucial part of the game. We have to be better than that. It's unacceptable."
Gunn-Tylor wound up with 27 saves.
"He was tight on his angles. He was challenging," Gosek said. "He had a solid game. Played well. Handled the puck well."
Williams stoned Oswego once he got into the game, making 12 saves, including stopping a penalty shot from Matt Singleton.
Plattsburgh (13-3-4, 9-2-1) has a non-conference match this Tuesday at Middlebury before returning home for a conference game against Morrisville.
Oswego (20-1-0, 12-0-0) extends their first place lead to five points with four games left. They host Cortland on Friday.