It started out as possibly the greatest upset in SUNYAC playoff history, but wound up as a great comeback by Oswego.
After falling behind 3-0, the Lakers stormed back to defeat Morrisville, 8-5, thanks to four third-period goals starting out with a shorthander.
"We came out tonight and took the game by storm early on which is what we wanted to do. We wanted to play from the front," Morrisville coach Brian Grady said. "We knew that Oswego would come and they did. It was a back and forth, highly entertaining college hockey game. I think we ran out of gas a little bit. They were a step faster. It showed in the second and third periods."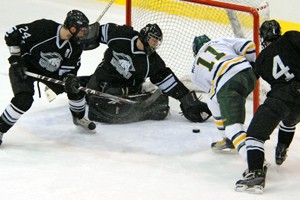 "They came out and capitalized on their chances," Oswego coach Ed Gosek said. "We made some mistakes and they were right there to pounce on it. They were aggressive, beat us to loose pucks. You're down 3-0. That's a long uphill climb in the playoffs against anyone. We said after the game, it wasn't pretty, but the ability to come back and hold it together, I think it's a positive sign."
Morrisville's first goal at 7:50 was thanks to a giveaway by Jon Whitelaw. Chris Cerbino picked up the errant puck in front of Kyle Gunn-Taylor, skated around the crease, and flipped a backhander over the goalie's pads.
Fifty-seven seconds later, Morrisville continued to stun the home crowd after a strange set of circumstances. The puck was shot down the ice with Dave Shultz ahead of the play. However, the puck was too far ahead. Yet, a broken stick left on the ice slowed the puck enough for Shultz to get to it, not allowing Gunn-Taylor to come out and play it. Shultz's shot was stopped, but the rebound came straight out. Geoff Matzel, trailing the play, one-timed it past Gunn-Taylor.
At this point Oswego used its timeout. It didn't help.
Another 56 seconds later, the horror show for the home crowd continued. Five seconds after their second power play started, the Mustangs opened the lead to 3-0. Andrew Alarie won the faceoff straight back to Bobby Cass, who skated to the center of the blue line, letting go a shot that snuck through a crowd and past Gunn-Taylor.
Morrisville came to skate and often out skated the talented Oswego squad.
"We wanted to out skate them," Grady said. "We told our guys, if we were going to get beat we were going to get beat putting it out on the line, giving it our best. I thought we did a really job of that in the first."
At this point, Gosek pulled Gunn-Taylor, putting in Paul Beckwith. This time the move helped.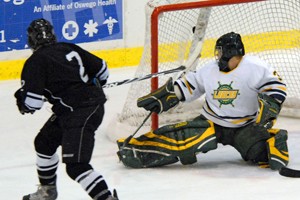 "Just trying to get them going," Gosek said of the change. "For no other reason than to change the momentum."
Oswego stemmed the tide at 12:53. A scramble in front of the net with numerous attempts finally paid off as Tyler Leimbrock smacked the puck across the line.
The Lakers cut the lead to one at 16:36 with another goal from close range. Brad Dormiedy passed it across the crease where Neil Musselwhite was sitting at the back door to easily one-time it in.
"That was huge," Gosek said. "So now going into the second period, you have some momentum. They clearly came out at us hard in the first. So for us to answer that, I thought was huge."
The second period started out as a sequel. Jonathan Cristini gave Morrisville a 4-2 lead just 1:02 in, on a breakaway. He went from the backhand to forehand to backhand and still had time to sneak it by the right pad of Beckwith.
Oswego hung in, getting it back two minutes later. Leimbrock got the puck in the high slot area and fired a cannon that blew by Caylin Relkoff.
"He doesn't look for the extra play," Gosek said. "He just rips the puck."
Leimbrock completed a hat trick to tie the game at four, 58 seconds before the period ended. He deflected a shot sent in from the point by Kevin Huinink.
Oswego's go-ahead goal was a result of sheer speed. Neil Musselwhite blew by two defenders at the blueline, picked up the puck, and went in a breakaway. Musselwhite went straight at Relkoff, and simply shot it past him It was Musselwhite's sixth short-handed goal of the season which is also the total for Oswego.
"Pretty special kid as far as his speed is concerned," Gosek said. "We certainly hope he gets in that Frozen Four Skills Challenge. Tonight is an example of what his speed can do. He's come through in clutch times for us."
"Big goal there starting the third period," Grady said. "Musselwhite just turning on the jets and beating our guys. That set the tone for the third period."
The Lakers sealed the deal thanks to a Relkoff mistake. Relkoff came out to play the puck, and then inexplicably, tried to turn with it and pass it off. Whitelaw poked it away, and easily put it into the empty net at 11:33.
Eric Selleck virtually finished it off on the power play with a rebound shot to the left of Relkoff that went in near side to make it 7-4 at 14:40.
Morrisville got one back with three minutes left by Tom Longland.
Huinink got a short-handed empty net goal with a minute left shooting from inside his own blue line.
Morrisville's (9-17-0) season is over. Oswego (24-2-0) will host the SUNYAC Championship game next Saturday against Plattsburgh.