The Geneseo Ice Knights won their second consecutive SUNYAC championship with a 4-3 victory over Plattsburgh in the final game of the three-game series. This year, they did it with a new coach and a new goaltender.
"It's really special," Geneseo coach Jason Lammers said of leading his alma mater to the championship. "It's something that since I was a sophomore here, I dreamed about. And now it's happened."
Just like the night before, Geneseo needed a third-period hero. This time it was Trent Cassan who got the game winner at 11:02.
The goal was the result of a chain of events that started with a Plattsburgh defender breaking his stick after taking a shot from the right point. He skated over to his bench, on the opposite side in his own zone. Meanwhile, Geneseo came out of their zone. With the defender out of commission, the Ice Knights had a manpower advantage.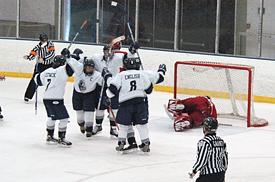 "We got a bad break," Plattsburgh coach Bob Emery said. "One of our guys broke his stick and had to come off, and their guy got more space than he probably should have."
That guy was Cassan, who skated the puck down the right side boards, and then sent a slapshot towards the goal.
"It was kind of a broken play," Cassan said. "I came down the lane. I got close; I just wanted to make sure I got a hard, low shot off and wait for a rebound. Fortunately for us, he [Neilson] got a piece of it, but it trickled over the line."
Craig Neilson got more than a piece of it. In fact, it looked like he made a solid save as the puck hit his pads with a loud thud. However, somehow it still had enough energy to carry on across the goal line.
"It's a goal they shouldn't get. No ifs, ands, or buts about it," Emery said. "A slapshot from the outside. Right along the ice. Somehow it found the back of the net and they were able to play good once they got the lead."
Unlike the previous two games, it was Geneseo that jumped out to a multi-goal lead, scoring the first three of the game.
The Geneseo power play picked up where it left off the night before, by scoring on their first attempt. After Ben Kemp took an interference penalty in the offensive zone, the Ice Knights converted at 11:04.
Mathieu Cyr received a pass in the high slot area waist high. He stuck his stick out to stop it, just low enough to avoid a high sticking call. With his back to the goal, he turned and fired a shot that Michel Bond tipped past Neilson.
Despite a solitary goal, the first period saw plenty of action with both teams coming close to lighting the lamp. Except for the power play, Plattsburgh was not getting players in front, and Derek Jokic was able to see all the long range shots that came in on him.
"I didn't think we did a good job getting some traffic in front," Emery said. "I thought he [Jokic] was playing well but he was seeing everything. After the first period I told our guys stop jamming the puck around the net. Drive the net."
Geneseo grabbed a 2-0 lead at the start of the second period. It was also helped by a power play that carried over from the first period, though the puck went in just as the penalty expired.
Bond let go of a slapshot from the right point. Cyr was positioned in front to tip it past Neilson inside the near post.
Geneseo took what many thought would be an insurmountable lead when Cassan went in on a surprise breakaway. Plattsburgh was transitioning up the ice when Mike MacDonald picked up a loose puck, and found Cassan alone at the blueline.
MacDonald quickly passed the puck, springing Cassan onto a one-on-one with Neilson. Cassan didn't bother to make any moves. He simply skated straight in, and as Neilson started dropping down a hair, rifled a shot over the goalie's left shoulder.
Jokic was stonewalling Plattsburgh time and time again.
"I felt good after the game yesterday," Jokic said. "I felt good this morning. Once I made the first three saves I felt really into the game."
However, the Cardinals finally exploded, scoring three goals in a 3:20 span late in the period, the latter two within 38 seconds, to tie the game at three.
It started with a Nick Rolls goal on the power play. Plattsburgh did a very nice job of controlling the puck passing it around when Rolls fired a high shot from the left point through a screen, causing Jokic to not be able to pick it up.
"When they scored on the power play it was a complete screen, and I was hoping it would hit me and it didn't," Jokic said.
It continued when Kevin Galan, unmarked on the right side of the net, scooped in a rebound after Jokic made a couple of saves, and by then was out of position to have any chance at Galan's shot.
The onslaught ended thanks to a Geneseo turn over behind their own net. Deryk Whitehead jammed it through Jokic's pads. The puck barely got across the line.
"The Galan goal was by guys driving the net," Emery said. "Whitehead just drove the net and flipped it in between the pad and the post."
"Plattsburgh deserves a lot of credit for that," Lammers said. "A lot of teams in that situation would have folded their tents. But they didn't and they responded, and it was pretty impressive. They're a good hockey team and they did a nice job at that point."
Instead of worrying about holding off Plattsburgh for 20 minutes, the period ended with Geneseo worrying about how to win the game. The players likened it to the weekend before when they lost the second game to Fredonia, and had to regroup in the locker room for a 20-minute mini-game.
"We came in between the second and third period and everybody was calm," Cassan said. "It was kind of wiping the slate clean. It was like a 20-minute mini-game."
"Our goal was to play five-on-five," Emery said. "I thought we played good in the third."
They did, but so did Geneseo, as the third period started with wide open play, including each team trading breakaways. Eventually, it was the Ice Knights that got the break.
"The guys did a great job," Lammers said. "We came out in the third period and they were definitely taking it to us a little bit, but we bent and bent and didn't crack, and responded with a huge goal, and then we were able to finish it off. The guys did a great job, and once we got the lead, we made them come the whole sheet of the ice to try and score."
Plattsburgh pulled Neilson with 1:25 left in the game, but despite some strong pressure, they never got a shot on net with the extra attacker.
"It's something that we worked on," Lammers said. "The guys did a phenomenal job of understanding their responsibilities and blocking shots and getting in the way and making it really hard for Plattsburgh to get to the net. It was pretty obvious they were coming. Guns were blazing, but the guys did a good job."
Plattsburgh ends their season at 19-12-1.
"The way our season was for us this year was the way it was for us tonight," Emery said. "We played good. We played hard. We didn't get outplayed too many times this season."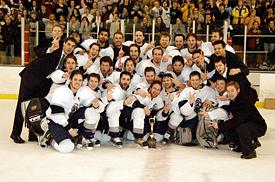 Jokic made 24 saves for the win and can finally put to rest all those doubters who didn't believe he was up to doing what Brett Walker did the year before.
"It was big shoes to fill," Jokic said. "People were throwing that name around all year. I just wanted a chance to prove myself. I told coach I wanted the opportunity to lead the team and this was my team now. It feels really good to be able to show people I was able to lead the team to a championship. Hopefully, we can keep it going. It's not over yet."
Lammers talked about winning the conference title in his first year at the helm: "It's not over yet, but so far I think the guys have done an excellent job of responding to what we've asked them to do. They've helped me as much as I've helped them as we've learned new habits and systems. A lot of credit has to go to coach Brian Hills who was here in the past and did a great job and set a high standard for the program."
Geneseo awaits word of where they will play next as they take their 19-8-2 record to the NCAA playoffs for the second year in a row.