A late power play and a late goal — and surviving a near own goal — equaled another trip to the Division III National Championship final game for the Middlebury Panthers.
Middlebury defeated Elmira, 2-1, in a thrilling national semifinal game on Tom Maldonado's power play goal with two minutes left.
"I don't think you can ask for anything more for a NCAA semifinal game," Elmira coach Tim Ceglarski said.
"Throughout the whole entire night, my power play was having trouble putting pucks into the net," Maldonado said of his winning goal. "We were trying to be too fancy setting up the perfect play. Going into that last power play, we wanted to get the puck to the net. When I was coming across, the whole time, I was thinking, just shoot.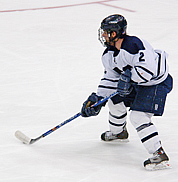 "At first, I didn't think it went in. I had no idea. Whistles blew. Everything was so loud. I had no idea the puck went in. Everybody was really excited, so obviously it went in."
Greg Fargo appeared to have the save, but it squeezed through the five hole.
"I had a good view of the puck," Fargo said. "I think it hit something in front and ricocheted the other way. I got a piece of it, but not enough."
In the first period, both teams played it tight which resulted in neither team scoring a goal. Middlebury played its unusual two-forward, three-defenseman formation, but Elmira was not fooled. Plus, the Soaring Eagles made sure to keep an eye on the breakout man Middlebury loves to use on its quick transitions.
"Their system of play really negated a lot of our speed," Middlebury coach Bill Beaney said. "I thought Elmira did a nice job in the neutral zone with a little different setup then what we had seen prior to coming in."
"We knew coming into the game that Middlebury is one of the best skating teams in the country," Ceglarski said. "We also knew they send a guy high up to the far blueline. We just tried to make sure there was a guy with him."
By the same token, Elmira was unable to break through the tough Middlebury defense. This meant both goalies faced relatively easy shots to stop, though Greg Fargo was tested a bit more than Doug Raeder, who got the start due to Ross Cherry suffering an injury in his last game.
Middlebury squandered the only two power plays in the first period. They barely got any pressure on the first one, and though they got a bit more pressure on the second one which included pulling their goalie for the final 2.7 seconds of the period, they only managed one shot that Fargo was able to turn away.
"I think it was important for them to really feel as though they could play with a two-time defending national champion," Beaney said of the scoreless first period. "I think they played a solid first period. I think they went in after the first period perhaps feeling a little bit better about their chances than perhaps we did at that time."
Elmira got two back-to-back power plays early in the second period. On the first, the Soaring Eagles were no better than Middlebury's power play, though they did hit the outside of the post at the end of the man advantage.
However, on their second power play, thanks to obstruction interference by Jeff Smith, Elmira finally broke the ice at the 4:00 mark. Mark Mazzetti's shot from the top of the left faceoff circle found its way through the screen.
Midway through the period, Andrew Bedford forced his way through the Middlebury defense, went in alone on Raeder, cut across the net, but Raeder was able to get his left leg out in time to stuff the shot.
"They definitely came out full guns," Raeder said of the second period. "I knew I had to have a big period."
Middlebury returned to the power play when Rick D'Elia committed a penalty where he had no choice. A Middlebury attacker was alone in front of the net with the puck, and D'Elia's check from behind possibly saved a goal.
However, just as the penalty ended, Middlebury tied the game. John Sales' initial shot from the left point was blocked by a defender, but his second shot sailed high to the far upper corner and over Fargo's left shoulder, knocking the water bottle off.
"I thought I had a great first opportunity but it got blocked. It came right back to me and I just kind of swung at it. I didn't know it went in until I heard everybody kind of go nuts."
During a subsequent four-on-four, Elmira missed a golden opportunity to retake the lead. Stefan Schoen and Darcy Pettie went in on a two-on-one. The defenseman allowed Pettie to take the shot, which Raeder saved. Schoen had an excellent chance to put the rebound in, but Raeder saved that. Pettie then had his own chance to put the rebound in, but once again Raeder stopped it.
"I got the shot I wanted," Pettie said. "The goalie made a great save."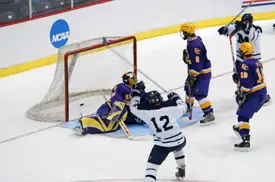 A key moment in the third period came past the halfway point when Middlebury's Leonard Badeau took a holding call followed a minute and a half later by a bench minor for too many men on the ice.
"Definitely a turning point in the game," Raeder said of the two-man disadvantage. "I don't even think I got a shot on net. My team was playing really great in front of me especially defensively. They really came out on that five on three and knew what they had to do and killed it. I'm so proud of them."
As the minutes wound down, Dave McKenna committed a completely unnecessary hitting from behind penalty at center ice, and Middlebury scored their biggest goal of the season so far.
Elmira had one last shot, and it was the result of Middlebury nearly putting the puck into their own net on a delayed penalty call. The puck sailed just wide.
"My first thought was what am I doing having a soccer player on the ice at that point," Beaney joked. "Poor Yen-I Chen almost got knocked over by me on the bench."
Elmira was unable to take advantage of the penalty despite pulling their goaltender for an extra attacker.
The Soaring Eagles, who many thought were done midway through the season, ended it with an unexpected trip to the national championship weekend in front of their home fans with a final record of 18-9-2.
"I'm not disappointed at all," Ceglarski said. "In November, I was disappointed. I couldn't have been happier with the way things turned out. I'm probably more proud now than I ever had been."
Meanwhile, Middlebury moves onto the championship game on Sunday at 2:00 p.m. against St. Norbert in a repeat of the 2004 title contest.