They say that defense wins championships, and that was certainly the case today in Elmira, N.Y., where Middlebury defeated St. Norbert 3-0 for its third straight Division III national title, and fourth straight shutout in an NCAA final. Incredibly, the Panthers have not allowed a goal in a title game since 1998, when they defeated Wisconsin-Stevens Point 2-1 to win their fourth NCAA championship. In all, the Panthers have five shutouts in their eight title wins, allowing a total of four goals in the other three championship games.
Middlebury's current shutout streak stands at 265 minutes, 57 seconds.
"We've always known that they're a very skilled team, but I think they're more skilled than people even know," said St. Norbert coach Tim Coghlin. "They skate really well. They protect the puck very well. They all swam the puck and they have exceptional puck skills, stick skills, and they compete. They've got it figured out."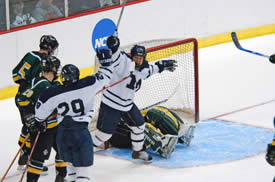 "This time of the year we play tough defense," said Middlebury junior John Sales. "We do all the little things and the goals will come from there if you take care of your own end."
The Panthers took an early lead, getting their first goal just 1:36 into the contest. With St. Norbert's Kelly Wosnack in the box for slashing, Tom Maldonado's shot from the point banked off the right pad of St. Norbert goaltender Kyle Jones and right onto the stick of Middlebury's Robert McIntyre, who banged the rebound home for his third goal of the season.
"It was a lucky rebound that kicked right to their guy," said St. Norbert senior Connor Hughes. "There was nothing (Jones) could do."
"It was a play we've done all year on the power play and I can't tell you how many times I've hit the post," said McIntyre. "It's been the biggest scoring slump of my life. It's been ongoing joke with Mickey Gilchrist that I've been saving up for that one shot to win the NCAAs. It's just totally ironic that that's what happened."
Shots on goal were 11-10 in favor of St. Norbert in the first period, but the number of good scoring chances were clearly in favor of the Panthers. St. Norbert was limited to shots from the perimeter, easily handled by Middlebury goaltender Doug Raeder, who played his angles to perfection and left few rebounds.
At 7:15 of the second period, seconds after a Middlebury power play had expired, the Panthers still controlled play in the St. Norbert zone. Panther forward Eric LaFreniere found teammate John Sales in the far faceoff circle. Sales' wrister went over the left shoulder of Jones, banging off the top of the far post and into the net.
"They took it to us on that power play and had it in the zone the whole time," said Jones. "It was a pass out front; he put it off the post. It hit off my back and went in."
"I just kind of shot," said Sales. "The other guys did all the work down low. I just screamed for the puck and then shot it."
Middlebury limited St. Norbert to just three shots on goal in the second period. The Panthers blocked many shots in the game, especially with the man advantage.
"They were getting skates on pucks, sticks on pucks, shin pads on pucks," said Coghlin. "They're in the right lanes and ready to take the bullets, so to speak. You've got to give credit where credit is due."
"We had guys blocking shots all over the place," said Middlebury coach Bill Beaney. "It epitomized our effort."
In the third period, St. Norbert took two late penalties that prevented the Green Knights from mustering a comeback. At 14:06, Andrew Derton pulled down Gilchrist on a breakaway, and just as that penalty expired, Tyler Gow took a hitting from behind minor.
By the time the teams returned to even strength, there was only 1:40 left in the contest. Jones was pulled for an extra attacker with 52 seconds to play, and it took only five seconds for Gilchrist to strike with an empty-net goal on a shot from just inside the St. Norbert blueline.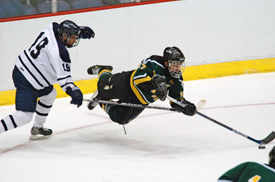 St. Norbert outshot Middlebury 22-21 for the game, but Raeder was up to the task, notching Middlebury's fourth consecutive championship game shutout.
"It's like a dream come true," said Reader. "I can't even express how I feel. I'm just blown away. From the beginning of the playoffs, I wasn't sure if was going to play. To be able to play in the semifinals and finals was just amazing. Last night I wanted to win for the team so I could stay together with the guys. You just don't want it to end. And today I just wanted to win it for them. We came together as a group. It all just came together."
"This group came together," said Beaney. "They trusted each other, committed to each other, and there's nothing more powerful than a group of players that really want to win it for each other."
"It was a story book ending," said Raeder.
"Again."