Air Force got three goals from its top line and a 23 save performance by freshman Andrew Volkening in a 6-1 victory over archrival Army to win the Atlantic Hockey title.
The Falcons will make their first appearance in the NCAA tournament, and the first by a service academy.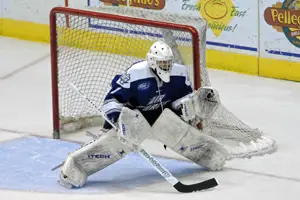 "This is obviously a dream come true for us," said Air Force coach Frank Serratore. "Yesterday after we were fifty seconds away from elimination and scored to tie, I was thinking in the overtime that maybe we were a team of destiny. I was afraid to say that at the time."
The Falcons went on to beat Sacred Heart 5-4 in overtime, and advance to the title game.
Sophomore Mike Phillipich had a goal and two assists against Army, and five points on the weekend. He was voted the tournament's Most Valuable Player.
After a first period played primarily between the blue lines, Air Force got the all-important first goal at 4:26 of the second period. Phillipich scored on a deflection that found its way past Army goaltender Josh Kassel.
"[Eric Ehn] made a nice play along the boards to generate a turnover and (Andrew) Ramsey made a nice pass," said Phillipich. "I was in the middle of the ice and it landed on my stick. I took a slap shot and I think it hit a shaft."
"I thought I had good look at it, but it hit a shaft and then it was in the back of the net," said Kassel.
"It was big to get the first goal," said Phillipich. "It was important to score first and dictate the tempo of the game. When (Army) gets the lead they can just shut you down."
Phillipich also figured in the Falcons' second goal, which came on the power play about three minutes later. From behind the Army net, he found Ramsey in the slot, who one-timed it past Kassel to make it 2-0.
The Falcons blew the game open with two more goals in the first half of the third period. At 4:39, Josh Frider took a pass off the boards from Greg Flynn and went in all alone on Kassel, beating him stick side. Frider scored again at 9:33, this time off a rebound from a shot from the point by Theo Zacour.
Army would get on the board at 12:39 of the third period with a power play goal. Tim Manthey got his eleventh of the season on a hard slap shot from the high slot.
The Falcons got two more goals late to put the game away. Josh Shaffer took a goalmouth pass from Josh Print for a tap-in at 15:25, and Ramsey got his second of the game to close out the scoring off a feed from Phillipich at 17:15.
The six goals were the most allowed all season by Kassel.
"They're an outstanding team," said Army coach Brian Riley. "Whoever gets them next Friday or whenever, is in for a surprise. That hasn't happened to us all year, giving up six goals."
Riley had high praise for his team, which was picked to finish ninth in the league's pre-season poll.
"You always have certain years you look back on that were special," he said. "I know this is one of those years."
Volkening was making just his third appearance for the Falcons since Christmas, but made several spectacular saves, especially early in the second period.
"It was tough call (to start Volkening)," said Serratore. "Ben Worker has been great for us … he's what we're all about. But he wasn't particularly sharp last night. He gave up four one shot goals. All season we haven't had a goaltender go back to back on a weekend and win both games. Andrew has played great for the past six weeks."
Air Force will likely be the 15th seed in the NCAA tournament, which begins next weekend.
"To be honest, playing in the NCAAs was the last thing on my mind," said Serratore. "You're playing your biggest rival … this was a historic game. Army and Air Force have never played each other in a championship game before."
But as the buzzer sounded, the reality set in for Serratore.
"I've been on the NCAA committee and seen a lot of those games," he said. "You sit and watch and hope that sometime you'll have that chance to play in one. And now we are."