For the first time all weekend, the team wearing white won a game in the Atlantic Hockey Tournament.
Josh Frider scored 56 seconds into the second overtime as Air Force defended its Atlantic Hockey title with a 5-4 win over the Mercyhurst Lakers.
"This validates our team," said Falcons' coach Frank Serratore. "As the saying goes, 'Once is luck, twice is skill.' This team went 9-1-2 down the stretch and was undefeated in our last nine games. We're very deserving champions."
After a fairly uneventful first period, Air Force got on the scoreboard with just 1.9 seconds to go in the first stanza. Brent Olson's shot from a tight angle hit a skate and came right back onto his stick. Olson fired again, and this time beat Lakers' goalie Matt Lundin from the same tight angle over his left shoulder to make it 1-0.
The Falcons made it 2-0 at 13:23 of the second period. Frank Schiavone took a feed from Scott Kozlak in the high slot and floated a shot through a crowd that found the back of the net.
Mercyhurst rallied, aided by a five-on-three power play. At 17:11, the sustained pressure by the Lakers finally paid off. Mercyhurst crashed the net after a shot by Jeff Terminisi, and Matt Pierce corralled the lose puck and roofed it over Falcons' goaltender Andrew Volkening.
The goal broke a streak of over 104 minutes of scoreless hockey for Volkening in AHA championship play dating back to last season, but Mercyhurst tallied again just over two minutes later to tie the score.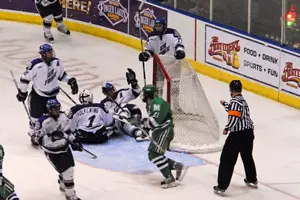 With 13.8 seconds left in the period, Steve Cameron scored off a scramble in front of the Air Force net to tie the game at two each.
"I can't believe the energy that Mercyhurst had," said Serratore. "They never quit, playing their third game in three days. We kept waiting for them to run out of steam, but they never did."
The Lakers took their first lead of the game early in what became a wild third period. At 3:40, Nick Vandenbeld went hard to the net and tucked the puck just inside the far post over Volkening's stick shoulder.
Air Force tied the score at 9:50 when Josh Schaffer lifted the puck over a sprawled Lundin, who was down after making two point blank saves.
It was the Lakers returning the favor at 11:09 when Volkening made two spectacular saves before Brett Robinson got to a rebound and put in a quick turnaround shot just before the net was pushed off its moorings. That made it 4-3 Mercyhurst.
It took just 21 seconds for Air Force to tie the game again, as Frider got to a puck that came hard off the back boards. He swatted it between Lundin's pads to make it 4-4.
Regulation ended with some drama, as Mercyhurst's Ben Cottreau appeared to hook an Air Force player and got possession of the puck. His breakaway was stopped with a skate save by Volkening with one second to play.
Shots on goal in regulation were 41-33 in favor of Mercyhurst and each team had 12 in a frantically-paced first overtime.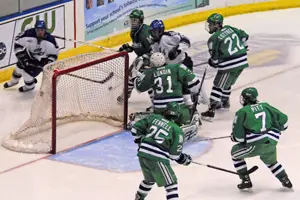 The end came quickly in the second overtime. At the 56 second mark, Frider got his second goal of the game, and the biggest of his career.
"I'd scored in overtime before, but never a tournament winner," he said. "Last year we saw it coming with a pretty big win (6-1 over Army) but this was instant joy."
"(Bobby) Phillips blocked a shot but it came right back to (Olson)," said Lundin. "He shot again and it went in over my shoulder."
"Ollie put a shot on net and I got a swat at the rebound," said Frider. "I didn't get much on it but it went in."
The goal ended a Cinderella run for Mercyhurst, which was trying to become the lowest seed in league history to win the championship.
"It was two great teams battling to win," said Lakers' coach Rick Gotkin. "Congratulations to Air Force and I'm sure they'll represent Atlantic Hockey well in the NCAA tournament."
"I told my players there's two things a championship team needs to do," said Serratore. "Come from behind and win on the road. We've been able to do that all season. This shows we're not a one hit wonder."