RIT has never been swept by an Atlantic Hockey opponent in a weekend since joining the league. The Tigers made sure they kept that streak going during the most important time of the year, forcing a third and deciding game in the AHA Quarterfinals by defeating Holy Cross, 6-4.
"I don't think we expected anything else," RIT coach Wayne Wilson said. "It was hard fought. I thought we played much harder tonight. That may have been the difference in us scoring some of our goals."
The game seemed like Groundhog's Day. Every time RIT took a two-goal lead, Holy Cross came right back to cut it to one. This happened four times before the pattern was finally stopped with RIT's two-goal win. Also, each team scored a short-handed breakaway goal, only to have the other team come back with a power-play goal.
"It was back and forth," Holy Cross coach Paul Pearl said. "The fans got their money's worth. Two good teams going at it. It was a good hockey game. When we were five-on-five, we were able to create a lot more tonight than we did last night. Last night, we kind of lived on the power play. In the third period we weren't five-on-five and that really hurt us."
As expected, RIT came out flying at the start of the game. However, Holy Cross was more than able to withstand the onslaught. For most of the period, the teams traded checks, shots, and saves. RIT finally broke through with 3:17 left.
RIT took advantage of a scramble in front of the net to take the initial lead. The puck was loose behind Ian Dams inches from the line, and he didn't seem to know it; neither did anyone else. However, the referee had a full view of the puck and thus did not blow his whistle. After what seemed like an eternity, Bobby Raymond finally saw the loose puck and knocked it in.
"They got that one goal when 'Damsy' lost it in his pads," Pearl said. "Other than that, it was a pretty even first. We had chances; they had chances."
RIT jumped out to a 2-0 lead 1:55 into the second. The puck squirted out to the top of the left faceoff circle, and Chris Haltigin was there to wrist a waist high shot past Dams on the near side.
Holy Cross came right back a couple of minutes later. Brodie Sheahan gave a quick pass to J.P. Martignetti on the near edge of the right face off circle. Martignetti let go of a quick one-timer blast that blew by Louis Menard on the far side.
After numerous close calls, RIT finally regained the two-goal lead at 8:11. Brett Alexin from behind the net and fed a wide open Dan Ringwald in the slot. Ringwald had all the time in the world to pick his spot. He finally chose the right upper corner to beat Dams.
Again, Holy Cross came right back a couple of minutes later to cut the lead to one on a goal that left Menard extremely upset. There was a delayed penalty call against RIT when Jordan Cyr fired the puck from the slot area through a crowd. That crowd knocked the net off, but not before the puck went in.
A huge momentum boost for RIT occurred when Brennan Sarazin scored a short-handed breakaway goal. He stole the puck at his own blue line, raced down the right side, and blasted it by Dams.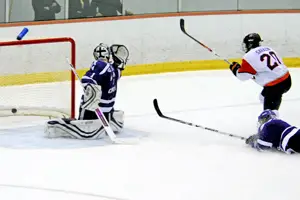 However, once again Holy Cross shook it off and came right back a minute later. With another penalty against the Tigers, Holy Cross took advantage of the two-man advantage. They passed the puck around the perimeter patiently waiting for a player to get open down low. Sheahan was that guy at the left post and he redirected the pass from Atkins into the net.
The third period followed the same pattern. RIT took a 5-3 lead at 5:08 on their first power-play goal of the night. Tyler Brenner in front backhanded it into the far side when it appeared Holy Cross was looking for Brenner to pass instead of shoot, and thus did not pressure him.
Sure enough, the pattern continued as Holy Cross scored a short-handed breakaway goal of their own to cut the lead to one at 7:48. Cameron Burt made a terrible miscue at his own blue line, allowing Peter Lorinser to come away with the puck and with a burst of speed go in alone against Menard. Lorinser simply fired it past Menard to his left.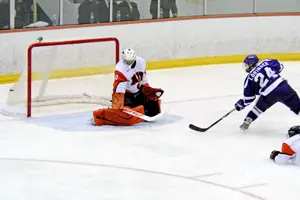 "The fact that we kept coming back says a lot about the guys in this room," Pearl said. "We're here to play well and win the series. You have to play every shift the way it comes at you, regardless of the circumstances that might come your way, and I think we did a good job of that."
Naturally, the next goal was scored by RIT, giving them their fifth two-goal lead. It came on a power play with just under four minutes in regulation. Burt made up for his prior mistake by blasting a rocket from the top of the right faceoff circle, beating Dams on the far side.
"It's hard to score five-on-five to begin with, so tonight we did a good job (on the power play)," Wilson said. "Overall a pretty good power play. Disappointed we gave up a short-handed goal."
Holy Cross had a late power play and pulled their goalie to try to pull to at least one. This time, though, the scoring finally stopped, and RIT skated away with a 6-4 victory.
Emotions spilled over in the last second, resulting in a number of scuffles and a slew of penalties. Nine penalties were called at the end for 37 minutes, including a game disqualification for RIT's Taylor McReynolds.
The two teams play the rubber match Sunday night at 7:05pm.
"We got a lot of people who can play," Wilson said about McReynold's disqualification. "Our top guys are playing well, so that's good."
"You're playing to move on," Pearl said. "Both teams are good skating teams and good with the puck. There's a lot at stake tomorrow. I would think the focus of both teams will be served well by coming out and playing the style of hockey that each team is trying to play."